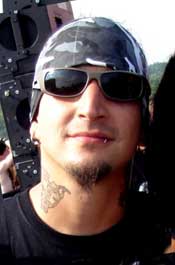 3 Inches of Blood alum, Alexei Rodriguez is one of the best and busiest drummers in metal today. I sat down to ask him a few questions about his life, his career, and the many new projects he's working on that have the metal music industry buzzing. Here's what he had to say:
---
Azlana: Let's start at the beginning. At what age did you begin playing?
Alexei: I decided at 13 that drums were going to be my new instrument, and in that year before I got my first kit at 14, I air-drummed relentlessly to audio and video of my favorite stuff, so that I could waste no time and immediately begin playing beats.
Azlana: As a drummer, who have been your greatest influences?
Alexei: Initially, Black Sabbath and Slayer. Now - SO many. From the slow grooves of Led Zeppelin and the sludge of Neurosis, to the frantic blasts of black and death metal, to the finesse of Buddy Rich and Billy Cobham. I also try to pick up new things every time I go on tour or play a show by watching other drummers. I only took lessons very briefly, so seeing/hearing new things has always been my teacher. Trying to answer this question without writing a novella is near-impossible, so I'll save you the boredom and leave it at that.
Azlana: Over the years, you've had quite a prolific career during which you have played everything from anarcho-punk to heavy metal. What would you say is your favorite style of music to play and why?
Alexei: Drummers and musicians, no matter how talented those that stick to one genre their whole careers confuse me. Of course it makes more sense in marketing terms to find a target audience and stick to them; fans can get really judgmental and mean when their favorite artists switch it up on them. But only liking one genre of music, or only desiring to be good at one style of playing doesn't make any sense to me, and I pity those people in a way. Each style of music I've ever played has an appeal to me for slightly different reasons. I'm generally classified as a metal guy, and that's probably what I'm seen as doing best since it's what I've done the most. Even when I was playing crust punk and hardcore I tended to throw in more metal-stylings in terms of double bass than most other drummers in the genre. I have no issue being known as a metal drummer, and metal definitely fills my iPOD more than anything else. But the importance of keeping a groove is often lost in metal, so I'm also really into the Travis Barker/DJ AM thing of combining DJing grooves with a live drummer, and I loved playing with a large band and full horn section back in the day, as I could often choose if my fills and rhythmic patterns were going to follow the vocals, horns, or rhythm section. Either way, if I don't get off the stage drenched in sweat, I didn't do my job right.
Azlana: You've recorded with the band TRIAL under the name Jesus L. Pecador, with UMLAUT as Baron Burri Von Blixen, and now with DEATH PILOT as Lt. Col. Diamondz! Why the pseudonyms?
Alexei: Two reasons:

1) As a joke: Umlaut was a joke side-project of Catharsis', to offset the fact that we were a serious band screaming about some serious shit, making some serious art. So we started this band of fictitious, squatter, crusty motorcycle punks from Finland (I don't believe there's actually any such thing), wrote lyrics in intentional bad English, played our only official show completely masked, wrote out long pseudo-political rants to describe songs about having hiccups, and being too punk to pay parking meters...you get the idea.

2) To add mystery and avoid attention from the law: When I was in Catharsis a friend of ours was being sought by the FBI for some trumped-up bullshit, and within only a couple of days they connected him to us, and were calling our singer's family trying to smoke us out into talking to them, implicating us as accomplices to his "crime" of self-defense. We were spooked that they'd found us so quickly, and pissed off that the pigs had used lies and scare tactics on family, all over charges that ended up thrown out of court anyhow. From then on we all used pseudonyms. I stopped in the mid-2000's because by then I was in bands getting more mainstream press, so staying invisible would have been pretty impossible, and making a living playing music isn't really viable if no one knows who you are. Also by then, I wasn't running with as volatile a crowd.
Azlana: Although I imagine many of your fans have been following you since the early years of your musical career, you are probably best known for your work with 3 Inches of Blood . I'm sure many people were shocked by your sudden departure from the band. Overall, how would you say you've been affected by that split?
Alexei: Mostly positively! I can't say it's been all roses touring so little this past year, but it's allowed me to dip my fingers into a lot more projects, from Death Pilot, to the new Hail The Night recording, a new disc and a couple shows with Seattle hardcore band, Wait In Vain, to the new Chthonic disc about to be released on Spinefarm Records, and other offers that I'm not in a position to reveal just yet. 3IOB stayed busy, which was nice, but we were usually too drunk, stoned or hung over to do much else even if there was time. These days I'm sober, much more in tune to the evil ways of the industry, and in much more of a position to weigh several options in front of me. And the one obvious advantage for me not being on tour with them anymore is getting to play all different subgenres of which I'm a fan, instead of just one project that can't seem to shake the misconception that it's a joke, despite the high caliber of its (now second-to-) last disc.
Azlana: Are you still in contact with any of those guys, and do you see yourself collaborating with them on any future projects?
Alexei: As of right now, the only one I'm in contact with is Brian Redman, with whom I play in Trial. He just moved down here to SoCal, and though still a couple hours away, FAR closer than Seattle. We're talking very tentatively about starting a fun but angry crust band.
Azlana: Apparently, you've been keeping quite busy lately! Just for the sake of keeping track of it all, can you give us a listing of all of your current projects?
Alexei: Sure! I've already made brief mention, but here's a run-down:

-Officially as of Tues, Sep. 15, 2009, I am the new touring drummer for PRONG!!!

- Death Pilot, a melodic metal band based out of L.A. currently with 10 demo songs recorded, and in the process of signing to a major label.

- Hail The Night, a black metal band, also out of L.A. but comprised entirely of southern US transplants. I just finished co-writing and tracking drums on a 10-song disc with them. However, files were somehow corrupted on 5 of the tracks, so in order to create the masterpiece of a full-length that we want, we may have to re-record all over again [*grimace*]

- Trial, a Seattle hardcore band, officially broken up in 2000, but we've started doing a few one-offs here and there, and have tentatively been entertaining possible future European, Australian, Japanese and South American tour plans. Every reunion we've played has sold out, and the Seattle 2005 show was released as a live DVD.

- Wait In Vain, another Seattle hardcore band for whom I recorded their current full-length, "Seasons", and I recently filled in for two sold-out shows in Seattle and Chicago.

- Between Earth & Sky, a Vancouver, BC-based, melodic post-hardcore project that just finished recording, fronted by Greg from Trial, recorded by Blair Calibaba, who's recorded Trial and is the touring soundman for No Means No, and filled out by 2 guitarists from Canadian bands, Strain and By A Thread, including one Happy Kreter who also happens to be an accomplished solo artist.

- Great White Void, a tentatively-titled project featuring friends from 2 Berlin bands, The Ocean and Monster.
Azlana: By far, the most visible project you're working on right now is Death Pilot. Would you please introduce us to the band's line-up?
Alexei: Once again, I find myself in a band full of pseudonyms, so that's all you get: Midian (voice), Johnny Death & Matt Thrash (guitars), Ares (bass), Ghost (keyboards, voice), and me - Diamondz.
Azlana: How did get together with these guys?
Alexei: Word of mouth combined with word of MySpace. I was making plans for the Wait In Vain record, but I had no full-time band - it was right after parting with 3IOB. A friend tipped me off about them, so I went on MySpace and was floored by the quality of the songwriting and recording, for which they used the impressive session drumming of Chris Mora (ex- Silent Civilian). The songs were actually written before there was a solid line-up, by front man Midian, Logan Mader (ex- Soulfly, Machine Head (guitars), producer extraordinaire -( Devil Driver, Gojira), Lucas Banker ( Junkie XL & Dommin producer), with additional input by Tomo Milicevic ( 30 Seconds To Mars). The current line-up of the band is already at work writing new material on its own, but the first album-to-be will be mainly comprised of the 10 songs these guys initially put together, with thunderous results. At the time I was first exposed to the band I was living in Seattle, wanting very badly to move somewhere with better weather, so after sending Logan an audition video, I booked a U-Haul and was on my way.
Azlana: How would you describe Death Pilot 's sound?
Alexei: Catchier and heavier than most melodic metal out there. A lot of metal tries to toe the line between "heavy" and "accessible", mostly with questionable results. Usually it ends up sounding too happy or too crybaby or the pop parts come in sounding so out of place it's like someone just injected some other band's chorus in between verses of an otherwise respectably brutal song. This band somehow escapes all of those pitfalls, and has made epic songs that are at times very "Master of Puppets", sometimes Pantera, sometimes Rob Zombie, Type O Negative, Slipknot. I play a lot of different styles of metal, but I wouldn't join a band whose songs I couldn't get behind 100% - they speak for themselves, and they're refreshingly diverse so while each one is clearly the same band it doesn't sound like the same band writing and re-writing the same song over and over.
Azlana: Where did the name Death Pilot come from?
Alexei: There's a whole fantastic back story that goes along with the band, the pseudonyms and the quasi-military/zombie imagery that I'm not at liberty to discuss. All will be revealed with the first album, but the band name goes along with that, and that part will be revealed very soon - within the next month - so stay tuned to our MySpace site to find out the latest information leaks - myspace.com/deathpilotmusic.
Azlana: Help me understand the zombie/horror theme that appears to be a large part of the band's image. Who came up with this "zombie metal" concept, and what is its significance?
Alexei: Our singer Midian is really into horror flicks, and particularly zombies, and we decided rather than having content of the more standard sort, we would make a whole comic-book-like back story to go along with the band, opening us up to other creative avenues of pushing the band later on. I've mostly gotta give Midian credit, but we've also had some professional outside help tweaking the story, and every member of the band is currently in the process of creating their individual character's back story to fit in with it.
Azlana: Regardless of what it all means, it certainly makes for interesting visual imagery in the new video for "Until the End". Tell me about what it was like to film it.
Alexei: It was SUPER-low budget, so it's amazing to me that it came out as good as it did! 3 Inches Of Blood blew thousands on a really basic, black and white video for "The Goatriders' Horde"; not a bad video by any means, but not worth the price tag at ALL. The DP video we shot on a borrowed HD cam by our friend Konstantine X, the keyboardist in Dommin, on a green screen in our co-manager/producer's 2 bedroom apartment in the living room. The drum footage he got from when we rented a soundstage to do a private showcase for this one interested record label, but everyone else was shot in that living room, in a few hours.
Azlana: What was it like to work under the direction of Konstantine X?
Alexei: Super nice dude, humble and easy to work with.
Azlana: I hear a full-length album from Death Pilot is due out sometime this year with co-production credits by Tomo Milicevic, guitarist from 30Seconds to Mars ! What can you tell us about the album so far?
Alexei: I think honestly I've said as much as I can (smiling).
Azlana: Where is it being recorded?
Alexei: Oh, except that - at Edge Of The Earth studio in West Hollywood.
Azlana: Any guest appearances?
Alexei: None confirmed so far, maybe Logan Mader, maybe Tomo Milicevic?
Azlana: What else is close on the horizon for Death Pilot?
Alexei: Well, we just did a mini-tour as direct support for Trivium, but other than a few isolated shows, we're more behind the scenes at the moment, joining heads with new co-manager, Rick Sales ( Slayer, Mastodon) and negotiating details with the new label.
Azlana: And you? What's next for you as a drummer, as an artist, and as a man? Where do you see yourself in the next 5 years?
Alexei: In the next 5 years I will probably want to start a family, so maybe by then I can either have another racket going, or Death Pilot will supply enough tour buses that I can take the wife and kids and dogs and cats. Seriously, though, I've learned that nothing ever goes exactly as planned, so I always leave myself open to the infinite possibilities of the universe, so I can roll with the punches easier, and not be so butt-hurt when everything doesn't go my way. My number one priority, regardless of my music, is to continue in the direction of this kind of spiritual growth. As a drummer, though, as long as I stay busy, I know I won't lose my mind, and that's what matters most.
Azlana: In closing, is there anything else you would like to say to our readers?
Alexei: You can stay up-to-date with my (mis)adventures by adding my MySpace page: www.myspace.com/alexeidiamante.
Thanks for talking to us here at Unrated, Alexei, best of luck with everything. We'll be watching!
---
RELATED LINKS