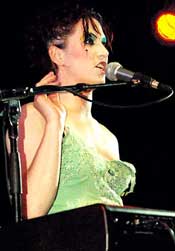 Amanda Palmer is best known for her work with The Dresden Dolls whose success has allowed her to embark on a solo project through which she released her first album titled "Who Killed Amanda Palmer?". When she announced her" Who Killed Amanda Palmer Tour", there were no NM dates on the roster. But being the unpredictable artist that Amanda is, she surprised her fans by announcing a stop in Santa Fe, NM prior to her show at Coachella.
This show was not a planned show according to Amanda, whose visit to Santa Fe was primarily a personal one. The venue of choice for the show was The Santa Fe Brewery in Santa Fe, NM. This venue has hosted numerous interesting artist which recently included Adrian Belew. Located on the edge of Santa Fe, this venue had a casual atmosphere that fit the mood of the show that Amanda was to play.
The opener for Amanda was a local Albuquerque band called the Dirty Novels. The Dirty Novels is heavily influenced by the glam rock era and the Rolling Stones, a very different genre than the one that Amanda represents. Their performance was very exciting to witness. All the members attire was very glam rock and their lead-singer looked like a young Mick Jagger onstage. As their set ended, the crowd began to get closer to the stage waiting for Amanda to grace the stage.
As spot light shined on the middle of the crowd Amanda made her entrance through the crowd to the stage. Wearing her usual attire of fishnet stockings, black fluevog boots and a baby doll dress, she jumped onstage and acknowledged the crowd. She opened her set with "Astronaut" from her solo album "Who Killed Amanda Palmer". Through the night Amanda played a range of songs from her own solo debut which did include the "Oasis" song as well as some Dresden Dolls tunes. Amanda was very laid back and even played audience requests.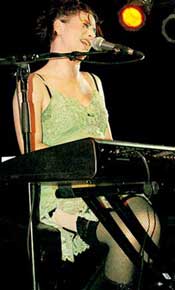 Besides her brilliant ballads and theatrics, Amanda paused between songs to discuss her recent collaboration with Neil Gaiman which included a book of photographs of her taken by Neil of her death by various causes. Also a topic was her dislike of her current label Roadrunner Records. Amanda has been very outspoken about this topic and even wrote a song about being dropped from the label that has been very critical of her work. For those wondering, yes, she did her "Ask Amanda" portion of the show but some of the questions were not directly related to her work but more about relationships, licking her legs and dancing the waltz with her. Amanda is a attractive girl and people were not shy about expressing their feelings towards her. I assume she gets that a lot.
The highlight of the night was Amanda's world premiere Ukulele cover of "Two Headed Boy" by Neutral Milk Hotel. This song happens to be the inspiration behind the play that Amanda has been currently working on with the students of her old high school in Lexington, Mass. Intently strumming her Ukulele Amanda led the crowd through a passionately heartfelt version of the song. There were no Radiohead covers this night even though Amanda enjoys covering their songs quite often.
Her performance was beyond what I expected and no offense to Dresden Dolls but I must admit that I enjoyed the solo Amanda much more than the Dresden Dolls Amanda. She is still theatrical, visual and exudes all her emotions into her songs but her strong stage presence was felt by all watching her from below the disco ball.
---
RELATED LINKS