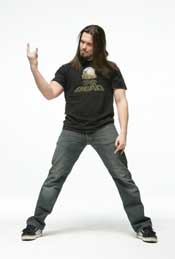 2009 is an exciting time for Anthrax fans. There's a tour in progress, a new band member, and a forthcoming album gearing up to voraciously decimate all metal lover's eardrums. And as some see it, there's one fan who has grabbed a hold of the proverbial brass ring - but this particular ring is encrusted with studs and skulls.
That "fan" is new Anthrax vocalist Dan Nelson who will be making his recording debut with the band on their forthcoming release.
Worship Music, Anthrax's first studio album since 2003's We've Come For You All, will be the tenth studio release for the band and is due out in October.
In March of this year, Anthrax played in Bogota, Colombia with Iron Maiden and since June has been steamrolling through Europe playing various festivals and even on a boat.
A brief break in the tour brought the Anthrax boys home and allowed them to headline the opening night at Rocklahoma.
Now as Anthrax is on their way back to Europe for the second leg of the tour with upcoming gigs in Sweden, Norway, Germany, England and more, Dan Nelson checked in quickly with Sass to let fans know how it's going - aside from his steady diet of European Big Macs and whiskey.
"The shows have been great - the fans in particular," says Nelson in earnest, "Anthrax has the best fans in the world."
Several music lovers who have been fortunate enough to have seen the band live already have been describing Nelson as a perfect mixture of both former Anthrax vocalists John Bush and Joey Belladonna - but better. As someone who grew up as a fan of Anthrax, how does that description make Nelson feel?
"I take it as a huge compliment. But I know that in the future I will write my own passage as a vocalist, musician, and performer."
What has Nelson found to be the most challenging aspect thus far of coming into an established, prominent band like Anthrax?
"The same things that come with being in any band I suppose. Finding my own space on the road, having my opinions heard, dealing with their system - one that's been there since I was in diapers, etc."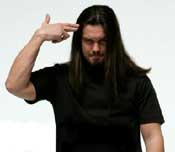 Other than the whiskey - what is Nelson looking forward to the most in heading back over to Europe?
"The fans - they rule...and whiskey."
And Nelson's best Anthrax memories thus far?
"Meeting so many great bands and musicians, all the amazing fans, and whiskey."
In closing, what are Nelson's feelings about the pending release of Worship Music this autumn?
"Buy two copies everyone...Because I need to eat too ya know!"
---
RELATED LINKS