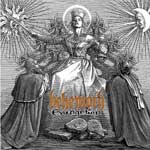 Extreme black/death metal powerhouse, Behemoth, has done it again! The band's newest masterpiece, "Evangelion", premiered in Poland, August 7th, 2009, through Mystic Productions, but was released to the rest of Europe, August 9th, 2009, on Nuclear Blast Records. Although at the time of its European release, Behemoth was busy playing in the U.S. with such names as Slayer, Marilyn Manson, Cannibal Corpse, and Black Dahlia Murder on the Rockstar Energy Drink Mayhem Festival Tour, "Evangelion" made quite an impressive showing in Europe, entering the charts in Finland for the very first time at #17, Austria at #45, Germany at #59, Switzerland at #88, and in the Netherlands' indie charts at #5. In fact, currently, "Evangelion" is the #1 best selling album in Poland, Behemoth's country of origin. Following its release in the U.S., August 11th, 2009, on Metal Blade Records, "Evangelion" entered Billboard's Top 200 Chart at a noteable #56, took the #5 spot on Billboard's Hard Music Albums Chart, and grabbed #6 on the Billboard Independent Albums Chart. The reason for the success of Behemoth's latest effort perhaps lies in a quote from the band's vocalist/guitarist, Adam "Nergal" Darski, who simply states,
"Well, we have never been in this band for awards or charts. It's always been about the most honest music we can deliver...."
Indeed, "Evangelion" comes to us all with the same honest intensity found in Behemoth's eight other full-length studio albums. As one listens to "Evangelion", it is incredibly clear that making music is not just a business for these guys. It is their life's work, and their chosen method of self-expression through art. As irreverent as ever, Behemoth gives the true metal conoisseur everything he or she could ever want with such tracks as Daimonos, Shemhamforash, and Ov Fire and the Void, all of which are laden with scorching, Nile-reminiscent guitar riffs, face-melting vocals, and all the rhythmic and lyrical complexity we've come to expect from these metal giants. Don't wait another day to get your copy of "Evangelion". This is one you won't want to miss!
---
RELATED LINKS