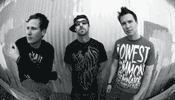 Before even arriving at the at the venue, you know a concert of this magnitude is going to be so great; you are going to want to frame the ticket, upload the photos from your phone onto Facebook so that everyone knows you were there, and do everything in your power to make sure this one never escapes your memory. When it was first announced that Blink-182 was getting back together, going out on tour, making new music together, most of their fans, both faithful and fair-weather, did everything in their power to get their hands on any ticket that would allow them within 100 yards of possibly the best pop-punk band of all time! Then next you mix in bands opening for them named Fall Out Boy, Panic at the Disco, and outside of the Chicago show, bands that you may have heard of before... Weezer, Motion City Soundtrack, All American Rejects and more! It's hard to top a lineup like that unless the weekend festival is called The Vans Warped Tour or Lollapalooza.
Blink-182 Tour Sponsor State Farm announced at the beginning of the tour, the launch of their exclusive and one of a kind promotion that will enable a lucky fan to drive away in a 1966 vintage Cadillac Coupe DeVille previously owned and customized by drummer Travis Barker. Visit www.theretown.com/Blink182 by September 21 for more details on your chance at winning Travis' ride, 2 tickets to see Blink in North Carolina, round-trip air fare, a night in a hotel, and transportation while in N.C. -- all valued at over $80,000!
Now on to the show!
Starting off with Chester French, Panic, then Fall Out Boy, the crowd had lots of time to loosen up the vocal chords and their legs before needing their 'A' game for Blink. Fall Out Boy did a great job of warming up their hometown compadres, even throwing in a sort-of-tribute to White Sox fans with their version of "Don't Stop Believing" by Journey - a song that was voted on by the crowd, Pete gave them the choice of an 'old fun song' or a 'new love ballad' - they chose Journey.
After the final note was strung by FOB, everyone in attendance quickly found their seats, inch-worth of room in the pit, or spot on the lawn. It seriously felt like it was one of those historic moments we all live through, this one being in the musical realm. When Blink came out to raucous applause and girly screams, they knew they were in for a great and lively crowd for the entirety. think when Ryan Manno from Q101 announced Blink, he said there were 30,000 people in attendance!
When the guys first started the show with 'Dumpweed,' all I could think -- with a huge grin on my face -- was that the guys were back together, playing their famous tunes, and Travis was back to his normal self, literally not missing a beat from where the band last left off. With no new tunes coming from the group since 2003 (self-titled album Blink-182), everyone was anxious to see and hear if the guys were still up to the task of providing one great rock show... and I can tell you they were!
The background was amazing. 6 Mini, circular screens that for the first two song just lit up with different solid colors. Then as the guys started 'Rock Show,' the solid screens turned into live TV feeds that showed the guys more up-close and personal. As the third song ended, Mark sarcastically said into his microphone, "Hi, we are Blink 182."
During 'I Miss You' there were different graphics playing on the mini screens and the guys finished the song after visiting Travis up by his drums, and then dropping to their knees for the extended end to the song. There were numerous times where Tom would either mess up the lyrics or just say some whacky stuff, probably because he appeared to be messed up on something, but the amusing juvenile behavior seemed to appeal to the teenage crowd, because each time he goofed, everyone got a brief chuckle out of it. A few songs later, the guys declared that "it's hug-o-clock," and Mark and Tom again went up to visit their buddy Travis by his drumset, this time giving a group to which the crowd provided one big synchronized sigh.
The best part of the entire show came as the guys arrived back on stage for their encore. Travis was seated at his drumset, and you heard the start of Jay-Z's 'Dirt Off Your Shoulder' background music. Travis proceeded to improvise and go along with the beat to the song for a brief moment. Then as the music faded, Travis started drumming faster and more aggressively as his drumset platform started to move forward towards the front of the stage. As the crowd erupted with applause, the platform, including Travis and his drums, lifted off the stage and started again moving forward almost dangling over the front of the pit. Next as the platform tilted, you see Travis and his drums starting to rotate one way, then the other - all the while Travis keeps up an amazing probably almost 5-minute-long drum solo! It was one of the craziest things I've seen at a concert, and the crowd could not have been more amazed!
As the guys finished off the night with 'Damnit,' everyone in attendance was so glad they had seen a historic show, but were very disappointed that it was over. I guess we'll just have to wait and see what the guys from Blink are going to do with this unbelievable band now, but something tells me there is a lot more left to come!
Set List:
1. Dumpweed
2. Feeling This
3. Rock Show
4. What's My Age Again?
5. Violence
6. I Miss You
7. Stay Together For The Kids
8. Down
9. Always
10. Stockholm Syndrome
11. First Date
12. Man Overboard
13. Don't Leave Me
14. Not Now
15. Adam's Song
16. All The Small Things
17. Reckless Abandon
18. Josie
19. Anthem Part 2

ENCORE
20. Carousel
21. Damnit
---
RELATED LINKS