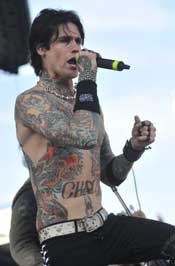 Buckcherry was formed after lead vocalist JoshTodd met lead guitarist Keith Nelson through their tattoo artist after discovering a common love of AC/DC. The duo made a few demos before being joined by bassist Jonathan Brightman and drummer DevonGlenn, calling themselves Sparrow. Sparrow began performing around the Hollywood club scene, receiving a strong, local following due to their old school rock and roll vibe, and were signed to DreamWorks Records shortly after. The group changed its name to Buckcherry after receiving a cease-and-desist letter from a record label called Sparrow, with Buckcherry being a spoonerism of Chuck Berry, however, the group said it was inspired by a drag queen acquaintance of theirs named Buck Cherry.
Josh Todd and Keith Nelson did perform together along with ex-Guns N' Roses members Slash, Duff McKagan, and Matt Sorum (also of The Cult) at the Randy Castillo tribute concert. Speculation ensued that Josh Todd would become the lead vocalist of the Project headed up by Slash, Duff McKagan, and Matt Sorum. Josh Todd spent a month in the studio, reportedly completing 10 songs, but was abruptly dropped from the project by Slash. Scott Weiland of the Stone Temple Pilots was eventually chosen to helm the band that would become known as Velvet Revolver.
On September 16, 2008, the band released their fourth album, "Black Butterfly", which debuted at number 8 on the top 200 charts. It was the number one rock album that week.
In May 2009 Kiss announced that Buckcherry will be the opening band in there 2009/10 US and Canadian tour. On September 29, 2009, Buckcherry released their first live album, "Live & Loud 2009", which they played some of their biggest songs such as "Sorry," "Lit Up," "Talk To Me," and much more. The album was recorded in May 2009 during their Canadian tour in Edmonton, Calgary, and Medicine Hat.
I caught up with Josh Todd, over the phone, just after he did a slamming performance at Rock on the Range in May 2009 in Columbus, OH.
---
Jackie Lee King: I was reading about work that you've done with ex-members of Guns and Roses, Slash and Duff and I was just wondering-- since Duff was at the same show Rock on the Range, is everybody getting along with everybody?
Josh Todd: Yeah, we're friendly with those guys. It was just a moment in time, you know, it didn't work out. We have no hard feelings.
JLK: I noticed that with some of the bands at Rock on the Range are bands that you've toured with, so does it seem summer camp where everybody is like "Hey! Good to see you! And you know what projects are you doing?"
JT: It was a big happy family. We had so much fun. I can't even tell you how much fun I had. It was crazy. It was great to see everybody. The standing crew; like you've said we've been out with all those guys. So you know, it was really nice to, be with all those guys. It just felt comfortable and effortless and that's what it should be.
JLK: Yeah even in the media tent where bands were walking through it was like "Hey! How are you doing!" Just seeing musicians interact with each other like that you come to realize that bands are actually are fans of other bands.
JT: It's a real small world out there, touring so you tend to be around the same bands a lot over time and when you're out here doing this for a living it's kind of like a circus life existence. You see those guys who know what's really going on with you because they're living it. You know it's hard for other people to kind of relate because they're not living out of a bag and in a different area every night day in and day out, so to see your fellow band mates, you know it's really cool.
JLK: So I hear you are a fan of the Dead Kennedys? What's the story behind the song, "Too Drunk..." as a pose to their song "Too Drunk to Fuck."
JT: Yeah, I have that "Holiday in Cambodia" record and I enjoyed it, but I'd never heard of "Too Drunk to Fuck" but, our song wasn't called that--it was called "Drunk as Fuck" and then Keith would come into rehearsal and be like "are we going to play "Too Drunk to Fuck?" and I just thought it was funny. So I just changed the title to "Too Drunk..." you know? And then Rolling Stone, everybody said that-- everybody brought up the Dead Kennedy thing, which was fine because I love the Dead Kennedys, but it had nothing to do with that.
JLK: So other than like the Dead Kennedy's, what are the your musical influences?
JT: I grew up with a Punk Rock foundation in sunny California. I listened to bands like 7 Seconds, Minor Threat, Black Flag, you know?
JLK: A little Agent Orange?
JT: I listened to Agent Orange but I wasn't crazy into them like I was like Minor Threat, and then I slowly down and started getting into things like AC/DC, Led Zeppelin and Metallica. At one point I started listening to my sister's Prince and Billy Idol records and stuff and I was into those, too. So at that point in time I just wanted to hear great songs.
JLK: Based on your experience, what do you think the life cycle of a band is? When is it time to say, "Okay, I need to do a solo record" or "We can't move further with this"
JT: You know there are so many factors that play into longevity of a band. It really depends on the individuals and how well they get along. I think every band starts out to have an enormous career and be together for a long time. But bands change-- people change and over time with success or not. There's just so many factors: girls, drugs--everything tears bands apart. I think it's just the commitment and mutual respect that keeps bands together?
JLK: So do you have any special like comfort things that you like to have when you are on the road; like warm socks or a special piercing?
JT: I got to have red apples.
JLK: Really?
JT: Yeah. I'm going to go find one right now while I'm hanging out.
JLK: Yeah. They only had green ones at Rock on the Range.
JT: I don't like green.
JLK: So, tell me something that your fans would find surprising about you?
JT: I read a lot of books. I'm a family man, you know. I'm not that guy onstage all the time. I'm a completely different person when I'm not, playing rock and roll.
JLK: How important is family when you're in band like this?
JT: Family is everything. Family is my whole motivation behind everything. After meeting so many people and being in the entertainment business you really get a firm grasp on how superficial people are and how you can't really trust a lot of people. At the end of the day when it's all said and there's no more limelight-- no more glory because that day will come? The only thing you've got is your family. So that's the most important thing.
JLK: Do you think your parents ever thought that you'd be as successful as you are?
JT: You know it's just my mom. She was always supportive. I don't think she really understood what was going to happen. I think she was, you know very concerned about the path I was leading or whether I would ever amount to anything, she had her reservations but she still helped me.
JLK: Yeah. It's like sometimes they're just "As long as you're happy I'm happy."
JT: Well, that wasn't always the case. She used to say, "You need to have something to fall back on."
JLK: Oh, I hate that! It's like "But I want to do this full-time!"
JT: Right, you know we're going to be touring on "Black Butterfly" for a while. This whole year and probably half of next year; so we've got a lot of life in this record. There's a lot of really great songs so we're really proud of it and we'll be touring on it for a while. And then before the end of the year we're going to release a live record which we're really excited about. And we just recorded that, and we're going to start mixing it probably in July [2009]. We're a great live rock and roll band. That's what we love to do. So we'll be doing that.
---
RELATED LINKS