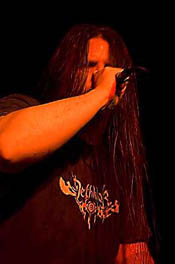 Cannibal Corpse is currently touring the US in support of their newest album 'Eviseration Plague.' As one of the top selling death metal bands of all time, hitting one million in album sales in 2003, they have only themselves to surpass, which they continually due with each tour stop. As one of the biggest death metal bands to date they have unfortunately had more then their share of haters, but fans and followers alike take no head and continue to follow the music and band that they love.
On April 6th Cannibal Corpse slaughtered fans musically at Club Vegas in SLC, UT. with a mix of previous carnage driven metal and new horror infested creations off their most recent album "Evisceration Plague," released February 2009 on Metal Blade Records. 'Evisceration Plague' is this bands 11th album.
This group is the definition of death metal in the best way possible, they rock and rock hard. Their no holds barred approach to metal brings fans to the brink of frenzied excitement and mosh'in glory. The line for the show was to the edge of the parking lot, many waiting hours so they could be front and center for these legendary metal musicians. When doors opened fans surged forward, wanting only to get inside and experience first hand the Death metal sound of this incredible band.
The show started with three bands, Obscura, Neuraxis, and The Faceless, on tour currently with Cannibal Corpse. These bands not only helped Cannibal Corpse followers get ready to experience a form of metal that leaves you desperate for anything they throw your way, but also created many new fans of their own within the confines of Club Vegas walls. Through pure hard and heavy metal music, these three bands demanded the crowd get ready rock their souls out in anticipation of Death Metal legends Cannibal Corpse.
Finally the moment was upon us and Cannibal Corpse took to the stage in their full metal glory, ready to pulverize fans with "Controversial" horror driven lyrics, bass and guitar riffs that rip at your soul, and drum beats from the depths of hell. Slamming into their first song 'Evisceration Plague' from the new album, causing fans to frenzy in head banging ecstasy. This is one death metal band that can pull every bit of energy from the crowd and throw it right back into their faces in a merry-go-round of ferocious metal mayhem. The set included new works form 'Evisceration Plague' as well as old favorites such as 'Sentenced to Burn, Pit Of Zombies, Skull Full of Maggots,' and so many more.
On this night Cannibal Corpse was in their full metal grandeur, bestowing upon all present the will to rock with a no-olds-barred attitude despite the argument from some that there lyrics and music are 'de-sensitizing.' Having been put through the meat grinder on many occasions in the past, being described as controversial, offensive and far worse, including a brief period where in some country's it was illegal to sell or display their albums. In 1995 our own country went so far as to say that bands of this nature were undermining the national character because they were desensitizing people to violence. I think not.
Despite all the overzealous negativity from some area's they are among the best of death metal bands to date. Cannibal Corpse considers their lyrics as being works of fiction no worse then horror movies. Which upon investigating said lyrics I'm in agreement. I faced far worse repercussions from watching SAW (nightmares, but I'm a wuss when it comes to horror of that nature placed in front of me in frightening detail) then from reading or listening to Cannibal Corpse live. There lyrics are fiction at its best, all imagination with the intensity and horror that makes for an extremely entertaining time.
---
RELATED LINKS