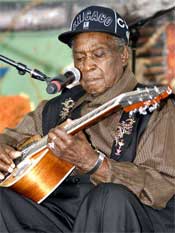 The City of Chicago once again celebrated its annual festival to the blues. The 26th Annual Chicago Blues Festival kicked off from Friday, June 12th through Sunday, June 14, 2009 in Grant Park Chicago. The Chicago Blues Festival is the largest free blues festival in the world, bringing artists, fans and blues journalist from too many nations to name. The weekend is a laid back atmosphere just off the Chicago lakefront with blues performances on six stages with the main night's festivities finishing off each night at the Petrillo Music Shell.
The festival grounds at the intersection of Jackson and Balboa streets offered food, memorabilia, good times and music. On the east of the festival, Gibson Guitars brought their traveling music trailer. Musicians and attendees were able to stop in check out some of the guitars and even try them out. Gibson hosted a full stage with some greats performing over the 3 days.
On the north end of the festival, you had Koko Taylor's foundation, where a memorial board was put up for fans to scribe some thoughts to the late Queen of the Blues who recently left us on June 3rd, 2009. If you walked a few steps, part of the street was set up for performances, and the Chicago Maxwell Foundation hosted their booth with some memories of the famous Maxwell Street.
On the southern of the street you had vendors and the Mississippi Juke Joint which kept the street packed with blues fans enjoying the music. One of the more memorable performers was the great Delta artist, David "Honeyboy" Edwards. At 93 years of age, he played his heart out and met fans throughout the day.
In the west end of the park, you had the Front Porch stage, throughout the weekend bringing more good time blues. Here, the blues fans, could sit on the grass and enjoy drink, food and dance. How much better could it be, you had a classic blues stage, the best blues artist and the City of Chicago skyline in the background.
The highlights for many were the main stage performances at the Petrillo Band Shell. Back in the day of the Chicago Blues Fest, the whole park was open, you can run down to the pavilion area and walk up and see such greats as Chuck Berry, Koko Taylor and even Keith Richards play the blues. Today, the pavilion area is fenced off and you are required to have a ticket. So the world changes but the blues live on.
If you are interested to learn more and the folks who help the City of Chicago bring us the blues festival, head to http://www.chicagobluesfestival.us. Till next year....
---
RELATED LINKS