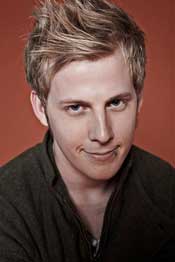 While it's true that my nickname, "The Chocolate Metal Queen" is pretty accurate most of the time, the truth is, I couldn't resist the amazing harmonies featured in the upbeat songs of Orlando-based pop punk phenomenon Crisis in Hollywood! I had the pleasure of catching these talented guys out on tour a few weeks ago, and CIH front man, Adrian Snyder, agreed to answer a few burning questions about the band, their new CD, and life on the road.
Azlana: Hi, Adrian! Thanks for taking some time out to talk to us here at Unrated. I'll just start at the very beginning. According to my research, Crisis in Hollywood began in 2004 under the name From Adam to Atom. What prompted the name change, and why did you guys decide on the name Crisis in Hollywood?
Adrian : This is something that gets confused pretty often. Three of us played together in From Adam to Atom, which began in 2004. After a few lineup changes, we weren't where we wanted to be and decided to start from scratch. So we called up Daniel, a long time friend, and the chemistry was there. We went to a local bookstore in search for a name, going through chapter titles and random lines for inspiration, but after a few hours, we left empty handed. On the ride home, something about Paris Hilton came up on the radio, and Andy blurted out "Crisis in Hollywood." Something about it caught our attention and we stuck with it.
Azlana: Presently, Crisis In Hollywood consists of yourself (lead vocals/guitar), Daniel Valery (guitar/vocals), Logan Benton (bass/vocals), and Andy Wambach (drums). Have you always had the same line-up?
Adrian : As far as the Crisis in Hollywood line-up, we are all original members. Although, for a short time in the beginning, one of our friends Kevin Scully played guitar and gave me a little more time to just sing. We parted ways on a good note and are still buddies today.
Azlana: How would you compare the sound you had back then to what you sound like now?
Adrian : It's not a completely different style, maybe a bit more pop, but back then, it was certainly less polished. For every album, we learn a little more. It's fun to look back and listen. We sometimes have the old albums around at our shows, so you should come listen for yourself!
Azlana: Who are your musical influences, and have they changed much over the years?
Adrian : It's funny, but when it comes to our musical influences, they are nothing like us. For example, my favorite bands are post-grunge Silverchair, Pixies, The Suicide Machines, and The Beach Boys. The rest of the guys are pretty much all over the board too, with a mix of hardcore and punk.
Azlana: I know that in 2007, Crisis in Hollywood signed with your current label, Financial Records, the owners of which are Glenn Stewart (Victims of Circumstance) and Tim "Johnnny Vegas" Burton (Mighty Mighty Bosstones). What made you decide to sign on with them?
Adrian : It started with us being on a compilation, and after we recorded the song, "If Your Heart's Out" they were interested. They're good people and understand the work it takes to realize your dreams. They've done so much and we've been very lucky to work with them.
Azlana: Did the label change affect the style of your music at all?
Adrian : Absolutely not. They signed us because they loved who we are, not because they wanted to mold us into something new. The guys are actually fans, just like we're fans of their bands. So it's almost like sharing music with your buds when we go into the studio with new material.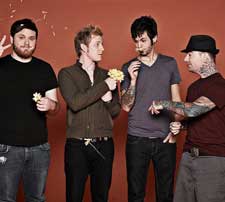 Azlana: Congratulations on the successful completion of your newest CD, Safe and Sound. It's definitely on my list of summer favorites! Crisis In Hollywood's first album with Financial Records, however, was Between the Devil and the Deep Blue Sea. What, if any, major differences can fans expect to hear on Safe and Sound?
Adrian : With Between the Devil..., we were finding our sound. And I can't say we've completely nailed it on Safe and Sound, but that's because we don't want to just crank out a different version of the same song every year. Safe and Sound should open us up to a new group of listeners, but I think anyone that enjoyed Between the Devil and the Deep Blue Sea is going to be happy.
Azlana: I have to admit I've found myself jumping around my living room a few times to the song BREAKUP/BREAKDOWN. Do you have a favorite track on Safe and Sound?
Adrian : That's hard to say. I'm still surprised to hear the difference in opinion so far. I think that every song has been at least one person's favorite, which is all we could ask for.
Azlana: Are there one or two of you responsible for the majority of the songwriting or is it more of a group undertaking?
Adrian : It's certainly evolved over the course of our time playing together. It's not as one-sided now and everyone usually comes to the table with an idea that we build on, making it our song, instead of one person's song.
Azlana: Which of your albums did you most enjoy creating and why?
Adrian : Both albums were incredible. I still can't decide what's more fun, recording or touring. If I had to choose, it'd have to be Safe and Sound, simply because we lived in the studio for 5 weeks, with Anthony [Raneri] of Bayside, and we were given the chance to break this record down and do it right.
Azlana: You just finished the east coast leg of your Survive the Swine '09 tour with the metal band Hand to Hand. As a band that is frequently labeled as pop punk, why was the decision made to tour with metal and hardcore acts?
Adrian : Hand to Hand have been our friends for years, so there was no question. In Orlando, the hardcore/metal scene is abundant, so we're no strangers to sharing the stage with bands in the genre. And when we hold our own and some of their fans take interest, that always puts a smile on my face.
Azlana: What did you enjoy most about touring the east coast?
Adrian : The things of which I am sworn to secrecy. Sorry, (laughing). But really, every city has an incredible story and it's hard to take a break from life on the road sometimes.
Azlana: What has been your most memorable (and possibly most scandalous) moment on this tour so far?
Adrian : Ok, this is a tough one. I'm gonna have to make some phone calls to convince the flood gates to be let open, but until then, I'll just leave it at "boogety."
Azlana: What do you most look forward to on the west coast leg of the tour?
Adrian : I've never even been to half of the states we're on our way to. Especially California, which everyone tells me is my kind of place. But it's always the unexpected things that end up being the most fun.
Azlana: Which bands will be supporting Crisis in Hollywood out west?
Adrian : We're talking about going out with Hand to Hand again, after such a good time with Survive The Swine '09. Then we'll be playing with locals in every city.
Azlana: Any surprises in store for those fans?
Adrian : Well if I told you, they wouldn't be surprises!
Azlana: Before catching the show at Charlotte, N.C.'s Tremont Music Hall later that evening, I was fortunate enough to catch both Crisis In Hollywood and Hand to Hand unplugged in an in-store performance at Hot Topic. Are you planning anymore acoustic gigs in the months to come?
Adrian : Yes. This tour was the first time for us to play an acoustic set and we will definitely be playing more. In fact a local Hot Topic just asked if we'd be interested in playing at the end of the month, so we're looking forward to that.
Azlana: Do you think there will ever come a time when Crisis In Hollywood will record an unplugged album?
Adrian : I can't say for sure, but it would definitely be something I'd be excited to try out.
Azlana: Where can fans go to find out more about tour dates and any other breaking band news?
Adrian : The best place to see any Crisis in Hollywood news is at www.myspace.com/crisisinhollywood.
Azlana: Thanks for giving some of your time to us here at Unrated! Is there anything else you'd like our readers to know?
Adrian : Florida is not the sunshine state and we want out!
Azlana: You rock, Adrian! We'll catch up with you guys on the road!
---
RELATED LINKS