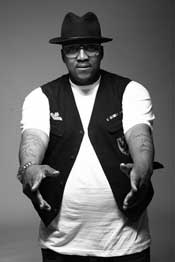 He's opened for some of Hip Hop's hottest acts: Tribe Called Quest, Ludacris and Lupe Fiasco and now Harlem native, DJ Broadway Streetz, has brought his skills to the windy city. When he's not rocking the party, he's on a mission to expose the world to Chicago's lyrical talent. UnRated recently got a chance to speak with Streetz to learn a little bit more about the man behind the music.
How did you get started:
At 6 years old. My mom was a DJ and she played a lot music in the house. She gave me a turntable she used. I just listened to music and got a good knowledge of music and learned a lot about music.
How did you get your name:
(I first called myself) DJ Streetz Treatz because that was on the urban side but I'm not an urban DJ. Streetz came from me being in the streets and in the clubs and working with rap artists. When I came to Chicago, I wanted to take the street edge off of the name so I chose Broadway-bright lights, big city, always moving-that embodies me.
Who do you consider your mentor:
One of them is my mom, because she put the turntable in my hand. Another is Andrew Kirkland Sr. and Oscar Green aka DJ Breakdown-he's the most influential (to me) in terms of djing.
Why did you move to Chicago:
To quote Sinatra, if you can make it there (NY), you can make it anywhere. New York faded out. I was working at Koch and touring with artists and putting all of my efforts into other artists and Gravity, a childhood friend and mentor, told me to I should come here ( Chicago). Chicago is its own world, it's a melting pot and you can do anything you want. Gravity is did production on the LP "Down to Earth"-Kanye was on album before he was famous.
Favorite DJs:
I don't have many. Funk Master Flex, Run (from Run DMC)-his mic game is crazy and DJ Breakdown. No disrespect to anyone else but my two favorite djs when I'm in Chicago are DJ 33 1/3 and Timbuck 2. I also like Twilight Tone, he's a Chicago legend.
Favorite type of music:
Coming from Harlem, my immediate answer would be Hip Hop, but I'm in love with electro music. I love electro because of what it does to people at a party, the vibe and energy people give off-it's like you're at a performance. Like people performing with their hands.
Best experience:
My best experience so far was a few weeks ago-I was spinning at Angels and Kings in Chicago and I did an exhibition at the end of the night. It was the first time I saw people pulling out their blackberries and recording me. And there was a sea of cheers. What I care about more than anything are the fans and what I do-that (means) more to me than meeting Madonna.
What do you do in your free time:
I don't have a personal life. I want one. Sometimes you give up things to pursue something else.
Advice to young DJ's out there:
My sound advice would be to study music. Before you do anything-study. Know the history of what you do and make your skills better.
Any upcoming projects:
Chicago Conspiracy Theory Mixtape. The mixtape has 20 of the most talented artists I've come across. Chicago has a lot of talent. Three of the most popular artists in the last three years have been from Chicago-Common, Lupe and Kanye- and a lot of people don't realize they are from Chicago. I want to be one of the influential people that tells everyone Chicago has talent.

The "Theory" lies with the artists themselves-( Chicago) artists don't like to work with one another. They conspire against themselves. When people look at a conspiracy, it's usually someone conspiring against someone. In this case, people are their own road blocks, their own enemies. (They need to) support one another and work together.

Chicago DJ's don't support their artists. The odds of local artists getting spun is minimal. (Flunk Master) Flex broke local records (in NY). (He) played it, people would buy it and support it.

It's also hard because there's a lot of segregation in the city. (Neighborhood) blocks have also fallen to segregation among themselves. Until you break that, they (artists) will always hold themselves back.
DJ Broadway Streetz latest mixtape "Chicago Conspiracy Theory" will soon be available on Rubyhornet.com.
---
RELATED LINKS