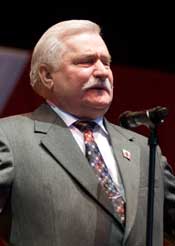 The City of Chicago, known as the Second City to Warsaw, Poland, celebrated Freedom'89: Born in Poland, A Concert Celebrating the 20th Anniversary of the Fall of Communism in Poland on May 29, 2009 at Pritzker Pavilion, Millennium Park. The special guest of Honor was Former President of Poland and Nobel Peace Prize Recipient, Lech Walesa.
The night kicked off with ABC 7 Chicago Anchorman, Alan Krashesky, introducing Lech Walesa who had some joyous and inspirational words to the City of Chicago and the Polish Community. The night was a music event with the dance, film, and the music of Frederic Chopin arranged in exciting new classical, jazz and rock interpretations by renowned musicians from Poland.
Sponsored by Freedom89.org, the multimedia presentation consisted of music and historical photo footage tracing the demise of communism from Poland to Berlin and into modern day Poland, with their acceptance into the European Union. The creative musical arrangements by Janusz Olejniczak, Anna Serafinska, Leszek Mozdzer, Leszek Swidzinski and dance choreography by Folies Dancing Company was spectacular. The journey of a nation represented and brought pride to a country that would never give up and their hope for freedom.
The Friday night brought the people of Chicago and Poland together, acknowledging the struggles the Polish people faced since the end of World War II. It took a great nation and a country of people that would never give up their path to freedom, led by Lech Walesa, the country showed the world that communism can be overcomed. The performances by pianists Janusz Olejniczak and Leszek Mozdzer were received with standing ovations. The Polish National Anthem, performed by Leszek Swidzinski, brought the pride of a nation this night, vocalizing with pitch and pride, in recognition of Poland and the return of the crown on the head of the Eagle of Poland. Anna Serafinska brought great vocals presented by a visual background of Poland's struggle throughout the decades. The whole compilation of the nights events with performances and dance was inspirational and the feeling of pride that Poland is strong and will fight for independent and freedom from world oppression.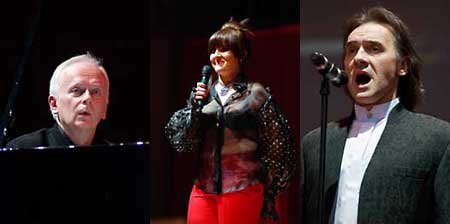 ---
RELATED LINKS