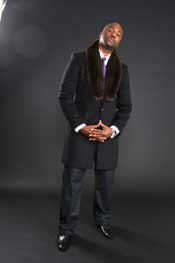 With Chicago artists finally getting their due, rapper G.L.C. is positioning himself to become the next big thing from the Windy City. G.L.C., born Leonard Harris, made an impressive debuted on Kanye West's The College Dropout CD when he was featured on the song "Spaceship"; his follow up performance on "Drive Slow" proved he was a natural who could hold his own alongside rap heavyweights like T.I. and Paul Wall. Countless guest appearances and collaborations later, the 31 year-old rapper recently completed work on his debuted CD entitled "Love, Life and Loyalty". UnRated Magazine recently got a chance to talk to G.L.C. to learn about his past, present and future.
---
How did you get started in music:
Well, I got started at a very young age doing talents shows like in elementary school and park districts. Entered talent shows and I rapped LL Cool J raps, I did original raps, Ice-T raps, I won talent shows and I figured, hey, I could do is something with this. A few years later met a guy by the name of Kanye West he was making beats. He was like 15 at the time, we were both very young. A friend of mine introduced me to him, said he makes some cool beats, went over to his crib, heard the beats, we had a lot of things in common, became good friends, and we began working together at a young age and still work together today.
You'rename, G.L.C., stands for Gangsta L. Crisis how did you get your name:
I got the name from growing up in a street organization as a kid. I was part of a street organization called growth and development. When I lived in the neighborhood that I lived in, my real name is Leonard and Leonard doesn't sound real gangsta so they started calling me GL- like Gangsta L. The C, crisis is my rap name, it was my life story- I lost my mom at 12, lost my father at 8 months, I was diagnosed with diabetes at 14, I just went through a whole lot of hardships throughout my life-I'm not going to say the average person, but 9 times out of 10, if someone had to endure the things I endured growing up, it's no telling where you may end up.


My life was written off as a crisis they would say he's not going to be able to do nothing. I took all these negative situations I endured over time and hey look at me now, its not that bad. When people hear the word crisis they assume that it's negative, bad. I kept my name to show kids you can come from dire situations and street organizations and evolve into something better.
Working with Kanye, had he changed? How does it work, does he just call you and say hey I want to work with you:
He and I, during the later part of our teens, we were in a group together called the Go Getters. With that group, we were able to penetrate Chicago radio which was unimaginable at that time for a local artist; we were in rotation on WGCI a Clear Channel station. We broke barriers back then. But the rap thing was moving kind of slow, so Kanye moved to New York, focused on beats, got on and when it was time for him to do his album, he was like GL lets go.


But even before that he and his mom, they were very instrumental in me growing and developing as a kid. I lived on 87 thStreet, it was kind of bad over there, teenagers getting killed, and I was going to funerals like every other month. His mom allowed me and a few other of our friends to go to the suburbs to get away from that, to focus on music and better our lives. Kanye believed in me, in my talent, he wanted to see me grow as well and he kept his word.


When you asked if he changed-yes, with success, it brings about change. You must evolve, it must be a reform. If anyone is being the same as they were 10 years ago, where's the growth? With success comes responsibility, pressure, wariness, being aware of your surroundings, being judgmental of who you have around you; that's what success forces you to do.
You're working with all these artists (John Legend, Bun B, Twista) would you consider these artists your influences? Who are your influences:
Coming from Chicago, Twista, Do or Die, Crucial Conflict, Common, artists that came before me, that showed me that you can sound like you're from Chicago and you could be a Chicago person and not have to rap with different accents and act like you're from somewhere else to get on.


I also looked up artists out of the south like UGK, Scarface, Eight Ball and MJG, OutKast. Even artists like DMX and Jay Z, artists that just came out and didn't sound like anything else those are my biggest influences. It's so easy to come into a game that's over saturated with the same sound and do what everybody else is doing. When you come with something unique, either they love you or hate you, there's no in between. Once you come with something unique you're taking a chance with getting on beyond the music game. It's different, something that people haven't heard so there's nothing that can documented or recorded that can say how people will perceive it, because it hasn't been done before.


I believe life is about taking risks, taking chances. Everyday when I get up out of bed it's like rolling the dice, trying to figure out what I'm going to do, get it done and present it to the world and through the grace of GOD, the things I have presented to the world have been very well received. I'm happy right now, life is good.
Your CD that's coming out is entitled Love, Life and Loyalty. When can we expect hear it:
I have a few distribution offers on the table but I haven't decided who I'm going to go with and that's because everyday my buzz is growing. As an artist, you're eager to come out and eager to have the world hear what you have to offer but I believe in the timing aspect of it all. It's all about timing.


I'm sitting on a great body of work, but I have to have the right machine behind it, have that bag- that's that money and you've got to have button pushers that like lets make this happen. Once I decide where I want to do distribution and the people are like I have to have that GLC-I have to feel the demand. That's what I'm in the process of doing now and through the grace of GOD, everything is going accordingly. So hopefully sooner than later.
When the CD is available, what can we expect to hear? I noticed you have a southern influence in your sound and music, have you heard that before:
Definitely, living in Chicago, being on the south side as well as the west side, a majority of the people I've grown up with or anytime I would go to New York, California, any other city, not in the south, people would say you talk country as hell, and I would be like, man, I'm from Chicago. Just from being on the road, I know that Chicago is the only city in Illinois where people try to stray from their roots. My mom was from West Virginia and my dad was from Mississippi.


When I was a kid my sister sent me to the farm and I would wake up to roosters and I would shoot quail off the phone line and we'd be eating quail that night. Its rooted in me, I'm not trying to run from it. At the end of the day, I'm proud to be from Chicago. Southern music is what I grew up on, it's my favorite and I can relate to it, it's my life. I go to cities like, Houston, Atlanta, Alabama and I feel like I'm home. I'm glad when people hear me they say his sound is like southern influenced, that means my father and mother are still alive and I came from them.
How would you describe the CD:
The CD is complete and it is off the chain. It will take you into the life of GLC. When they hear GLC, I am the epitome of Chicago, I am the voice of the city, the voice of pain, struggle, the voice of the city, visionary of the south side, a man of honor, a man of love, life and loyalty. Stories of love, life and loyalty, my respect for life. How I grew up watching hustlers taking care of their families and kids in the neighborhood. Seeing this guy being the most generous guy I've ever met regardless of the negative sides.


I tell stories of love, when you're in the process of getting money, doing whatever you got to do to make it, you sacrifice getting money, hustling. Working a 9 to 5, punching a clock, doing whatever you got to do to make it.
I recently spoke with a local DJ, originally from New York, and he was surprised by the lack support among local artists, radio and DJ's. What's your take on the issue:
Well, I feel like speaking on the problem adds to it. At the end of the day if I'm giving energy to that, that situation will only persist and continue to thrive. So what I did was instead of talking down on what's going on in Chicago and how people don't work together, I did features with over 100 local artists from Chicago. I don't' speak on it, I do what we should be doing, I lead by example. I don't sit around saying this is what we should be doing.


Hopefully, the example I'm setting, people will follow because they'll see and say hey here's a guy whose been on T.V. and in magazines and he comes home and shows love to locals because its home. I was very, very blessed as well as surprised when I came home to Chicago and did a show at the Wild Hare back in May. I was the headliner of the show and it sold out, people couldn't get in and it holds 600 people. I lead by example and look at what the result was I got a lot of love from the city.


I give energy to love as oppose to hate. Love will thrive-and that's what I'm about-love, life and loyalty-that's what I'm about. I give people something to be loyal to, some talk about it I be about it and being about it has given me excellent results, some times surprising results.
Since you've been in the music business for awhile, what are the good/bad things about the business?
Negative things, people tend to sell their souls, as far as living a normal life and having a reserved life, your life is like the Truman Show, living in a scope. You're on camera all the time.


The good things are that you have the ability to change your life as well as change the lives of people around you and you also have the ability to inspire others to follow their dreams. With my nephews, I instill in them to follow their dreams. For me, this is all a dream, I was working in a clothing store and hustling, sitting at home bored saying I want to do that.


My nephew and his friend were playing a video game and his friend his name in the game as 50 Cent and I was like man, I want my name to be in a video game. Then, last year, I starred in a game called Blitzed League and I had two records on the game.


You gotta understand, if you believe, you can achieve. I've traveled the world, I haven't joined the service or I didn't go on an academic scholarship. I felt like Biggie when he said never knew hip hop could take me this far. Performing in countries where English is not their main language and these people are so appreciative, they love you and cry-man, I don't know what could replace that feeling for an entertainer.


People are like man, how you doing this and how you doing that, I tell them I'm a dreamer, I'm living what I dream. It starts with a dream, music has been a very good outlet for that.
Do you consider yourself a role model?
I have no choice but to be a role model. That's why when I do interviews, I'm not talking ignorant. It's more important issues out here to be addressed. I want to show children its ok to be intelligent, street is cool but it will only get you so far. You'll be a monster if you take all the things you've learned in the streets and apply them to the business world along with an extended and extensive vocabulary.


Tu-Pac was the most profound speaker of our time and you could understand him, you didn't need an urban translator. At the end of the day, try to do something that you love and try your best to make sure that it's not something that's detrimental to you.
Advice to aspiring artists:
Figure out who you are-Do you. Figure out what your strengthens are. I don't like it when I hear rappers and they have no idea who they are or when I meet them and it's not the same person. When people talk about things they know nothing about, I know when you're lying and when you're lying, you're insulting my intelligence. Don't lie to me figure out who you are and do you. It may take some time, hey it did for me. It didn't happen overnight.
Upcoming projects:
Working on a mixtape with DJ Don Cannon a popular producer from Philly, shooting a video with Mistah Fab out of Oakland for the song "Let the Pimpin Commence"; I have a new single with UGK entitled "Clockin Losta Dollars". My album is produced by up and coming producers from Chicago, Keezo Kane who co-produced "Big Screen", a song we did for the Negro League soundtrack, the Trailblazers and XCEL and it features Shawna, Rich Boy, Twista, T-Pain, Common, Kanye, John Legend and Really Doe. And my website http://www. glcitymusic.com/.
For more information on G.L.C., visit:
---
RELATED LINKS