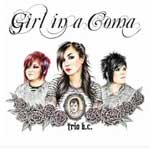 Sometimes thirteen songs might not be enough! San Antonio punk rockers, Girl in a Coma, are releasing their sophomore CD titled Trio B.C. on the Blackheart (Joan Jett owned) label June 2, so strap on that seatbelt as you will be in for a rockin' good ride. Just two years ago their CD - Both Before I'm Gone won critical acclaim on Billboard's Heatseekers chart reaching No. 23 and Trio B.C. is likely to get even a higher ranking.
The writing is tight, the song structure is straight-up rock, and lead singer/guitarist Nina Diaz will blow you away with her huge, energizing vocals. The band also consists of her sister Phanie on drums and Jenn Alva on bass. The CD starts out with hard-hitting Bb that glides right into one of their best songs - Static Mind. Other songs that will leave you hitting that replay button include the power slapping In the Day, the intensifying rocker Empty Promise and the chill-grabbing Baby Boy. Nina then displays her seductive vocals as they slow things down (just a little) on their slinky love song El Monte. The trio also dynamically recorded in Spanish Ven Cerca. Being signed on the Blackheart label it was great to see that Joan Jett and Kenny Laguna helped produce a few songs like Vino and the punk-pop song Joannie in the City featuring Joan Jett on guitar and backing vocals.
Trio B.C. is loaded with fresh, edgy, and power-driven punk rock songs that you will be movin' and groovin' to. Take a listen soon!
PS: If you can't wait until June 2 to get Trio B.C. check out their two-song digital and vinyl release available now called Hiding My Trail.
---
RELATED LINKS