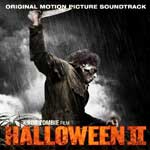 Everyone knows that Rob Zombie is a cool guy to hang out with on Halloween - and that was even before he picked up where Jon Carpenter left off with the classic cult Halloween films.
The soundtrack for Halloween II has an array of older classics as well as brand new material - both from an eclectic bunch of bands and musicians.
The Moody Blues' "Nights In White Satin," Scream's "Amerarockers," and 10cc's "The Things We Do For Love" create a calm, nostalgic type of mood - that make one wonder what could possibly be behind that door when everything seems just fine.
Picking things up a bit are the MC5's "Kick Out The Jams," Rod Stewart's "(I Know) I'm Losing You," and "The Chase Is Better Than The Catch" by heavy metal royalty Motorhead.
Other songs include John 5's "Laurie's Theme," two songs by Captain Clegg And The Night Creatures: "Transylvania Terror Train" and "Honky Tonk Halloween," Foghat's "I Just Want To Make Love To You," Void's "Time To Die," Nan Vernon's "Love Hurts," and Tyler Bates' " Nurse Killa" - all intermeshed with snippets from the cast that really set the whole murder and mayhem mood.
---
RELATED LINKS