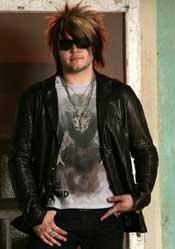 Rather than feeling intimidated by the success of their triple-platinum debut album, Extreme Behavior, which included the smash hit "Lips of an Angel," the Hinder guys decided to use those accomplishments as drive. The result of which is their sophomore release entitled, Take It To The Limit, an expression which not only is a catchy name for an album but also seems to be the mantra by which these Oklahoma rockers live by.
With debuts of #4 on Billboard's Top 200 and #1 on the iTunes Rock Album Chart, Hinder's Take It To The Limit is winning over music fans far and wide as the band is taking it on the road in an opening slot for the ultimate bad boys, Motley Crue.
Already having played a handful of shows as guests on the Saints of Los Angeles Tour, Hinder guitarist, Joe "Blower" Garvey is an exuberant man of few words yet the life of the party, and one with the most interesting nickname.
"Things are going great," exclaims Garvey, "We've had a few shows now with Motley Crue and everything's going great. It's really a privilege to share the same stage with Motley Crue."
In addition to it being an honor to open up for the likes of Motley Crue in general, this tour has a little deeper meaning for Garvey as the Crue was one of his influences growing up.
"Absolutely! We've already met Nikki [Sixx] and he was really cool, he gave us signed Jack Daniels bottles for each of us so it's already been a really cool thing. Looks like all the Crue is getting along and everything so it's going to be exciting."
Unlike many bands that have to sweat out several years before attaining the proverbial "over night success," what's it like for Hinder to have achieved almost immediate extreme success thus far in their career?
"It feels great. We definitely take advantage of what we get to do everyday, but we always still like to work hard and keep coming back to cities and touring and everything like that. We still don't get to spend a lot of time at home but that's alright, we like staying out on the road and playing in front of fans. So it's been a hell of a run so far."
Was there any apprehension at all going back into the studio to begin work on Take It To The Limit after Extreme Behavior did remarkably well for a debut album.
"Yeah, there was some pressure but we were actually way more confident the second time around. We had a lot more songs written before the first album cycle and we were still writing actually while we were recording the first album. So coming into the studio the second time with about 16 songs - because we were able to write during the last two and a half years on that album cycle. So it was kind of weird, we were thinking we were going to be nervous but we were actually way more confident and we had 16 solid songs and just picked the top 11, and we knew we had a lot more time to record and get what we wanted to take out of all that."
Has the success of "Lips of an Angel" put pressure on the band as that one song that Hinder is now always expected to play?
"Yeah, I'd say a lot of people still expect us to play that song, I mean obviously that was our biggest hit. But we've been surprised by a bunch of our stuff, there's still a lot of people going ape-shit for 'Get Stoned' every time we play it live and we end the set with it. It's almost like they're chanting that more than 'Lips of an Angel' sometimes. So I don't know, I guess it kind of depends on where you're at in the state or whatever is the most popular at that time. There's still a few songs out there besides 'Lips' that people are yelling and they want us to play."
So Garvey isn't tired yet of playing "Lips of an Angel?"
Laughing, "Oh no, not at all. It's one song now that I don't even have to look down play my guitar, it's nice."
From the new album, what are Garvey's favorite songs to play live?
"Well, let's see, actually my favorite song to play is the album title, 'Take It To The Limit.' It's a privilege to have [Motley Crue's] Mick Mars playing the solo on it, so it's kind of fun to play his solo and everything live. That's probably one of my favorite songs off the new album to play. We've also got a really great reaction to 'Up All Night,' which is our single right now. That's a lot of fun."
Prior to hitting the road with Motley Crue, Hinder has toured with bands such as Buckcherry, Papa Roach, 3 Doors Down, Nickelback, and Trapt -- just to name a few. Which band has been the most fun to tour with thus far, and which band has taught Garvey the most?
"Hmm." Garvey pauses in thought. "I've had a hard time picking the best tour. The 'Bad Boys of Rock' with us and Papa Roach, Buckcherry, was probably one of the best tours ever just because I think all three bands at that time were at their peak, everybody had great singles out, you know -- high up on the charts, and we were just selling out all kinds of arenas -- I think that was a lot of fun."

Garvey continues: "The first time we played with Nickelback was probably where we learned a lot because that was actually our first arena tour and we saw the amount of work and all the equipment, and you know, all the trucks and everything. The amount of work and time it took to set up a stage like that with all the pyro and lights, and everything like that. So we definitely learned a lot and got creative -- set in to where we needed to up the ante every time we started a tour. All around it's been a learning experience, it's fun to just look at the bands that you're sharing the stage with, and you're constantly looking at their equipment and how everything works, so everybody kind of notices that and we try to keep progressing."
So is the band working at all on any new material, or simply enjoying the new tour and the excesses that it allows for?
"We kind of dabble just a little; we still have some material from the previous album and a few other things so we've got some stuff on the back-burner. But I think in the near future, I believe when we have some time off we'll just sit down and have a writing session together. There's definitely going to be some writing some time this year for sure. Cody [Hanson] and Austin [Winkler] do the majority of the writing, they make the backbone of the song and when they think it's good they bring it to the rest of us and we put the icing on the cake, per se."
And, inquiring minds do want to know -- where did the nickname "Blower" come from?
Garvey laughs. "Oh, well, I had a fun time one night several years back, and this lovely girl decided to provide a nice service for me in front of the guys -- and that name just kind of popped out, and it kind of stuck from there."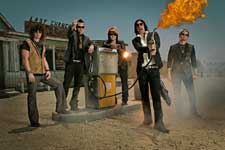 Sass: "Shouldn't the name have been 'blowee' then?"
Garvey, while still laughing: "I know, I know. 'Blower sounds -- yeah. But you really can't get around either of those names."
In addition to the colorful nickname, Garvey also has some aspiring Jackass tendencies.
"Yeah, I am the entertainment -- on and off stage, and at parties and anything like that. I've lit my private areas on fire about 15 times, and one show Mike [Rodden] had a wineglass that he smashed over my head thinking it wasn't going to be that big of a deal until the whole right side of my face was bleeding. It's all just in good fun and entertainment, I guess. It seems like if I'm not in the room for more than 15 or 20 minutes I'm always getting yelled at to come back in and do something."
As far as being the entertainment on stage, aside from the bands Hinder has already played with, are there any others that Garvey would still like to tour with in the future?
"Well, if could get in a time-machine and go back to '87 with Guns N' Roses, that would be awesome. That would probably be the dream-tour. We'd like to do some Bon Jovi; well, maybe not now-Bon Jovi, but then-Bon Jovi. Yes, we still are stuck back in the good old 80's," Garvey chuckles.
And what's next for Hinder?
"Well, I think the idea now is just on the road. We've got this tour through almost the end of March, and then we're actually doing a college run. I'm not sure if Papa Roach is with us on that one but Theory of a Deadman is though. And then there's some talk about going overseas which is always important to keep going back there. And then I think we're going to kind of go from there, see how the album's doing, what single is out to see how that's going to set us up for the summer. Pretty much the idea is to just stay out on the road and continue to tour and work this album. And I always want to thank the fans and I'm looking forward to coming there with the Crue, it's going to be fun."
Hinder can currently be seen on tour with Motley Crue, Theory of a Deadman, and The Last Vegas.
RELATED LINKS
---