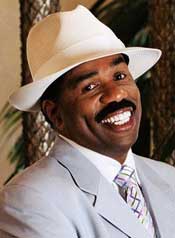 Fans of the Steve Harvey morning show converged on Las Vegas for the 7th annual Hoodie Awards. The awards took place at MGM's Mandalay Bay and is the brainchild of Steve Harvey and television/radio producer Rushion McDonald. The award show is very unique in that it honors local business establishments, religious and community leaders, churches and high schools for their contributions within their neighborhoods.
Already in its seventh year, the show has grown in popularity each year with notable artists, actors, and comedians presenting awards to local business owners and notables within the community.
The Hoodie Awards weekend kicked off with the Freedom Friday Party, which was an all-white affair and was definitely a unique party to be at. There was something for everyone to partake in whether you were a new schooler or an old schooler, this party was exciting from start to finish. Imagine a vast convention style room with various activities to choose from. Whether it be a game of pool, meeting and greeting with celebrities, listening to the finalists of Steve's Radio Star contest, or the obligatory dance floor, there was something for everyone. At one point during the night, I found myself along with hundreds of others - dressed in all white - electric sliding to one hit song after another. And let me just say you've not lived until you've done the electric slide with hundreds of people.
And let's not forget the entertainment! Singer Charlie Wilson had an incredible set where he belted out all of his current hits as well as songs from his Gap Band catalogue. Rap legend, Dougie Fresh also performed songs from his repertoire.
Saturday night was the Hoodie Awards and the nominees piled onto the blue carpet. To see the excitement of these everyday people was priceless! Each nominee was beaming with pride as they walked the blue carpet alongside celebrities such as Tyler Perry, Stephen A. Smith (ESPN), Terrence J (BET 106 & Park), Rocsi (BET 106 & Park), Cassi Davis (House of Payne), LaVan Davis (House of Payne), George Wallace, Ian Smith (Celebrity Fit Club), Judge Greg Mathis, Gina Ravera (The Closer), Wayne Brady, Lavell Crawford, Monique, Adele Givens, Tommy Davidson, Sherri Sheperd (The View), Shirley Strawberry (The Steve Harvey Morning Show), Nephew Tommy (The Steve Harvey Morning Show), Anthony Hamilton, Charlie Wilson, Jazmine Sullivan, Musiq Soulchild, Teena Marie and singer K'Jon.
While the Hoodie Awards was an award show in name, it felt like a comedy show as Steve Harvey emceed the event and had the crowd in tears and doubled over in laughter while prepping the nominees on how not to act on stage.
The nominees were honored with awards for best beauty salon, barbershop, church choir, and soul food restaurant, to name a few of the awards given out.
After the Hoodie Awards, it was Nephew Tommy's after party with DJ Paradise on the 1's and 2's spinning everything from Jamie Foxx's Blame It to Michael Jackson's Gotta Be Starting Something. On The Ocean singer K'Jon performed as did Ginuwine who was accompanied by his background singers and deejay.
While the awards were meant to be a thank you to business owners and exceptional individuals within the community, Steve and Rushion's Hoodies did much more! Nail salon owner Avanette Pinkard said that the Hoodies helped to save her nail salon Essential Essence Salon & Day Spa. I'm sure the Hoodie Awards has also generated new business for the other nominees as well.
While, I've been to many award shows, being at this one was an honor. Creating an award show is no small feat, so kudos to Steve and Rushion for a job well done! See you next year!
Stefanie Newell is a Chicago-based journalist and author of The Buzz: When celebrity gossip goes wrong....You can check out her musings on all things entertainment at The Music Hot Spot and Unrated Magazine.
---
RELATED LINKS