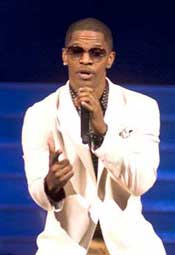 Oscar award winning actor and Grammy award nominated singer Jamie Foxx brought his Blame It Tour to Chicago's Arie Crown Theater Sunday, August 2nd, 2009.
Opening act and host of the tour, comedian Speedy, delivered an entertaining, very adult, monologue with topics ranging from sex and rap music to relationship issues and large women. After a long intermission and a few technical difficulties Foxx appeared, dressed in an all black leather ensemble complete with matching gloves and sunglasses. Backed by three singers (1 female, 2 male), DJ, keyboardist, 2 guitarist, a drummer and 2 female dancers, he sang "Number One" and "I Don't Need It" from his new CD "Intuition".
Foxx shouted "I'm in Chicago, the greatest city in the world. Home of the President of the United States", before proceeding on to perform "Digital Girl" and favorites "Slow Jamz", "Gold Digger" and "Extravaganza". He then teetered back and forth from singer to comedian with impersonations of Luther Vandross, Prince and Ray Charles while singing snippets of their songs.
The second half of the show had a relaxed mood with Foxx returning to the stage in a white suit sitting at a piano, saying he wanted to take a moment to sing tonight because that's all he's ever really wanted to do. As he sang ballads "Rain" and "DJ Play This Girl A Love Song" woman in the audience stood up and rocked back forth as his he were singing to them.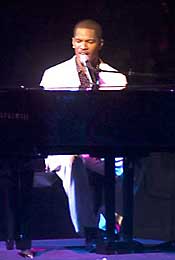 The show took an unexpected turn when Foxx announced, before performing "Slow", he would award $500 to any women who gave their best "interpretation" of the song. One by one women walked toward the stage for a chance to perform but the contest concluded after four mild to "interpretations" without a winner. Foxx continued on singing 'Freakin Me" and Overdosed on You" then following with 20-25 minute Michael Jackson tribute.
After a second wardrobe change, this time wearing the same leather outfit but white, Foxx welcomed Chicagoan George Daniels to the stage to dance while Foxx performed "Passing Me By". He concluded the show with hits "She Got Her Own", "Just Like Me" and his latest single "Blame It".
Although a little "unpredictable" at times, Foxx gave a good show and performed well. While he definitely connected with female fans, he may have alienated males in attendance with his sexual overtures and homage to independent women throughout the night, things he may want to tone down a little on his next tour.
---
RELATED LINKS