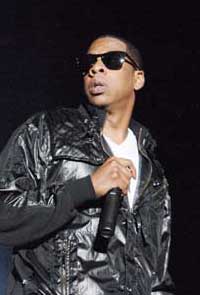 The world's best selling rap artist, Jay-Z, captivated fans with his legendary lyrical skills Tuesday night at the Charter One Pavilion. The "only rapper to re-write history without a pen" took to the stage dressed in black including black shades, performing his latest anthem, "D.O.A." (Death of Auto-Tune) in which he declares a moratorium on the practice and calls out rappers on their dependence and excessive used of it.
"You rappers singin' too much, get back to rap you T-Pain'n too much." I'm a multi-millionaire so how is it I'm still the hardest n--a here? I don't be in the project hallway talkin' bout how I be in the project all day that sounds stupid to me, if you a gangsta, this is how you prove it to me."
Accompanied by a full band that included drummers, a keyboardist and a horn section and with occasional help from protégé Memphis Bleek, the rap icon performed hit after hit with a jumbo screen serving as the backdrop displaying images to coincide with songs.
The magnitude of is status was apparent as he was besieged with chants of HOVA, HOVA, HOVA during small breaks throughout the show. Hardcore fan sang along and watched in awe and men and young boys mimicked him, keeping their sunglasses on.
He paid tribute to Michael Jackson displaying images of him and playing the Jackson Five's "I Want You Back" and told the crowd to sing along if they knew the words and said he his philosophy is not to mourn death, but to celebrate life.
Near the end of the show, gave the crowd a preview of the Blueprint 3, performing the intro-
"I ain't talking about gossip, I ain't talk about Game, I ain't talking about Jimmy, I ain't talking about Dame. I'm talking about real shi*."
As far as street guys, we was dealing crack / that's how the game goes, I don't owe nobody jack / grown men want me to sit 'em on my lap / but I don't have a beard and Santa Claus ain't black."
He concluded the show performing "99 Problems," "Give it to Me," "Hard Knock Life" and the finale "Encore."
Fabolous and Ciara were the opening acts. Fabolous's performance kept with the standard hip hop show formula, consisting of himself, a hype man and DJ on stage as he performed old tracks "Breathe," "Baby," "Make Me Better," "Baby Don't Go," and his latest single "Throw it in the Bag." He also threw in his verses from the remixes of NeYo's "She Got Her Own" and the Dream's "Rockin That Thang"; nothing too difficult and the more entertaining of the two acts.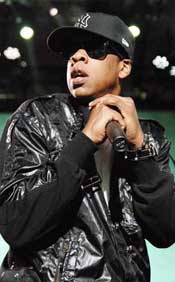 Reminiscent of Janet Jackson in appearance wearing ripped blue jeans, black leather vest over a cropped white tee and knee high boots, Ciara arrived on stage surrounded by four female dancers and artificial smoke blowing she performed her first song "Like a Boy" followed by her debut hit single "Goodies" and then her latest "Love, Sex, Magic."
Her vocals were descent but she was lacking creativity. She was also inconsistent-in the middle of the performance she tells the crowd "I heard Chicago knows how to party" and then proceeded to dance to random songs played- Snoop Dog's "What's My Name" and "Gin and Juice"; Method Man and Mary J. Blige's "All I Need"; 50 Cent's "I Get Money" and Lil Wayne's "Get Money."
Most shocking was the disappointing choreography as she is more known for her dancing than singing, the moves consisted of pelvic and hip thrusts and leg wiggling more than actual dancing. And her backup dancers looked like amateurs. During most of the performance they were out of sync and seemed to be trying to keep up with each routine.
---
RELATED LINKS