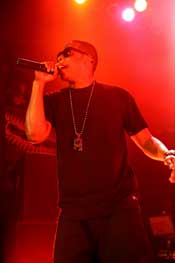 Jay-Z's swag was on a million last night. Wearing all black with an icy black charm, Jigga had a stance of a man ten feet tall...modest billionaire at the least. His free concert, sponsored by Samsung and AT&T, was part of the Summer Krush concert series, an exclusive tour that previously featured acts like Mariah Carey, Nelly, and Good Charlotte. The fact that only a few hundred of Jay-Z's loyal fans could attend made the one-hour performance a truly unique experience.
Jay-Z and his comrade, Memphis Bleek, Rocafeller Records veteran artist, ripped the stage. Not only did fans get to sample new songs from Jay-Z's new album "Blueprint III", released that morning, but they saw him perform some of the hottest cuts from his last 3 albums. Songs like "Takeover" and "Allure" had little air play. Still fans sang along so fervently that Jigga stopped the performance and jokingly asked the audience to help him remember the lyrics to a new song, "Venus vs. Mars."
Fans and celebrities alike came to see the Don of hip-hop. Some in attendance were Dwayne Wade (Miami Heat), Antoine Walker (formerly of the Miami Heat), and local celebs Derrick Rose of the Chicago Bulls and Orlando Pace of the Chicago Bears. The colorful lightshow illuminated the crowd, a mixture of young and old, as they vibed to the band's remixes of "D.O.A." and "99 Problems."
The intimacy of the House of Blues allowed Jigga to connect with his audience. With no one more than a couple yards from the stage, everyone felt close to Jigga-who commented that he loved performing in more intimate venues. After his encore, Jay-Z shouted out fans that he was feeling during his performance. Anyone there would agree that in Chicago that night, Jay-Z was king.
---
RELATED LINKS