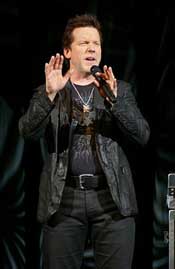 Has a puppet ever made you cry? Well for me the answer is yes and I loved every minute of it. The Culprit of my hysterical laughing/crying moments? Walter of course, and Achmed, Peanut, Jose Jalapeño on a steek, and even an encore with Bubba Jay. If you think I'm nuts well then, you have yet to experience Jeff Dunham in action. One of my favorite comedians, he never fails to leave my stomach aching and my eyes tearing with laughter.
To get the night going 'Guitar Guy,' Brian Haner opened the show with his comedy wrapped in rock n roll. Brian uses his music to give punctuation to his jokes and engage the audience with tidbits of familiar tunes. Having only seen Brian Haner a few times on TV with Jeff Dunham where he has accompanied Achmed in a variety of songs, he doesn't say much in these moments, I was surprised by how much he has to say and how funny he really is. If you have not had the opportunity of experiencing his rock n roll laden comedy check it out, you'll love it. I must add that he did an incredible job playing the Jimi Hendrix version of the Nation Anthem. Brian Haner is incredible on many levels and defiantly worth watching again and again.
After a brief interlude Jeff Dunham takes the stage. He has been hailed as one of today's best comedians and his performance on stage proves it. He starts the show on his own, adding to the anticipation of the puppets many came to see. His comedy is very un-P.C. which I think everyone could use a dose of now and then. Upon Bringing out Walter, the crowd's cheers reverberated throughout the Energy Solutions Arena. Walter is very cynical and at times has a somewhat apathetic air to him, which only seems to add to his appeal. With his tell-it-like-it-is attitude mixed with Jeff Dunham's ability to be shocked at what his puppets say, audiences tend to crack up all the harder, especially when arguments ensue, as they tend to between the gifted ventriloquist and his "dolls," as Walter refers to himself and the others. Dunham also has the gift of improv; allowing him to take a mix up or error in script and run with it as well as making each show specific to his current tour stop. Being in Salt Lake City, Utah defiantly made for some interesting impromptu moments of comedy. However of all the things Walter could have chosen to feed the flame of comedy, he picked... the pedestrian flags? "What the Heeeellll?" he so eloquently states. In Salt Lake with all the downtown traffic, one is offered the option of using an orange flag when crossing the streets so motorists are more likely to see you, as there are many crosswalks located in the middle of the city blocks. And of course, this equals fuel for Walter's sardonic nature. But if we can't laugh at ourselves well then we are just screwed in general. Luckily Jeff Dunham and his posse of puppets help us do that and more.
Next up is Achmed, everyone's favorite dead terrorist. With his obsession with blowing things up and his desire to be make jokes 'just like Jeff,' Achmed is one of my favorite characters. Having been a "suicide bomber in his Former life" Achmed entertains with stories of his suicide bomber school and life. To him everyone is an infidel and inferior. However, Achmed does find some things about being a terrorist fun, which he tells about in one of his songs. For his songs Achmed is accompanied by 'Guitar Guy,' Brian Haner, whom he harasses to no end about drugs (which he does not do but Achmed insists he must because he play's rock n roll) and the way he dresses. Achmed is a big headed skeleton that fluctuates between depression because he no longer has a job (having already blown himself up) and being excited over his love for info-mercials. Achmed is sure to get you laughing, to the degree that people seated near me proclaimed they almost pee'd their pants.
Peanut follows Achmed in the line-up, with an appearance from Jose Jalapeño on a steek. This crazy green haired, purple bodied creature always gets the crowd amped with his spastic antics and ability to argue better then most five-year-olds. Jeff Dunham spends a fair amount of time trying to veer Peanut away from inappropriate topics such as 'Ta-Ta's" one of peanuts favorite subjects, as well as keeping the piece between Peanut and Jose, when Jose is brought forth from Jeff's cases. It's amazing to watch Jeff, Peanut and Jose. Dunham's ventriloquist expertise is put to the test when Peanut and Jose are present because he goes into a round-about rapid conversation that you would think would be hard to maintain each characters part but Dunham does it with confidence and even if there is a mishap of voices coming from the wrong character, Dunham runs with it, causing some very hilarious improve moments. At this point I was laughing so hard I couldn't help but tear up again for at least the fifth time that night. Jeff Dunham has the unique ability to bring his characters to life in such a way that the crowd seems to forget that the puppets are not real and that Jeff is essentially arguing with himself. The show has an air of insanity, thus the tour was appropriately named, 'Spark of Insanity," a name which aptly fits.
As the show ended and Jeff left the stage and the crowd cheered and clapped until Dunham came back out with a surprise for all, none other then Bubba Jay. With Bubba Jay's appearance on the stage, the applause was deafening. Bubba Jay is a redneck that lives up to every redneck stereo type available today. He is as crass and uncultured as a redneck puppet can get and is one of Jeff Dunham's first puppets and doesn't appear often now a days. Salt Lake City was sure happy to see him. He was obviously loved here because before long many of the usual jokes involving Bubba Jay were being shouted throughout the arena by fans that seemed to know every word. Once again Dunham used this specific moment to turn on his improve skills, joking that Bubba Jay had a strong following here and did he have relatives in Tooele.
All in all this show was sure to be one of the best of the year for locals and I myself think it will be damn hard to top the fun and laughs I had that night. Jeff Dunham is currently touring the US, with many more stops ahead. The tour goes all the way into June ending in Anchorage Alaska. Check the links below to find your city and get your tickets now. It's well worth it.
---
RELATED LINKS