Sometimes regardless of best intentions things slip through the cracks of life; even in the world of music journalism. The following never-before-published interview with metal-vocal powerhouse, John Bush, took place in May of 2006 after Bush's departure from Anthrax and as he was in the process of welcoming a new daughter, running a non-music related business with his wife, and performing some live shows again with Armored Saint - the band he'd previously left to join Anthrax.
Despite the announcement of Bush performing a few shows again with former band mates Armored Saint there had been no formal announcement that Bush had rejoined the band, so just what was Bush's status with the band?
"Well I wouldn't say I'm officially back in Armored Saint. I'd say that what it is is that we have an opportunity to do a few shows, primarily in Europe. It seemed like something that would fun to do as long as that's what it is - the whole philosophy of doing something with Armored Saint right now is the emphasis would have to be on 'fun.' This isn't a job, this isn't a career, this isn't our future in terms of we're not getting the band back together and looking to conquer the world. We already attempted to do that when we were in our 20's and," Bush laughs, "things took a turn. But we were a great band, we made some great records, and we have an opportunity to play a few shows now - like I said some in Europe, and we're correlating that with a couple of shows in our hometown in L.A. and in Orange County, and we're doing one up in the Bay Area, and that's pretty much as far as it's gotten."





Bush continues: "What I'd like to do with Armored Saint - I'd really like to go play some places that we've never played in the world and that's kind of what we're doing. We're doing a show in Italy - we've never played here. We're doing a handful of dates in the UK - we never really played there; we've played one show in the history of the band in London back in 1991. So for us to go and saddle up and do a full-on tour of the US - that's not in the cards right now. That could change, lots of things change - hey, my life is constantly changing. But right now, in the formidable future, I don't see that happening."
As life does change for each of us Bush is one to take full advantage of the opportunities that present themselves - the decision to leave Armored Saint for Anthrax was one of those situations.
"The band ended when I joined Anthrax in 1992 and that was pretty much what disbanded the Saints. Anthrax came along and it was logical and the time was right for me to change bands to go with Anthrax, it just made the most sense, it was the right move for me as a person in my career at that time. It was funny because we had just made a record that probably will stand as to be the best Armored Saint record in the history of the band, 'Symbol of Salvation,' but we went out on tour and we played the really crappy gigs and we weren't having a lot of internal peace and you know, this isn't where anyone wants to be right now - or at least some of us. And so the Anthrax thing came at a really key time. We had gone through Dave Prichard's deathand we still were able to make a really great record but we didn't have any better results in terms of taking us to the next level and at that point - for me to pass on Anthrax would have been imbecilic. I would have been a moron and I wasn't ready to make that stupid decision," Bush laughs.
So were there any hard feelings at all resulting from Bush's change of bands?
"Well, you know, something surfaced recently," Bush chuckled slightly, "with somebody - he said that he still has a little bit of frustration with it. And I told him I empathized with him and I understood, and hey, he should tell me - but fuck man, it was 1992, 14 years ago so we kind of need to move on. I mean, lots of things happen in life, I mean hell - what happened in the last year with Anthrax was something I really didn't have that much of a foresight that was going to happen - but things change, things happen, so you embrace them. Things happen for a reason - I'm a believer in that. That's the way it had to be. You know, if he's frustrated I can take that - you can tell me - but take it and let's move on again it was 14 years ago."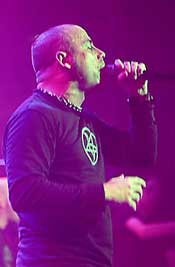 Bush's exit from Anthrax was one that was somewhat shrouded in mystery - suddenly everyone was aware that Joey Belladonna was back in the band and a lot of fans were still unsure as to what happened with Bush.
"Well, I was offered to do a dual-singer thing and for me it just didn't feel right for me to do that at that time. We had explored that possibility back in 2000 and it didn't happen for one reason or another then, and I was more open to the idea of it then. And then when it came up again last year I just said, 'You know, nawh, that's just not where my head's at. But if you feel that you need to do this and get Joey and explore this area - you know what - then I understand but I can't ride in the car with you'. Again - it's not like I never thought that that wasn't a possibility. It was always lingering around in my mind somewhere especially when we struggled at times. But I'm proud of the things that happened with me and Anthrax, we made some great albums - they didn't always get the best of attention and the most promising promotion and stuff, but at the end of the day I can't always worry about that, I'm not always in charge of that. But I am in charge of making great music and singing great and I think I did that very well, so I'm cool with all that."
At this point Falina mentioned to Bush that Music of Mass Destruction is one of her all-time favorite live albums and that it helps her to cope with the difficult people at her "day-job."
Bush, laughing: "Well hey then we did something right."
He reflects:
"Yeah, it was a lot of fun. It was an amazing show in Chicago - we had a lot of magical moments. Plus we had a great show in Flint the next night and that was captured. Like I said, that legacy lives on - which is great. The great thing about making a record is that's what it is; it's kind of immortal in a sense. So I'm cool with that."
So would Bush ever consider recording or touring with Anthrax again in the future?
"I'm not even thinking about that at all. It makes no sense for me to wait, so to speak, and I'm not - I've got other things going on. I run a business with my wife and it's actually doing really well and I'm really enjoying that; it's something that doesn't have to do with the music business. We run a commercial casting facility so we have a studio here and we do commercials here and videos and a bunch of stuff out of here and it's fun. It's our little business and it's neat. And then hopefully the same thing will fulfill a little bit of my desire to play rock and roll guy and sing. And then who knows what's going to come after that, I haven't even thought about it. I'm usually pretty good at not over-thinking things and just taking them as they come. So, that's where I'm at - so, Anthrax, I don't know. It would be like waiting around to see if an ex-girlfriend is going to want to get back together with me - it would be stupid for me to do that. I wouldn't advise that to anybody and I won't advise that to myself. They kind of have to do what they've got to do and c'est la vie. I don't know what the future holds; I know they've talked about doing a record with Joey so I think they've kind of got their future planned out for awhile. I don't really feel like that's where I want to be anyway right now."
And how about going back into the studio with Armored Saint?
"I don't know. I mean, for me it's real important that you're able to do something that's at least as good - or tops - what you did last. And the last Armored Saint record that we did which was during a little hiatus in Anthrax, it came out in 2000 and was called 'Revelation.' It's a really cool record - we had some left-over songs that were old and we wrote some new ones that were great, and to me again it was at a certain level and you know that was six years ago. So, a lot of time has passed and it's not necessarily that easy to go back and capture that magic when it comes to writing songs and recording; it's really hard. That's why what you'll see now a days, unfortunately, a lot of bands who constantly tour but they don't always make records because making records is a whole other beast and you really have to have a strong bond together to make it right, I think. And it's a lot easier to go on stage and play a song that you're familiar with from your past, but it's not as easy to go into the studio, write, have the camaraderie, bounce ideas off, write music that's viable and sounds current, and also sounds like the band. There's a lot more pressure involved it in. If I felt like we could do it and do it as good or better then I'm open to it. But right now, that's not where my head is either."




Bush continues: "The key is Joey [Vera], me and Joey wrote the majority of the songs on the last record - Joey is basically the leader of Armored Saint as far as I'm concerned, and he just had a kid and he's kind of somewhere else too so you know, again, playing songs live and doing some shows are fun and that's an easy thing to do in terms of that you don't have to think that hard about it, but making a record is a whole other mentality. But you never know, we might do these shows and we might get inspired and go let's try to write and get steam-rolling and domino theory and can do something that's amazing. Or, you can say, 'Well, that's all we need to do.' You have to really be sincere about it and that's the one thing I'm all about, especially now more than ever, I want to be sincere about what I really feel. I don't want to do just a record because I can. You know we probably could do a record, we might be lucky enough to have Metal Blade [Records] be behind us and support the record; I don't want to just take money from a company and put out a crappy record just because we could. I've already made great records in my career and I'm ok if I don't make anymore because I can look at my catalog of records with Anthrax and Armored Saint and go, 'There's some rad stuff there!' I don't want to make something just because I can and have it be a piece of crap."
And what about a totally new project? Has Bush at all entertained the idea of joining or forming an entirely new band?
"You know, for a minute there I flirted with that. It didn't gel with what was going on at that time in my life. But is that something that I've ruled out in my future? Not completely. I do think that in all honesty sometimes getting a band together and finding the right musicians, finding the camaraderie - I'm using that word again - that gels and works that feels honest; it's not easy. And if I can contribute time and energy to that then I don't want to do that either because that's what it would take; it would be harder to do that honestly than to make an Armored Saint most likely. I'm going to waste my own time more than anyone else's and I don't want to do that. Again, I'm not writing that off as something that may never happen but as of today, May 25, 2006, it's not."





"Life is good. I'm really proud of all the things I've done," says Bush with a smile in his voice. "The thing that people can take about John Bush is that my goal is to always be honest about what I'm doing and what I've done. If I don't feel that like my future musically is something that can be better then I'll be fine with what I've done, and that's ok with me. I respect music to the upmost and it's got to be top-notch quality if something can be better, or a show can be better. We have 11 shows that we're going to do with Armored Saint and to tell you the truth I have very little expectations of them all because I don't know. I'm just going to enjoy the moment and seize the day - so to speak."
*July, 2009 - Armored Saint is currently recording a new album and will be performing at the Rock Gone Wild Festival on August 23 in Algona , Iowa.
---
RELATED LINKS