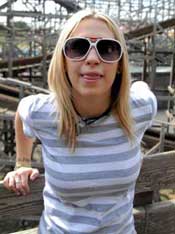 Just Kait who? Well, if you never heard of her...you will soon. This New Jersey born pop-rocker, songwriter and musician is only seventeen and is already buzzing up a storm on MTV. Kaitlyn Di Benedetto- simply known as Just Kait - handles lead vocals, guitar, bass, and drums and her music video Sick is getting airtime now on MTV. There is a lot more to this teenager and Just Kait took a little time out of her tour schedule for an exclusive Q&A with Unrated Magazine. Let's start this session now!
Kait, thanks for taking time out from your schedule to chat with Unrated.
No problem!
So, how much fun was your Six Flags tour and any memorable moments you can share from the road?
Oh man, it was SO much fun. I got to meet the guys from All Time Low and chill with them and it was pretty crazy considering I've been listening to them since they started! But the entire thing was memorable for me!
How does being on stage compare to being in the studio and which do you prefer?
I think being on stage is more fun. Don't get me wrong, recording is always fun too but when you have kids screaming the words and jumping up and down, the energy level is crazy and it reminds you of what music is all about.
Which songs are your favorite to perform live?
My new favorite to play live would have to be Being On TV. It's one of those fun, high energy songs that gets the crowd pumped!
Being only 17, I know you play a variety of instruments and write your own material. Are you a self-taught musician and which instruments do you play and what is your favorite?
Yes, I taught myself how to play but growing up I watched my dad play drums, so when it comes to drums my dad helped me a lot. With guitar, I got my first one when I was 12 years old and I just put my fingers wherever I could find notes and the same with the bass around 14. My favorite used to be drums, but now it's definitely guitar. I play it a lot more!
Your songs seem very raw and real. Your song Sick is getting some nice buzz. What is the process you take in writing?
Usually I'll start with the guitar melody and after I have that down I'll add words. When I write words, I take my personal experiences or experiences that fans and friends are going through and put them on paper. I write the songs either in my room or at the studio with my producers.
One of your biggest breaks (so far) was writing a song - U Suck for MTVs show Parental Control...and winning! Can you let me know how you found out about the contest, how you found out you won, your reaction, and what MTV is planning with you now?
I saw the contest on TV one day so I sent in my version and I got a call a few days later saying they loved it! I was so surprised because I had had no expectations! I told my whole family and they were just as excited as me! Now I have a digital EP out, an album due out soon, and hopefully a tour soon!
Ok, I would love to know who your musical influences/role models might be and why?
I loved Good Charlotte growing up as well as Blink 182, Sum 41, New Found Glory, bands like that. They were the first bands to get me introduced to the punk-rock scene so I fell in love with them.
From what I have been reading you have a CD being released in the near future! Congrats on this. What label?
Thank you, I'm super excited! The label is called 2N2 Entertainment!
Can you describe your upcoming CD release?
I think the CD is gonna be something for everyone no matter what type of music you listen to. It's called Perfect Disguise and it's got a little bit of everything on there. Overall it's a pop-rock style, but it approaches it in a different way with each song. Some of my favorite songs on there are Being On TV,Start From the End, Perfect Disguise, Break. and Day By Day - I can't wait for you guys to hear it! As for a release date we're aiming for Q1 2010, hopefully sometime in January!
Any message for your fans?
Yes! Keep a look out for tour dates coming up soon, because shows are always so much fun!
Thanks Kait! Good luck and we will be keeping an eye-out on you!
To stay up-to-date on all things Just Kait check out these sites: www.justkait.com and www myspace.com/justkait
---
RELATED LINKS