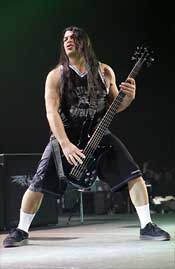 There is a poetic and authentic beauty to multi-night stands. Whether there are two or three shows in one city, each one often proves to be significantly better. Why? I chalk it up to nerves, the lack of press at latter shows and an overall confidence of what an honor it is to sell out multiple nights in the same city. This is where ego thrives, chances are taken and really phenomenal shows occur. It's almost as if you're hosting a party for acquaintances on the first show and then its family the second where you are allowed to be yourself. Metallica is no different. Right from the opening moments of "That Was Just Your Life" at their second of two sold-out shows at the Allstate Arena (just outside Chicago) the crowd was more spastic, the band more fluid and ultimately the show combined with these two factors was more exhilarating than the previous night's.
Night two found the band switching the set list up with a few more classics dusted off to interact with the six songs from Death Magnetic (which remain unchanged). "Harvester of Sorrow" was sly and seducing while "For Whom The Bell Tolls" gripped the crowd like a head in a vice because the crowd's possessed reaction. "One" is about the destruction of the human soul. While the images of the video will forever remain entrenched in our minds, it is much like the characters that embody their best work. Feeling trapped with no place to go, the narrator views the only way out as death. These are the moments that if you were filming a movie it would have to be computer generated, because these genuine reactions of the crowd are just that, genuine and outside of the context of this music can not be replicated. Following in the footsteps of "One" was the flipside of death on "Broken, Beat & Scarred", where one overcomes adversity to triumph. "Broken, Beat & Scarred" found the band playing to their strengths. They know their audience and are embracing them and not seeking larger ones. Sure, the Rolling Stones got away with "Miss You" but that was because it had a grimy riff and an undercurrent of sex, which is what all the greatest Stones songs are rooted in. Most of Death Magnetic is rooted in darkness, the battle for life and comprehensive metal riffs that leave you shaking in your shoes. They made an album that is a testament to their earlier work. By doing this, their classics are all that more potent and resonate even stronger. Metallica makes vast and complex records that are studio creations, but amazingly they find their groove live and if anything they send you back to them for items you may have missed the first time.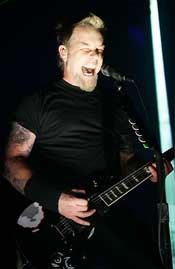 I've seen great studio records mangled in concert, but if anything, Metallica makes them more organic. "All Nightmare Long" and "The Day That Never Comes" sounded even more vital on the second night with renewed passion. The 2004 set lists were a tad more adventurous, but that was because they had to be. Extended interludes, deafening jams, luminous solos all converged into a crashing and deafening finale that was just as heady as classic Metallica. I was speaking with my friend Tom before the show and he said something that stayed with me; "This was the right album at the right time". Sadly so much of music is about timing. This is something that can't be marketed. If the band had released this album five or six years ago, it would not have had the same impact, but fortunately for Metallica, they played their cards right and they have delivered an album that their fans are dissecting and divulging with great fervor. The road to Death Magnetic was a long one and in many ways, the band had to reestablish themselves with their fans after the release of St. Anger in 2003. However, the inner tensions within the band had already begun to soothe (as documented in the brilliant film Some Kind of Monster). They then had to reintroduce themselves in ways on their eighteen-month tour in 2003-04, which they did. Little by little, thy rebuilt their credibility and the apex was Death Magnetic where they silenced the naysayers. James Hetfield's stoic lyrics comfort the soul if you delve deep enough. In place of his anguished rage from two decades earlier, he sings from experience like a sage hoping to help you find your own way down the dark corridors of life. It's one thing to grasp onto music to expunge demons and it's another to find a way to deal with them, which is far more complex and brave than hiding beneath them. Not everything in life involves a physical or chemical escape and this is why Death Magnetic is so captivating. "Nothing Else Matters", from 1991's self-titled Black album means more today being sung from a very aware and vital James Hetfield than the one who sang it throughout the 1990's. He sung it nightly at almost every show from 1992 to 2000, but I'm not sure if he ever allowed himself to enter the sacred emotional depths of it in concert. Now he does and the song just pours out of him.
The show goes by in the blink of an eye; it's unrelenting and devours all who witness it. Eight songs were performed before one from the 1990's appeared (the crushing "Sad But True"), yet no one seemed to notice or care as every note performed was with a renewed intensity almost as if they are performing some of these songs for the first time. "(Welcome Home) Sanitarium" found bassist Robert Trujillo viciously teasing his hair with metal anguish. Trujillo joined the band in 2003 and his stage presence is that of a hurricane. Metallica has been blessed with three great bassists throughout the course of their life and Trujillo deserves to be on stage with this band. I love it when an artist barely has to perform as featured on "Master of Puppets", where the crowd swallowed the song whole. I merely sat back in awe and amazement of it all. Guitarist Kirk Hammett and Hetfield dual harmonic solos are like watching the convergence of two light sabers in slow motion that ends in a wicked crash. "Fight Fire With Fire" was the sound of an earthquake where the ground trembled and the walls decimated. "Die, Die, Darling" and "Whiplash" prove that no matter what stadium heights they ascend to, at the end of the day they are still a garage band at heart. During the encores when the house lights were on, I was able to take in guitarist Kirk Hammett's playing with a keener eye. It's one thing to be proficient and virtuosic at your instrument and it's another to feel the music as it runs through your fingers as they move across those six-strings, which Hammett does with finesse and ease, a near impossible feat in heavy metal. During the finale, dozens of large black balls ascended from the balcony on "Seek and Destroy". With the house lights on and a full house frenzy on their hands, there was little doubt about the impression they left when the final note was hit.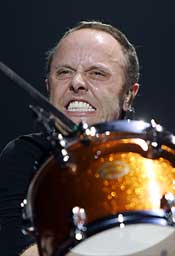 Heavy metal may never fully gain mainstream acceptance but its fervent followers will always ensure it has a bona-fide niche that is unmatched. How many bands in this economy can sell-out arena shows, let alone multiple nights? Metallica is a band who instead of chasing after fans who may or may not buy their record is embracing those who put them where they are today. Chasing after the same audience who bought the Black record would be a mistake. However, regardless of whether or not you love them or not, you have to admire how they are handling their business. Tickets to both shows only cost $4.50 more than they did in the summer of 2004. That's approximately a $1 a year increase. Not only that, but if you ordered your tickets through one of their many pre-sales, you got a MP3 download of the show you attended. Metallica may not be making as much money on paper as Madonna "appears" to be; however, I can guarantee you that few (if any) tickets were papered. The dollar amounts reported to the Billboard Boxscore are genuine and not inflated. And the best part of this is that the band still clears over one-million per show, not to mention but they have a higher attendance numbers due to the brilliant use of the in-the-round stage. While there are no super cheap tickets, their prices of $79.50 and $59.50 are the most inline tickets I have seen in years. Not only that, but the band gives away fifty-cents of every ticket to charity. Unlike other acts who "claim" to give a portion of the money to charity, Metallica prints it right on the ticket so you are aware of exactly how much is being donated. If every artist was this up-front and honest with their fans, they too would have legions of fanatics who would follow you wherever they man roam.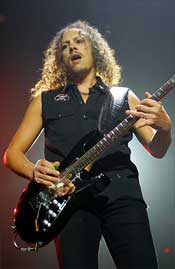 Trying to be the biggest band in the world is a mistake. By attempting this, you limit yourself artistically. Few artists can say the same as most acts chase after the casual fans that may or may not buy their records. If you are fortunate enough to have a core following, embrace them, reward them and treat them like family. They will never abandon you. Few acts in the music industry understand this, but those that do (Pearl Jam, Dave Matthews Band, and Metallica) will thrive and survive. Ironically, Metallica's embracing of the metal community has made them recession proof. In some ways they are limiting themselves, but on the other hand, no matter how bad the economy gets, their fans will follow them down any path. Is there anything worse than the front end of a week in January where the stock market crashes and the temperature outside dips below zero? Somehow, Metallica provided the ultimate remedy, the ultimate rock n' roll escape. The music of Metallica is biblical to their devout legion of believers. It's almost as if when witnessing the power of their live show that it has to ability to cleanse the soul and wash away our sins and renews us like a baptism. It allows you to return to the world, where your problems still exist, but to face them with a renewed sense of optimism. Faith above all else can save people. However, sometimes we need that extra push and reminder to find it. Metallica's music does just that for their vast following. There are dozens of acts out there deserving of your time, but Metallica stands atop the mountain as the master of metal. Over the course of two shows Metallica didn't just reward their loyal followers, but unleashed a set chock full of all highs and no lows proving that they aren't just one of the best concert draws in the world at this moment in time but also one of the most vital, important and relevant ones as well. This isn't about being the loudest or fastest metal band around…but the best.
Anthony Kuzminski is a Chicago based writer whose daily writings can be read at The Screen Door and can be contacted at thescreendoor AT gmail DOT com.
---
RELATED LINKS