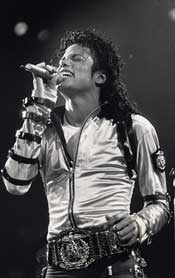 Quite possibly the worlds' greatest entertainer and showman, Michael Jackson, passed away on Thursday, June 25, 2009 in Los Angeles, CA. Jackson was fifty years old.
Jackson was rehearsing in preparation for fifty sold out performances announced in March and scheduled to begin in July. These upcoming performances were considered by many to be Jackson's efforts for a comeback in the world of music. Jackson's talents extended beyond singing, dancing and writing as he was a true humanitarian who loved people and his fans; he created music that has touched the world and transcends generations.
Since his humble beginnings in the early 1970's with his brothers as part of the Jackson Five through today, Jackson is an internationally known icon for his talents and what he brought to music.
His legacy will live on through those whom he inspired and mentored and those that will continue to emulate him in their music. Our hearts go out to Michael and the Jackson family. He will be missed by millions if not billions throughout the world. The music will live on as we will remember and the young will listen through us. God bless you Michael Jackson on your journey to new peace.
Remembering the King of Pop.
Never again will we see such a talent -
His voice, that glove, his moonwalk, we will treasure -
The boy, the pop star, the artist, the legend -
We will never forget you, for you surely must be dancing now in heaven -
Memories of Michael
The first time I heard Michael Jackson was on an 8-track recording, which I still have, from the 1971 live TV special, titled Goin' back to Indiana [my home state]. My favorite part of the release is when his brother Jackie, during a comedy skit on the record, saves the game of basketball; it's quite entertaining. This release, however, was the beginning of the end for the Jackson 5 as Michael stepped forward into the spotlight.
He had already attained a modicum of success with his brothers, but Michael was moving full steam ahead. In the midst of his childhood, while other kids were on the playground, he was recording and touring; building an empire off of his boyish charm and innocence. Just one year later, on his second solo album, he attained his first number one hit, Ben.
"Ben, most people would turn you away
I don't listen to a word they say
They don't see you as I do
I wish they would try to
I'm sure they'd think again
If they had a friend like Ben"
After his first four solo records he shed that child like persona and began his royal quest as the King of Pop with the release of Off The Wall. His unassuming view of the world, with an eye towards the sensational, is what catapulted him into superstardom.
During his sequential releases he secured the best musicians, songwriters, and producers to accomplish a great many things; giving new meaning to Don't Stop Till You Get Enough. But just doing 'enough' has never been Michael's mantra, he's a Thriller. He has always moved forward as an entertainer while maintaining an ideal view of things; good and Bad. We all know of a scorned woman like Billie Jean or a troubled youth in Beat It, but Michael serves it up with dazzling dance moves and a fierce fashion sense.
Though all of the glitter he maintained that music can make a difference in life. We Are The World, along with Man In The Mirror and Black or White seek unity and peace that he himself could not attain. From being questioned about his pigmentation, to plastic surgery and presumed pedophilia, he has been perpetually challenged for his actions. The Dangerous pressures from a successful childhood career parlayed into a quantum of notoriety that only a few icons in this world can understand.
Though being a celebrity is no justification for one's decisions, Mr. Jackson's career stands on it's own without any requisite to sanctify his actions. One must remember that with any level of success comes an equivalent price. Maybe he's finally attained the peace he was seeking in the songs Leave Me Alone or in the duet with his sister, Scream. However the man is perceived, his legacy is undeniably profound. He is no longer imperfect, he is History.
Photographer and a fan of MJ's for life.
Since I was in grade school and watched the Motown 25 live when it happened and saw that mesmerizing performance of "Billie Jean" I have loved Michael Jackson. I would practice doing the moves to that performance and had it down and won a dance contest in 8th grade.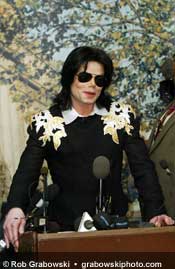 Nearly 22 years later, and a little rustier, I reprised my rendition on my wedding day and did it again, leg kick and moonwalk in check, and everyone in attendance was shocked at how good I still did it.
The funny thing was that most of my friends that I have made over the years never knew how much of a die-hard fan of Michael's I had been.
Michael's music has touched everyone on this planet in some fashion and while my preferences in music had evolved over the years I was still a fan of MJ's.
I was and still am in shock hearing of his passing. I keep thinking that I will wake up and it will all have been a mistake but, that isn't going to happen. I guess his passing, even at a young age, shows everyone their own mortality. My favorite athletes that I idolized growing up have retired and now my musical artists are passing away or fading away and it makes you really feel your age and mortality. One of the high points of my life was being in a room with about 30 other people and having the opportunity to photograph Michael getting the key to the City of Gary, IN. back in June of 2003. When he walked in, I felt like I was 11 years old again and even though his appearance and demeanor had changed, he was still larger than life and it was an unbelievable experience. I will always cherish that opportunity and will always have a smile on my face when I see one of Michael's videos or hearing one of his songs. He truly was larger than life and affected so many people across this planet and will be missed dearly.
New York City's Times Square Comes To A Halt!
Michael Jackson's music has been in my life as long as I can remember. The first record (yes, vinyl) I ever owned was Michael Jackson's BAD. Back in middle school I watched the world premiere of MJ's "Black or White" video where he spent the last five minutes of the video kicking the crap out of a car while grabbing his crotch. It came on FOX one Thursday, sandwiched between The Simpsons and the original 90210. We watched the video for "Remember the Time," featuring guest appearances by Eddie Murphy, Iman, and Ervin "Magic" Johnson, in my seventh grade history class after our midterm exam.
Michael Jackson was an extremely talented individual who demonstrated how powerful and influential music can be. His songs have united nations, broken barriers (MJ was the first African American on the cover of Rolling Stone), and provided his legions of fans a soulful soundtrack for their lives. In the spring of 2006, months after his alleged molestation trial finished, MJ made his first public appearance at the Video Music Awards (VMA) in Tokyo, Japan, and I happened to be there. Nobody knew MJ was going to show up, so when the King of Pop was called onstage the place erupted. Although the cheers were deafening, the energy and love put out by that crowd was unforgettable. It began to dawn on me that the ripple effect of MJ's music not only spanned continents, but generations of those who live on them.
When the story of MJ's death broke I was drinking in a bar near midtown New York City. On my way to the subway station I passed through Times Square where news of the superstar's tragic demise was being broadcast on every jumbo screen in the area. Times Square came to a halt as people phoned, texted, and/or tweeted their reaction to the shocking news. Now the media can't stop talking about the tragedy, and newscasters who publicly crucified the pop icon during his trial are now sending out condolences to his friends and family. Why?? Because MJ's inspiring music brought out the best in us ; whereas, the media's exploitation of his bizarre lifestyle, and our compulsive desire to read about a fallen hero revealed the worst in us. Michael Jackson's music changed the world forever, and the story of how he did it will always be considered legendary.
---
RELATED LINKS