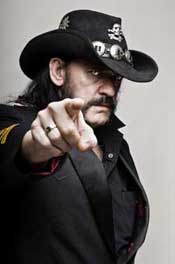 Motorhead: One Lucky Devil - An interview with Lemmy Kilmister
Interview Conducted August 2009
It's been 34 years since Motorhead was born, and in that time Lemmy Kilmister and company have been on a lot of tours. This tour coming up is no different from most - beginning in just a few days and snaking around the U.S. and Canada through October, then picking up again over in Europe until practically the end of 2009 - and with few days off in between.
"Yeah, well, days off cripple you on tour," says 63-year old, Motorhead front man Lemmy Kilmister in the frank manner in which he says most things, "But it's what I do. It's what I'm supposed to do, I feel."
Each and every musical road warrior has to somewhat adjust to the wear and tear that touring does to you physically - and that too is something that the iconic Kilmister takes in stride. Not only is he used to it after so many years, but he really couldn't imagine it any other way.
"Everything seems ok so far. I've got type 2 diabetes but I've had it for years, you know? It's not going to change anything about my lifestyle; I just take the pills and hope for the best. You can't stop everything you do, you know, because that's just a different life then and I'm not interested in that.
And health issues aside, sometimes bands have to deal with some interesting people along the way. At the tail end of this tour that Motorhead is about to embark on they will be playing in Russia again for the first time in almost a decade.
"Over there the only people to work for are the mafia, you know, because they run everything. So it's like the last time we went over there - the last two times we went over there - we were working for them. And that's alright but it's just that they want people like Rod Stewart and that. Really big sellers, you know, so they can pile them in."
And Lemmy, the man Alice Cooper described as being like a pirate, isn't at all intimidated by having to work with mafia-types.
"No, no, over there they're just doing their job and they get the show on and do the best they can."
Thirty-four years and nineteen albums down the line, what's it like trying to put together a set-list with such an abundance of material?
"We just fight over it. We all have our favorite songs and we push them, it's quite simple. Just like anything else you decide between three people. Some songs really don't make it on stage whereas they're good on the album, and the other way around. 'Ace of Spades' is not bad, it's a good song. We're pretty lucky with all our songs; they're pretty painless to play. I'm not horrified by any of them," he chuckled. "I'm not playing anything I'm ashamed of which is a great thing, you know."
But it's not only Motorhead's music that has inspired people. Film-makers Greg Olliver and Wes Orshoski are in the process of making Lemmy: The Movie , a documentary which includes an adoring collection of interviews with musical luminaries such as Slash, Alice Cooper, Dave Grohl, Marky Ramone, Mick Jones, Mike Inez, and more, talking about - who else but Lemmy.
"They're still fucking around with it. They're like, 'Oh no, you can see the end of the microphone in that shot.' You'd think people will die if they see that; people all over the world will die and make their children orphans," Kilmister says in jest. "The sky will fall; it's definitely important. I never quite understood, but I suppose it makes better movies," he laughs. "But they're good guys; they came to us and asked to do it and we said film some stuff and edit it and then show us, and they did and it very good and so we said 'go ahead.'"
The teaser/trailer of the film is available for viewing online and showcases a slew of wonderful musicians singing praises to Lemmy and his quintessential rock and roll lifestyle.
"It's great, a great job that. It's most gratifying, really. You know, if you got showed this every day you don't think of it as a fucking icon," Kilmister chortles. "It's nice of them to say that."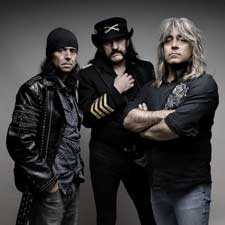 So does Motorhead have any plans yet for the 35 th anniversary that's coming up next year?
"Nawh, I don't look at it like that, you know. I've been doing it a lot longer than that - I didn't form the band until I was 30. You don't think about how long you'll be doing it when you're forming a band. You don't think, 'How long will it last?' You don't think about it you just want to play and it's something to do because you like doing it."
With Motorhead's most recent release, Motorizer , having been released in 2008, are there any plans yet for the next - and 20 th - studio album for the band?
"Yeah, we're going in in January to start doing the new one. So, it should be out by the end of the summer, I guess and all that."
Is there any material written yet for the forthcoming release?
"No, we're always under the knife," laughs Kilmister, "It seems to work for us that way, you know. So far so good."
And do Lemmy and company ever do any writing while out on the road?
"Basically you'll get an idea but you never remember them. I've lost count of the great riffs we had at sound checks and we've said, 'Record it!' But then never remember one, neither do I. Hopeless, right?"
Despite the fact that these rockers have earned veteran status, they're also appealing to the younger generation as well - not just via their albums and live shows, but also in the Guitar Hero games.
"The Guitar Hero thing, or Rock Band - I haven't got a computer, you see, so I don't know about this stuff. But it's gone through the roof really, it's pretty cool as long as they don't think that's really playing guitar, you know?"
So with more than 40 years in the music business and almost three and a half decades in Motorhead alone, what has Lemmy Kilmister learned about the world due to his taking this path in life?
"Well, you know, you win some you lose some, you learn stuff you wouldn't have learned and then you don't learn stuff you would have learned. So it's about even, I guess. The only thing that I have learned is that I'm really lucky to be doing a job that I would have done for free, and I'm getting paid for it basically. You go out there to play music because you love it, you know, you don't do it to get paid in the beginning. And then you find out, 'Wow, I can get paid too?' And that's really lucky, I used to work in a factory before I was in the band and it was fucking horrendous. People must lose their minds there; you have to shut your mind down to get by. I'm really glad I don't have to do something like that in my life, you know, I'm glad I got this and could get away from that because that was fucking terrible."
Is there anything else that this rock and roll pirate would like to accomplish in his life?
"Oh yeah, but when would I do it because I'm on tour all the time? But I'd love to do something connected with archeology. I wanted to be an explorer when I was younger. But you pick your bed and you lie in it - but I've been pretty happy doing this, it's been a good life - I ain't complaining."
Motorhead will be playing in Chicago on August 30 at the House of Blues.
---
RELATED LINKS