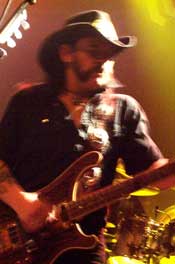 The venue welcomed 2,700 Motorhead fans to the Sound Academy in Toronto on September 2, 2009. In the world of music entertainment, as well as heavy metal/thrash, many bands come and go, but Ian "Lemmy" Kilmister and Motorhead have been around for nearly 40 years. Motorhead is the band that all metal bands try to aspire and become the legends that they are today. The test of time proves 100 percent, with flying colors, that Lemmy Kilmister, is considered a god of metal and the grandfather of thrash metal. He is undisputed. If you ask anyone in the world, "Lemmy or god?" what answer would you give? (It's a trick question. "Lemmy is god, god is Lemmy," as quoted in the movie Airheads, 1994). Motorhead through all their years were raw, leather and denim, they go together. Motorhead wrote the book on bare bones, no frill rock; a priceless study of every hard driving musician. KISS, Poison, Metallica, and many other are in a different plain, but all acknowledge Motorhead and their place in Rock 'n Roll.
On stage, Lemmy and his crew, Phil Campbell and Mikkey Dee, captured the hearts of the old and new fans; some seeing living Legends of Thrash for the first time. Motorhead's stage set up as usual, no lasers or pyrotechnics. Through the years the sound has been unique and pure, Lemmy raw voice, no make up, no puffed hair, and nobody's fools. True blue, 100 percent guts, balls, in your face kicking ass, with attitude to spare. Seasoned Motorhead fans were once again introduced to thundering, loud, deafening, power, volume and cranking rock and roll, from Marshall and Hammer amps, stacks and speakers. The younger bastards at the show, experienced living legends and walked away with pride knowing they were part of heavy metal history that day, September 2, 2009.
Motorhead opened their set with a slow version of Iron Fist, then banging into rage with Stay Clean, continuing on with all the favorites: Metropolis, Another Perfect Day...the fans loved it. With just the right amount of new material to wake up the living dead, the only let down was some blasts from Lemmy's microphone, and that was soon corrected. Feedback never hurt anyone, well not most, but having this happen during the all time classic the Ace of Spades was just sacrilegious. Going into Overkill, once again, Motorhead proved without a doubt that even getting a little bit older, they are just like a good aged bottle of wine... in Lemmy's case, the preferred choice is Jack Daniels whiskey, straight up from the bottle... the fuel to make you rock for eternity.
RELATED LINKS