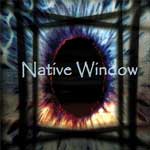 We are not in Kansas anymore - so open the Window!
The Kansas vet band members - minus Steve Walsh & minus Kerry Livgren have created a new, fresh sounding group called Native Window. The band is: Billy Greer on bass and lead vocals, David Ragsdale on violin, Rich Williams on guitar, and Phil Ehart on drums. With no keyboards this is a different sounding group but in a certain way an extension or link to Kansas style music. The 10 track CD opener is Money with Billy questioning and singing about what really matters in life. Immediately you will feel the Kansas music pulse but this is a distinctly different sound and the harmonies click in immediately. Still (We Will Go On) has some great violin leads by Ragsdale and a chorus grab on at the end. One of the best songs that will leave you tapping your foot is The Way You Haunt Me with catchy song lyrics and Williams giving a chilling guitar lead. Honorable mention goes to The Moment with great melody hooks.
Both Walsh and Livgren have given thumbs-up to Native Windows and even better, the band will be the opening act during the Kansas tour this year. Kansas fan or not, check out Native Window for some great new tunes...and...Carry On!
---
RELATED LINKS