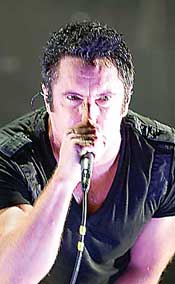 This is the end my friends, Nine Inch Nails waves good-bye to their North America fans. According to Trent Reznor, there will be no more Nine Inch Nails after this tour is over. For this tour Reznor joined forces with a band that he shared a stage with 18 years ago and whom he expresses a great deal of respect for, Jane's Addiction. Jane's joined as a co-headliner. Also sharing the stage was Tom Morello's (Rage Against the Machine) new band Street Sweeper Social Club.
After attending last year's "Lights In the Sky Tour", which had a very elaborate production, this one was said to be a more low key and Reznor promised to a play a variety of songs from old school to newer releases. Many reported on nin.com that each show on this tour had its own unique set-list and every night Reznor surprised fans with the unique mixture.
Standing in the pit waiting for Street Sweeper to come onstage, my assistant whispered in my ear that he had two backstage passes. This distraction did not help my focus during the set for Street Sweeper. From the little that I witnessed, their sound had some similar elements to Rage's. All material played during this show was new, unreleased material since their new album did not debut until June 11, 2009. They are definitely a band worth checking out and I only wish my mind was there during their set.
It was time for NIN to hit the stage. Reznors choice for an opener was "Somewhat Damaged" which was followed by "Terrible Lie" and "Discipline". As stated before and was apparent during their set was a very low-key stage setup. The only thing that was very noticeable were the big stage lights that hung overhead, which they did not use much of since it was still very light during their set. I had mixed feelings about their performance. Reznor tried to portray his old self-destructive ways onstage but it seemed not to work as well as it did in the past. I would have been very content to see the Reznor from the last tour, who was cool and collected. It was almost like he was trying a little too hard. The overall NIN experience was still the same with flawless sound and a great line-up supporting Reznor on this last journey.
Last but not least, Jane's Addiction entered the stage. This was my first time witnessing them live and I must admit that I really liked their set. The set started with "Three Days" which was followed by my favorite song "Whores" All of the members were very energetic onstage. Prior to the Albuquerque, NM date, Perry Farrell had a minor injury but he danced around onstage and acted like nothing had happened. It was definitely nice to see the original band together again and they were an excellent choice to close out the night on this tour.
---
RELATED LINKS