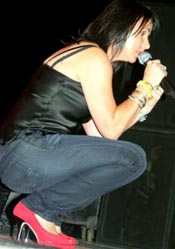 Make no mistake; Patty Smyth is back with her band Scandal and having one good rocking time The New Yorker introduced a few new songs during the night - (she told the crowd her new CD would be released in early 2010) but she had one grand old time shaking out and acing her classic hits. The night swung off with Love's Got a Line on You which led into her seductive hit single Beat of a Heart. Patty told her fans she just arrived back from London as she was with her hubby John McEnroe who was announcing the tennis matches. She dedicated her song Wish IWere You to McEnroe laughing how he would love to be on stage. Patty tore into The Warrior and then slowed things up with I Should Be Laughing which led right into her masterpiece world-wide ballad Sometimes Love Just Ain't Enough. Of course Goodbye to You was the ultimate crowd favorite.
Thank you Patty for finally coming back on what you could call a greatest hits tour. Even though these songs have been around for years they are timeless, full of energy, and with Patty's raw and original style you just will want more.
15-30-40...game! Patty and Scandal will get a line on you!
---
RELATED LINKS