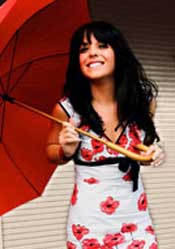 I met Rachel Williams in the media room during the annual CMA Fan Festival in Nashville. We were both taking a break in the action when I commented about how healthy she eats. Her response was, "this is not commonplace." After a bit conversation we both introduced ourselves and realized that we should have set up an interview. Considering our agendas were full up for that day we agreed to catch up over the phone a week later.
The budding siren, a native of Belleville, MI, conquered the club and fair circuits of Michigan and surrounding states in her teens, handling the bulk of booking responsibilities herself, but she finally gained national exposure on the USA Network's Nashville Star2. Working as a waitress at the time the show aired, she soon became known to two million viewers as "that Cracker Barrel girl."
Following Nashville Star, media attention and a string of noteworthy opening slots (including Williams' crowing achievement--a long-coveted show date with Wynonna) she decided it was time to up the ante and leave the restaurant job behind. With the subsequent recording of her full-length debut--2004's First Day of the Truth--the singer solidified her heady mélange of country, R&B and rock.
Now, with four successful releases to her name she is becoming a regular on the local touring scene in and around Nashville. Her influences include, of all people, Britney Spears, as well as Wynonna and Bonnie Raitt. She has a Bob Seager swagger in her music with crystalline lyrics that can cut you to the core. For such a small gal she has a voice that can shake the floorboards in any honky-ton. She's a Motown gal, with Opry tendencies that can rock your night away. Rachel is currently touring her new release "Lovers & Liars," and if you are good she may have a surprise for you at the end of this interview. Trust me, would I lie to you?
---
Jackie Lee King: So what's "Lovers & Liars" about?
Rachel Williams: Well, in my opinion, you're either one or the other. You're a lover or you're a liar. (laughs)
JLK: It's just that simple.
RW: I just wish guys would have it tattooed on them; Lover or Liar, so you could know not to waste your time. But if that had really been the case all along, I wouldn't have 99% of the songs I've written.
JLK: Well if you're requiring us to labeled, we require a written copy of the rules, ones that will not change.
RW: Yeah! (laughs) I hear you, man. I really do. I think that it's really funny for me to go through the albums that I've done, with the songs that I've written, and see how differently I've felt in every situation. I think that it definitely brings out different sides of you with whomever you're with. So the issues that I would have today are definitely not the same issues that I had two years ago. It's a really interesting timeline, not just to see my progression as singer-songwriter but also in my personal life.
JLK: One of my favorite songs from "Lonely at the Bottom" (2007) is "That's Why I Picked This Guitar" It has an amazing arrangement and lyrics about getting into relationships with artist. When a singer songwriter is dating somebody what's the line that you draw between real life and your artistic work? Have they ever given you an ultimatum of either them or your music?
RW: I've never really had the issue of somebody giving me an ultimatum and saying that what I'm doing is too time-consuming or not going to pay off. I think I've been pretty fortunate that any guy that I've dated has been pretty aware of what I do. In terms of songwriting, I draw no lines. There's no "Okay this is going a little too deep or too personal." I'm not a very confrontational person. I can't always tell you that I'm bothered, but yet it will sit there and fester till it drives me insane.
JLK: Kind of like that song Pink wrote "So What"
RW: It's crazy stuff like that. The thing that I have to tell people is that, at the time that I write this song, I mean it with the utmost conviction. This is what I want to say and it's straight to the point; a dagger to the heart. The more I sing it, and the more I live with it, it's not that I believe it any less, but it just doesn't hit as close to home for me.
JLK: I don't think some men realize that women have moments where they literally do want to kill you. That doesn't mean that they're going to run off and get a butcher knife and cut you up.
RW: Exactly! Even though I put that in my song lyrics it doesn't mean I'm going to do it. Singing these man-hate songs today doesn't mean I'm still a man-hater. It just means I've gone through a lot of crap and had to overcome some issues with individuals. I think some people might get the wrong idea when they listen to my music because they're just like "She just must be the most jaded person ever" and it's not true. With this current record we did an EP of seven songs, and I think three of them are happy, so that's a really good ratio for me.
JLK: So are you the country version of AlanisMorrisette?
RW: I'm not like some super tortured soul. I'm just real. It's not high school anymore and I think that people can relate to that. I think that when you put out a record, more times than not, it is going to be that breakup song that you push repeat on. Regardless of whatever situation you're in. It's those breakup songs that are the ones that just hit you to the core. Maybe it's just because I like to torture myself, you know?
JLK: So the death metal album is on the way?
RW: Definitely. (laughs) Moshpit instruction video. Everything. It's going to be crazy. You guys watch for it.
JLK: So now you are doing instructional videos?
RW: Oh my God. That's awesome! One of my friends is doing a bunch of exercise videos and she Facebooks about it all the time. I remember when I moved to town I used to do a lot of workout videos because I didn't know where I was going to live so I didn't want to get like a gym membership. I would just do stuff in my bedroom, you know, cheesy kickboxing stuff. So I've decided that you have really arrived if you are not only a famous singer-songwriter-awesome-performer but if you have some kind of instruction video out as well. I don't know exactly what my thing will be because I guess I'm pretty good at working out but I don't even know--'this is how you shrimp? This is how you walk dogs? This is how you dance to Britney Spears in your bedroom? "
JLK: "Transplanted Rachel Williams gets back to her roots in unveiling this Michigan tradition of -- what-- log rolling?"
RW: Yeah, we do a lot of log rolling. (laughs) It's just funny when people, who come from different parts of Michigan, are like: " Michigan is so beautiful" and I'm like "Um. I lived in Detroit so..." You know, they're talking about the lakes and just how beautiful the trees are in the Upper Peninsula of Michigan, which is just crazy wilderness. Beautiful but nobody lives up there. I don't think that Detroit really sets the standard for what Michiganders do.
JLK: Well I've spent some time in Michigan, both in Detroit and the Upper Peninsula, and it is beautiful, but mostly I've spent time in recording studios and that was just a wonderful experience.
RW: Yeah. I would love, love, love, to just record in some of those old Motown studios. That would be amazing if we could just somehow revive that innocence. There's so much amazing music that came from Detroit, and now, I mean no disrespect, but now we're known for Eminem and KidRock. How did we go from these Motown greats with brilliant music to what we have now?
JLK: I think that every city has its own heyday and it's not always one time period. Detroit, Philadelphia, Los Angeles, New York and even Chicago have their own sound and scene, but it seems like Nashville is a little different. Yes, there's country there, but there's a lot more music that come from this town. People from all over come to Nashville to realize their dreams, but then you have a whole city of great singer-songwriter-guitarists.
RW: I think that's kind of what really blows peoples' minds about Nashville if they were coming from other places like Chicago and even LA. I've run into a lot of people from LA and New York and they're just like "The community here in Nashville is unlike anything else." It's intimidating, in a sense, but it's also nurturing. You will find somebody to write with, guaranteed. And you will find music everywhere you go. I don't think that anybody could really honestly say that they've moved to Nashville and say they don't have anywhere to go or anything to do; just walk down the street.
JLK: I completely agree with what you've said, but if you don't have a plan you could be one of stars who play every night at Five Points. You'll never get discovered but you'll have a great sense of accomplishment in playing with world-renowned musicians. It's just sort of like come here, experience it, but then have a plan, because it's really easy to just sit around and listen to music all day and say "Ah man, that guitar was great last night and I drank too much. I really should write."
RW: Yeah. If I'm at a great show and I'm sitting there at 3rd & Lindsley or 12th & Porter or wherever: that night I'm turning around to everybody I'm with and I'm like "I need to do a show like this." Or "I need to play a show with them." Or I need call Ron in the morning and book a show here next month. It kicks my butt into gear to go to the Bluebird and hear an awesome song, and I'm like "Okay, I want to write the song that completely moves somebody like that just moved me." It's cool because everybody is approachable here. With any guitar player, any songwriter all you have to do is just walk up to somebody and say "Hey, here's my card with my MySpace. Check it out. Do you want to write? Okay, cool.
JLK: Why do you think people move to Nashville?
RW: I think that we probably still have that image of back in the day that all you have to do is come to Nashville and play on the street corner or in some honky-tonk and get discovered. You'll just go knock on the doors of all the record labels, publishing houses and stuff like that; I don't think that that image ever truly leaves us. I think that we would all like to believe that we could get famous the old fashioned way, and obviously there are a lot of other factors of doing your own thing independently. But in terms of the appeal of Nashville, I still think that people see it as a launching pad. I was at a show last night at 3rd & Lindsley and I basically had my face rocked off by the most incredible female singer I will ever hear. You're just in the presence of such musical greatness, whether it's guitar player, great singer or brilliant songwriter, I think that once you're here you feed off of that vibe and I think that's why people come to Nashville and they don't leave.
JLK: Well it's also very daunting, because you think, "Well, who am I" and you hear all these success stories of people coming from other areas of the country, moving to Nashville, and then becoming world famous. No one talks about that in-between time while in Nashville; while you're honing your skill. Do you think it's hard to break out of the Nashville scene once you're there?
RW: I think it is if you don't have a plan. I think Nashville desperately needs to catch up to the times and that's one of the things that I'll give Taylor Swift kudos on. It's like she's her own machine by doing things that are kind of radical in the Nashville. She's on pop radio and you know She's all over Facebook and MySpace and YouTube. Nashville definitely needs to catch up if they want to expand to a bigger audience and cross over to the whole scene. I definitely want to do more than Nashville, but I haven't been given the opportunity to just yet. I think good music is good music and if it pleases Nashville that's awesome, but if it also brings in, 16 year old girls that never would have ever thought before about listening to country music, then...
JLK: ...or 21 year old Cracker Barrel waitresses?
RW: Yeah, if I could bring all the Cracker Barrel employees to my music that would mean great record sales for me. The cool thing though is that there is a tie-in there with Cracker Barrel. With me being in Nashville Star, every interview I do they always bring it up so I obviously don't mind so it feels like a no-brainer to me. So hopefully we can do something. I think that music sales are the biggest thing that they've got going on right now, so it just kind of seems a likely step that you would want to put yourself out there.
JLK: It's going directly to your consumers. The majors are really more concerned with the business aspect and they're not really concerned about artist development. They already have a FaithHill and Shania Twain. And it's really hard for independent artists like yourself to break in and cut your own piece of the pie. What do you think is going to be helpful to independent artists like yourself in the future? Do you think that the majors are going to go away and it's all going to be self-produced, independent releases directly to consumers?
RW: It's definitely hard to say. In all honesty I would love to say that I could propel myself to Carrie Underwood, TaylorSwift, and ShaniaTwain status without a major label, but not without about $10 million behind me. That's where we need the major labels. They will give you money and promotion and marketing like no other and better than I would be able to do myself. But the thing is that I think that artists have to do a lot more of the legwork now. We, basically, have to really prove ourselves and tour and release our own stuff on our own to see how it sells in hopes that you can get a sponsorship or merge your stuff with a major label and therefore be able to sell to the masses and be able to get it on the shelves at Wal-Mart. Major labels are still dictating radio too so I'm not going to be able to break into that without them either so they're definitely still important. But I do see them struggle and I'm seeing a lot of them merge with each other because they're not able to stand on their own and it's scary. It's a really exciting time too because we're given the opportunity to do more without them, you know?
JLK: Everything tertiary to the artist in this industry is self-supporting. You've got the t-shirt people, recording engineers, and all these people who get paid even before you step on the stage. Their careers are assured and that that gives them some sort of leverage and power and the artist just has to hope that they're going to recoup all of that money. I don't think a lot of people realize the huge amount of debt that is "taken off your royalties" Ten years from now you may still be paying off your first record. My friend suggested that artists should just take out a personal bank loan because that's pretty much what the record labels do. "Here's the check. Make me a record."
RW: Right. And now what labels are doing too is they're doing 360 deals where they're going to take the publishing, and your merchandise that you sell at your concerts; they're going to take a percentage of all that stuff because it's no longer "Oh my gosh, we sold out of this CD at Target." It's not like that anymore; it's all digital. I think that labels are kind of freaking out. So unless you prove that you can stand on your own and establish a momentum in some kind of career independently before you go to a major label then they have no incentive to give you as much percentage as you want. You basically have to prove that you don't need them but you would like to work with them.
JLK: What keeps you energized to move forward?
RW: Honestly, I told somebody the other day in an interview that I am so extremely blessed and I hate to sound so cliché or cheesy about it, but I really do. I feel that at five years old I knew what I was supposed to do for the rest of my life and I never tried to do anything else because there was really no point. I never loved anything even a fraction as much as I love what I do now and you to be here at 23 it's like I wouldn't even know how to do anything else. My mom really wanted me to apply for college and all that kind of stuff and she was kind of freaking out that I wasn't. I never ever looked at college as an option for me and she's like "but you need a backup plan." And I always told her that the backup plan is that there is no backup plan.
JLK: Yeah, no plan B.
RW: Exactly because if I give myself a plan B then that means that I am saying there's a possibility I am going to fail and I'm not going to fail! I don't feel like I have. It's been a long journey thus far and it definitely has its downs and its frustrations but I haven't packed it up and moved back home yet. I'm still able to make music and pay my bills and do extraordinary things with CMA Fest and just some really cool shows. I have no doubt that this is where I'm supposed to be just solidifies it. Like "Yes! This is where I'm supposed to be!" I don't ever really feel like it's not going to work out for me you know and I'm just really down and-- but you know another off thing that I do is I get on Facebook. I get on MySpace and I get these awesome encouraging comments and messages from people who tell me that it was so amazing meeting me or they're posting pictures they took of me or they're just telling you what their favorite song is. With stuff like that it's just like "how could I be wrong"? I'm so grateful.
Epilogue:
Several weeks later, I met up Rachel over drinks, good food, ice cream, and a movie. She is very captivating but is always in motion. I doubt that anyone would have time to lie to this midwestern charmer. Seeing her live is a really rewarding experience as you can tell that she puts her all into the performance. There really is no Plan B for this gal. Her star is rising and now is the time to catch her before she skyrockets into the stratosphere. Almost in spite of becoming "World Famous," she always has her feet firmly planted on "Unbroken Ground" and continually connects with her fans. One way that she is accomplishing this is by having a little contest.
Williams' fans (whether they have been the lover, the liar, the loved or the lied to) are invited to chronicle and upload their very own relationship "ups and downs," stories of love/hate and happiness/heartache to Williams' website. http://www.rachelwilliamsonline.com/
Participants are asked to submit "Liar" stories first, followed by "Lover" stories. All submissions are due by November 23, 2009. Fans will then vote to decide the winning entry. The winner will be announced on November 30 and they will receive (a likely hard-earned) generous box of chocolates and other Rachel Williams merchandise.
---
RELATED LINKS