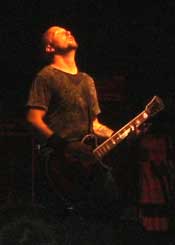 It's a new beginning for Los Angeles based band Snot. About 6 months ago, the band decided to jam a little together. It has been 10 years since phenomenal front man Lynn Strait passed away in a tragic car accident with his dog Dobbs at his side. The sessions led to finding a new front man, the ultimate fan coming slammin hard out of the gate Tommy Vext.
It wasn't a hard choice for original Snot members. Sony Mayo and Mikey Doling making the perfect collaboration on guitar, John Fahnestock beatin down on bass and Jamie Miller harmoniously beating the piss out of the drums. When Tommy came in, he already had every one of Snots songs deep within his soul and it was a perfect fit for the band in all aspects.
"Snot was one of my favorite bands," said Vext. "I never thought the day would come when I could be in the band."
I was honored to be able to sit down and catch up with Vext, Doling and Mayo when they were playing in Des Moines, opening for Mudvayne. They are undoubtedly one of the best live acts that I have encountered for a very long time. They soon will be one of the hottest tickets to see as headliners, like they should already be.
To see a band that maybe might not have seen the lights of the stage again and come out with the intensity to give fans exactly what they expect from a live show, is just an absolute joy to music fans of any generation. Snot definitely had their fans reliving old and new moments of the Snot legacy.
"It's like a huge responsibility to carry on this legacy," said Vext about taking over the reins as the singer of snot. "I am a humble understudy."
But Vext couldn't be happier with his new "job" and says that the whole process has been amazing. Vext wasn't sure how the true Snot fans would react, but after the first song they were all like what the fuck!! Vext was the perfect addition to the Snot family and feels as a true fan to the Snot legacy that other fans are so accepting to his portrayal of what Snot really is, and that is one hell of a fucking live band!! The whole band agrees that it's a brotherhood and love for the music that will keep this band together and give the world one amazing fucking musical experience.
One of Tommy's most cherished moments was when he got to meet Lynn Strait's mom and sister and show them a picture he had taken with Lynn when he was still a teenage fan of the band. After the approval from Straits family it made it all that easier to step into those shoes and bring Snot and the legacy of Snot and Lynn Strait back to life.
So that brings us to here and now. The band has 2 new songs out now; the first being "The Band Plays On" and "Coulda, Shoulda, Woulda". These songs can be heard on the bands myspace page. "The Band Plays On" speaks for itself. Snot will triumph above and beyond the tragedies it ahs been dealt with in life, and yes this band will charge ahead and become the great band that they started off to be until fate handed them that terrible tragedy.
"Coulda, Shoulda, Woulda" now that's something everybody has uttered under their breath. Who doesn't have regrets in life, and thought I coulda, shoulda, woulda? Dammit anyways. Get over it and move the fuck on already!
Snot is writing and recording as they tour across the United States. The new album will be coming to engage fans old and new into a new experience of music that has an incredible sound that will never be duplicated. Snot is a band in their own frame of mind and doesn't sound like anything you will hear from any other band out there. They have started a whole genre that belongs to them. Allot of craziness from Doling, mixed in with the precise, hard core strumming from Mayo, strung together by Fahnestocks bass and Millers crazy ass drumming leads into Vext pulling shit out of his heart that puts all into Snot Heaven!!!
This is one band that you don't want to miss live. They are finding themselves on the road again. It truly shows in their performance just how dedicated this band is to showing the world that Snot is back with a vengeance and they are not going anywhere for a very long time.
---
RELATED LINKS