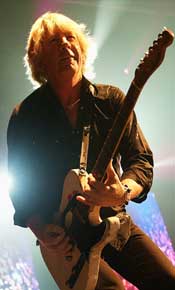 No less than 40 years onstage; Status Quo! Still going steady and still going strong as proven tonight piling hits upon one another and creating a magic atmosphere building tension like no band can. Tonight Status Quo invited another great legend in contemporary rock--Kansas. Much like the English gentlemen the American progressive-orchestra been around for over three decades celebrating their 35th anniversary and supporting their latest live 2CD/2DVD release "There's know place like home." It's an evening of contemporary rock at it's best in it's widest possible range.
Kansas took hold of the stage for only 45 minutes, and delivered their epic and eclectic songs to a nearly sold out audience. Too little time, of course. "Fight Fire With Fire" and "Belexes" sound inspired even though the sound isn't up to speed. Fierce and powerful, with a focus of close harmony and vocals revived by Ragsdale, in combination with Greer and Walsh. A melodic twist which makes it hard to devour, makes progressive music easier accessible for fans and music lovers. None the less Kansas ain't going for easy success and threw in a few surprises such as "Portrait" and "Down the Road," in between the classic set list tracks like "Miracles Out Of Nowhere" and "Point Of No Return." With the main part of the audience being aficionados of the two and three chord rock of Status Quo, the gap between the crowd and the band seems unlikely to close in this short set. Halfway through the band realizes the impossible mission with their biggest hit-success "Dust In The Wind," finding it's way directly into the hearts of the masses. With Steve Walsh in pristine shape, this still is a staggering tune. "Carry On Wayward Son" closes the night in style and wins over a few more of detached SQ fans.
Like I said...the contrast is as huge as the Canyon is Grand. Status Quo entered the stage and immediately managed to capture the attention of their fans with vivid performances of their extensive musical catalog. Bluesy, hand hitting melodic rock tunes which set the place on fire. Two and three chord rock anthems, exactly what the audience came to see and hear. Large lightning rigs, three projection screens, and a band in top shape; what more do you want as a fan of the band?
Like their voices and songs, founding members Parfitt and Rossi have aged. And most of all, they grew skilled in four decades of Quo. Rick still swings his Telecaster around like in the old days and with his hoarse voice gives the bluesy tunes the needed edge. His riffs are raw and driving providing a solid base for Francis Rossi to shoot his solos over. The heart and soul of the band still showcases their skills and energy even though it sometimes comes across pretty cliché. That put aside, there is hardly time to breathe while being overthrown by their many hits. "Caroline," "The Wanderer," "Rain," "Pictures Of Matchstick Men," and so on... The list is never ending, much like their success story. Easily filling the 100 minutes show with highlights only. It's amazing that this simple rock and roll still stands this strong. Hands and fists still fly up all night. Beer runs in large streams from the taps, and literally everyone sings along word for word.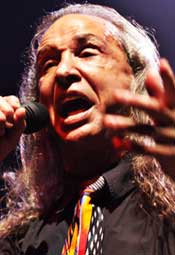 More impressive is the fact that the band still sounds alive and extremely driven, also managing to inflict their oldest tracks with a new elan and panache uplifting them to the high standards of rock music today. Status Quo even has to build in a medley: "What You're Proposing/Down The Dustpipe/Little Lady/Red Sky/Dear John" unable to present all their acclaimed fan treats to interlace with newer songs they want to get out there. "The Oriental" and "Beginning Of The End" have been present since their Montreux 40th anniversary live DVD, easily matching the mood and quality of the timeless classics. "Living On An Island" and "Ice In The Sun" there's a short drop out on the right side amps causing some irritation, but fixed soon after. "In The Army Now" and the following drum-solo take the pace out slightly, in order to make way for a big ending. Building up tension and throwing around their massive hits "Roll Over Lay Down," the hard hitting "Down Down," German crowd pleaser "Whatever You Want" to raise the roof with the slamming Fogherty hymn "Rockin' All Over The World." Dusseldorf by now is completely won over by the charismatic Brits carefully maneuvering towards the end with a handful of encores. "Paper Plane" is another one that gets the audience going as where "Junior's Whaling," "Rock'n Roll Music," and "Bye Bye Johnny" end tonight's showcase.
Even though Kansas didn't fit the profile of the English three cord shot of rock, they managed to win over the crowd halfway through, paving the road for an exciting evening filled with classics only. Who said simple and basic isn't tickling the senses?
---
RELATED LINKS