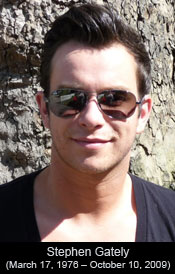 Stephen Gately is dead. For the kids of this generation, the name means nothing, but for us growing up in the nineties, the era of boy bands could have lasted forever. Stephen Gately was famous being one half of Boyzone's voice, the other half belonging to Ronan Keating, the rest of the band functioning as synchronized echoes and backdrop for the band's music videos. Gately came out and broke the hearts of many girls. He however, stood by his decision to go public, using the band's own theme song No Matter What to fuel his bravery: No matter what they tell us / no matter what they say. In the same year, a Filipino trashy film about a lone man in a mountain tribe who needed to impregnate pretty and half naked tribeswomen used the song for a sex scene. It was proof that adults didn't think much of boy band music.
But we were a long way from being adults then, and living in impenetrable worlds, we were meant to be different. Having had no experience on life and love, we hung on to their music to guide our paths. These men who could sing and dance and smile on camera were our icons and they gave us our lessons. We knew from 98 degrees that the hardest thing we'd ever have to do is to look someone in the eye, and tell you I don't love you. NSync told us that the loss of a lover could potentially make us crazy, that we can end up in a padded cell touching our faces and singing about the lost other. And from Backstreet Boys we learned that when you tell someone to quit playing games with your heart, it is more dramatic to do so walking in the rain.
And so we would spend the next few years looking for people who would be like these perfect boys. Who would sing us I'd Never Break Your Heart, and when they do, because we acknowledge they're only 99% perfect and can actually make mistakes, they'll immediately jump in synch and sing Tell me what to do now / because I want you back. We wanted to be the pretty girls the boys courted in their videos, and finally kissed in the end. We wanted to have the pretty hair and long legs, who could dance immediately to the chorus of five men singing. And because Boyzone said, you never really loved until you loved with all your heart and soul, we gave up hearts, souls, secrets, dignity, credit cards, and so much for love.
Life of course came in somewhere, with its own series of plots and lessons. That when you lose the most important things, there is often no music, no city backgrounds, no boy waiting immediately to sing the perfect phrase about second chances. That the hardest thing, which is supposedly walking away from the right person, only becomes harder the second, the third time. And that while heartache can certainly make you go crazy for a moment, most of us get up the next morning, drag our stories along and wait patiently for the next adventure.
That these bands misled us could be one story. But then they too were young then, bound by friendships and early fame. That the bigger story would become more evident years later, familiar stories of downfall - solo careers that don't get launched, drug deals, bad marriages, early deaths. That looking for Stephen Gately on the internet after news of his death, I would come across a video of him doing a bad rendition of Single Ladies. That he would sing it like he weren't already ten years older than his fame, not knowing that the next time people would hear of him again he would be dead in a foreign country, singing it knowing this is his spotlight, and he's come back, this long missed queen.
---
RELATED LINKS