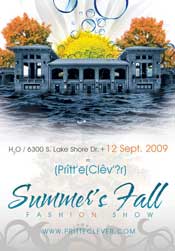 There couldn't have been a more perfect venue for last weeks Summer's Fall Fashion Show. The roof of the 63rd Street Beach house in Chicago's South Shore neighborhood provided a natural runway and backdrop to display the hottest designs for Summer and Fall by 828, Personal Privilege, and (emee). As the sun glistened against the shores of Lake Michigan the models ripped the runway to soul and techno remixes. It was like watching a glamorous show in a decadent castle.
Though unique, the three local lines had one common thread-They addressed the need for transitional pieces that take can be worn late Summer to Fall. Especially in Chicago, the weather can change from summer solstice to blistery fall in an hour. So early September to late October when the sandals and spaghetti straps are put away and ladies hold off donning boots, they're left with few options.
828 by Suzette Opara combined the concept of the mini dress with long sleeves and billowy skirts. The trend retains a summer look with saturated fall colors. A favorite was a hot pink backless jumpsuit. One could throw on a short jacket with it when it gets chilly. Another great look was a prairie skirt worn as a long sleeve jacket with a belt and leggings. This look is warm, colorful, sexy, and yet it can be worn with sandals or boots. Even the maxi dress was elevated to evening wear with leather or satin straps. The male models' swag was on 10 as they strutted in colorful tees and button-ups. A real man shouldn't be afraid to show a little chest with a few buttons open. Yet a blazer could easily take these male fashions from club gear to professional wear.
The fashion of Personal Privilege is especially for the grown and sexy. For the ladies, Personal Privilege pushed the envelope with full length see-thru dresses and form fitting jumpsuits. A cougar can get her groove back and groove on with revamped corset dresses and pant suits.
The best word to describe the trends of (emee) is "UltraGlam." Having styled countless other fashion shows and photo shoots, designer Sharmeta Martin's fashion line was highly anticipated. (emee) appealed to the audience because Sharmeta took familiar looks and added an element of adventure and sophistication. For instance, a sleeveless shirt and pant was set off with a cape-like sleeveless overcoat. The outfit can be semi-formal, casual, or both depending on how the overcoat is worn. (emee) modernized the Elizabethan ball gown- maintaining the flamboyant sleeves with a bold purple mini dress. The final look was a favorite of the evening--a white mini dress with bejeweled straps. As the gazelle pranced down the runway in it "oohs" and "ahh's" were echoed throughout.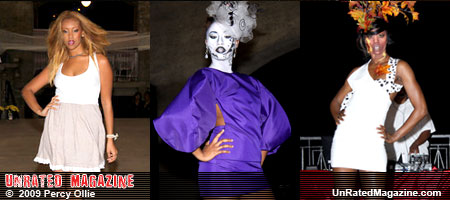 "The show provided a much-needed platform for local designers," spokesperson Tamiko Lee commented before the show. When asked what Chicago brings to the fashion and music industry, Lee replied, " Chicago brings fearlessness to fashion [and music]. There are countless talented artists [in Chicago] and this is one of their many outlets!" If this show was any indication of what Chicago has to offer the industry needs more of it.
Sharmeta Martin, CEO of Pritte Clever-the show's producer, had the right idea. The show was held at the perfect time at the perfect location-late summer on the beach. It's a time of year when Chicagoans are thinking, "Where did my Fall clothes go?" And let's admit- everyone feels sexier at the beach.
---
RELATED LINKS