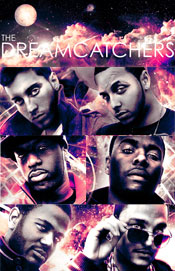 Music is a universal language, a language that crosses all walks of life as the human experiences and emotions conveyed through it can be understood and shared by all. No musical group better exemplifies this than The Dreamcatchers.
The six man group comprised of Baa-ith "I-Wise" Nurri-Deen, Steeve Sam, Sa'id "The Future" Williams, Richard "Parlay" Copier, Anthony "Tone" Woolford, Jr. and Luis "Jay-Elz" Suarez came together in 1997 for the common love of music.
One member described the group as a microcosm of multiculturalism, another said their a multicultural Wu-Tang Clan, however you describe The Dreamcatchers, know that you're not just describing a group, but a movement built by individual artists who came together to create music, good music.
UnRated Magazine recently had a chance to speak with the group to learn more about them.
Where are you guys from:
We're from all over-France, Haiti, and Dominican Republic.
How did you guys get together:
Steeve : Honestly, we all knew each through one another. We had met traveling and going to different industry events. You are usually drawn to people with the same goals. We were all friends outside of music first. It makes perfect sense-we're trying to show people differences are a great thing and that's what works for us in a sense.

I-Wise: We started out with the goal of producing everyone individually and then it turned into a group project. We have solo artists (Sam, Wise and Future) and the Benatton Boyz.
How did you come up with your name:
Steeve & Parlay: We started as three guys living in 1 room producing and creating music day and night. (we were) Sitting at Boston Market thinking of a title, wanted to have a name not boxed in-Dreamcatchers-mysterious-force to bring back that unity and good music. Music was brought here as serenity. The name leaves so many more opportunities for us. It's a lifestyle, statement, title we live by. Dreams are what people want to catch.

Steeve: Every thought that you act upon is, everyone is a Dreamcatcher. Unity, creativity, you being the best at who you are with no apologies, master yourself.
Would you consider your group like a boy band and/or are you afraid of being labeled a boy band:
Wise: Anybody we've had the pleasure of working with knows there are multiple sides of us. A friend said to me are you guys like the Black Eye Peas, and I said if that means we're to the left of things, then yes.

Tone: We're in tune with who we are, people are drawn to us by who we are separately.

Parlay: we have a sincerity that doesn't make it fabricated or look like we were put together, we were friends first. Our story really influences the image. I don't think we will get the boy band (because) talent scouts didn't find us. There's a natural bond between us.
How would you describe your music:
I-Wise: (I would use) two words: world gumbo. There is a genre of world music. We're the Y2K 3.9, we listen to any kind of genre of music. (There are) so many faucets of our music. (Our music) is a collective of world music, we're from different backgrounds. You don't have to be in a box.

Steeve: When it comes to our music, I say our goal was to make music that everybody would say this is fresh; I want my mom and grandma to say wow.

Parlay: Classical approach. (I ) compare our music to fashion, like Polo Ralph Lauren, its accepted by a wide range of ages, intellectually it has meaning to it.

Steeve: We all collectively sit together to make our music. Our music is a reflection of us. We make fun of ourselves. People take themselves so seriously. We want our music to be heard everywhere.
Who are your influences :
Collectively, Jay-Z, Bob Marley, Sade, Flying Lotus, pop music. Individually so many different answers, so many different genres.
Do you think because your so versatile and go in so many directions musically, that may hurt you:
Jay-Elz: (The) advantage for us is our versatility; we'll touch so many genres all our music ties in.

The Future: I don't think it would a disadvantage. We'd put our own spin to it. If you group us into 1 we'd do something else.

Steeve: Seriously, with our music, its more than just music, it's a lifestyle. People classify us anyway. Great artists are innovators. Everyone is afraid to be themselves and step out of the box, there is no box. Someone created the word genre. Were artists our job as artists is to create.
Who would you like to work with:
Prince, Fly Leaf (Christian rock group), DJ Tiesto (Italian DJ) he's the number one DJ in the world. Andre 3000, Andrea Bocelli, Neptunes, Timbaland.
Have you worked with any other artists:
The Klasix (producers who've worked with Joe Budden), Red Spyda (producer whose worked with Ne-Yo), Pharrell's brother and Team Black Out.
Upcoming Projects:
Working on a mixtape: Dreamcatchers: The Real Entourage Volume 1, a documentary, clothing line called Nuzie' .
---
RELATED LINKS