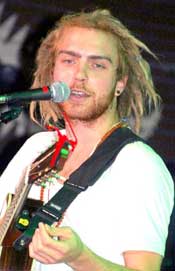 Trevor Hall is a reggae wizard. His music is a circular mix of fusion, folk, and rock, centered inside the reggae beat. His songs are emotional, inspiring, and they will rock you on a path to spiritual freedom. As the opening act for Matisyahu, Trevor and his band (Chris Steele -drums, Mario -bass) gave a strong performance showcasing a variety of songs while promoting their latest album simply titled Trevor Hall. At the nearly sold-out House of Blues, the enthusiastic crowd bounced, clapped, and kept their eyes glued on Trevor with his mesmerizing and unique style while he displayed a true love and belief in his music.
A few songs performed included Volume, My Beating Heart, and Where's the Love. He then rolled into the Indian inspired Om Shakti Om. The crowd favorite of the night had to be Unity. As Matisyahu joined him on stage to help sing Unity, the crowd went wild to hear this song about people coming together and looking up to the 'higher power.' Unity has such amazing lyrics like: I don't want a reason anymore about God above, God above/ I just want to melt away, in all His grace/Drift away, into that sacred place/Where there's no more you and me, no more they and we, just Unity/Yeah yeah, just Unity. As the band left the stage, Trevor appeared moved by the thunderous response he received and thanked the crowd for the support they showed. On a chilly autumn night in Chicago, Trevor brought in a warm reggae breeze and a sense of healing musical power to excite his fans. Now this is a kind of unity that everyone needs!
EXCLUSIVE
Trevor Hall: Backstage interview with Unrated Magazine
Unrated Magazine would like to thank Trevor Hall and Chris Steele.
UR: Trevor, thanks for taking time-out after your show for this one-on-one with Unrated Magazine. First, your show was awesome! Who are some of your musical influences?
Trevor: Thanks, the show was fun. Some of the musical talents that have influenced me are Ben Harper, Kumar Gandharva, and of course Bob Marley.
UR: Talk about this tour and how things are going right now?
Trevor: Well, this is the longest tour so far that we have been on. We will be away from home (which is in CA) for about three months- but things are going great.
UR: Let's talk about the music industry. You were originally signed by Geffen and now you are with Vanguard. Give me some updates on this.
Trevor: While signed to Geffen my song Other Ways was selected to be on the Shrek 3 movie soundtrack. Currently with Vanguard, we are on the road, taking it slow, and building a solid audience base as we travel throughout the U.S.
UR: What would you like your fans or even newbies to know about you, your music, and your live performance?
Trevor: Well, our goal with the live show is take folks out of their everyday grind of life and open them up to new experiences. My goal is to have everyone let their hair down for an hour or so and let the spirit takeover and of course... enjoy my music. And...for everyone in the Chicago area, we will be back in early 2010 so check out our tour schedule.
UR: Trevor, thanks so much for this interview. Good luck on the last leg of the tour and see you next year!
For more information about Trevor's tour and music check out: www.trevorhallmusic.com or www.myspace.com/trevorhall
---
RELATED LINKS
---
RELATED LINKS