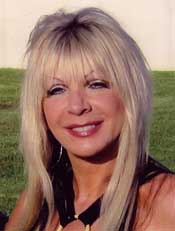 Vera Ramone King is a woman who's been through a lot in her life. As if being married to one of the legends of American music for nearly two decades wasn't enough - but the memory of the marriage itself between Dee Dee Ramone and Vera Ramone King is just scratching the surface. Add in Dee Dee Ramone's drug addiction, abuse, and violence - but then balance that out with the loving, creative, sweet side of the man and the musician, then factor in a heart wrenching divorce, the courage to move on, and then her own brush with death - Vera Ramone King has had more than her share of bumps in the road of life.
Poisoned Heart: I Married Dee Dee Ramone (The Ramones Years), the book written by Ramone King and published by Phoenix Books is a love story - a real love story - not just happy, coo-inspiring recollections, but also the grit and the pain that is sometimes the other side of that coin we call love.
Vera Ramone King dedicated Poisoned Heart: I Married Dee Dee Ramone (The Ramones Years) to her husband, Ken, for allowing her to heal, but did she know that putting this book together would actually be a therapeutic process for her?
"Of course, you know when Dee Dee and I were together for 17 years and then when the divorce was finalized we left a lot of things unsaid and unresolved, and he was somewhat bitter that we didn't get back together but he wouldn't go back on his medications and I couldn't live with him unless he went back on his medications. Otherwise, honestly Melanie, I don't think I'd be sitting here talking to you right now. I had to make that choice. So I carried this baggage around with me for a long time and after he died it was so final because I never got a chance to say some of the things that I wanted to. And I'm sure he felt the same way but when somebody said, 'Why don't you write this book?' I was like I don't know, you know, I'm remarried now for quite awhile and I didn't want to do anything that would hurt my husband Kenny, he's a great stand-up guy. He's not a rock star he's a regular guy, he's got his own business, he's very normal," Ramone King laughed, "Normal compared to what I was used to anyway, there's normal and then there's normal. So I asked him, 'What do you think about it?' And he knew full well when he met me that I had a past and what I had been through and that I had carried all this heaviness around with me for all this time - and he said, 'I don't care, it doesn't bother me. It might be good for you, it might help you heal and it might be like therapy for you.' Without his support I would never have done this because I wouldn't feel that it would be proper. And he was totally supportive of it and when I started to write this book it just flowed out of me like a river; the tears, the emotions, everything that was pent up inside of me. And I felt after I did it I hoped that I did what I wanted to do - I wanted to keep Dee Dee's legacy alive. He left behind a legacy of a drug-crazed addict and a lot of people didn't know the different sides to him and he was extremely funny, generous to a fault, a handful," she chuckled. "He also had a sweet and loving side to him, and a lot of people don't know this about him. And he was extremely talented. This man wrote a song a day; because once he stopped doing drugs and we got him into different programs and all that the psychiatrist or therapist and I tried to get him to channel that energy - that negative energy - into something positive, to get something positive out of that. Whatever happened in the course of a day he'd just go into the other room and write a song about it. And that's really how he wrote most of his songs, that's how he did it. It was based on whatever happened that week or that day, and I hope that the book brings that to light and that his fans get to know who the real Dee Dee Ramone was because there was a lot more to him than what people have read about so far."
Was it tough at all facing these memories once again while writing this book?
"A lot of the things were way back - buried in the back of my head and it's like stuff you don't want to remember. So when I finally did remember it and put it down on paper and the emotions flowed out of me, I think this would have taken years of therapy and I did it in much shorter period of time and I got it all out, and I really felt when I wrote that dedication to Ken that it did help me heal. And I thanked him for letting that happen because I would have never let those emotions come out. And I hope that people can get something out of it, just to reflect back on him and I hope they can see that he was more than what they read about in the past. Hopefully that everybody can get something out of the book."
But was there any apprehension for her at all when Ramone King's husband began to read the book?
"No, I would read chapters to him. I have no secrets and he knows that I've been very honest with him about everything and everything that I've been through in my life. Maybe not in great detail, but as I started to write the book I had many years that I found of notes and diaries that I wrote over the years and I had a girl come over and she put everything on the computer for me because had she not done that this book probably wouldn't have come out until 2012," Ramone King laughed heartily, "I'm not that great with typing, I'm just barely there. So I would read things to him that I wrote out in longhand and ask, 'What do you think about that?' and when your own husband turns around and tells you that it's touching - it almost brought tears to his eyes - I thought I must be doing a good job."
It's been seven years now that Dee Dee Ramone has been gone, but like anyone who has lost someone they loved dearly those landmark days are always difficult.
"It's ok, but the anniversary is always hard for me, I always have a red rose put on his grave on his anniversary and his birthday, and at Christmas.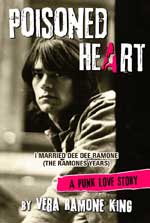 Poisoned Heart: I Married Dee Dee Ramone (The Ramones Years) has kicked Ramone King's schedule into high-gear as interest in the book is spreading not only across America but throughout the world.
"I leave for New York on Saturday and I'm doing some promos out there for a few days, and I've been doing four or five interviews a day, I'm trying to pack and get last minute things ready it's really been pretty crazy and it hasn't even exploded yet. They had the book expo in New York last week and my publisher told me today that everyone's been requesting a copy of Poisoned Heart, people from Italy, the UK, Germany, Japan - so now they've been talking about foreign publishing rights and stuff like that, but I'm going to leave that up to the lawyers and stuff, I have enough going on."
Did Ramone King have any idea at all that it would be this big?
"I didn't know what people were going to think of it," She replied in earnest. "It was very important for me when I wrote this book - as you can see, it's not written for a Harvard grad. But see the people that I wrote this book for are Ramones fans and the people who loved them. So I wanted the story told in my words, I didn't want the editor to come and gloss it over like someone else wrote my story. I wanted it to sound like it was still me telling my story. And we went through a lot of publishers before we found the right fit, and Phoenix was the right fit for me. They allowed me to tell the story the way I wanted to, and they gave me an editor who was absolutely wonderful - she was terrific. She corrected some of the grammar, she made it flow a little bit better, but she let me keep true to what I wrote and that was very important to me that those were my words that were being put on that paper. And there may be some people - like columnists or critics - who review big author books that might say 'don't quit your day job,' but this book isn't written for those people, this book is written for the audience that is going to be buying it. They don't want to read words that they don't understand. The Ramones were a punk band and their songs were simple and quick and I think the book is kind of that way. I think I wrote the book like I did everything, I don't rule with my brain I rule with my heart and I think the book came across that way; it is a punk love story."
As Ramone-King tells in the book, even before dating Dee Dee she had gone out with other musicians such as Rod Stewart; it almost seems she was destined to be apart of this lifestyle.
"I was infatuated as an eleven year-old with the Beatles; I was totally insane over Paul McCartney and John Lennon. This is how the Ramones got their name - Dee Dee read that when Paul was on tour he used to sign himself into hotels as 'Paul Ramone,' and Dee Dee had remembered that so he started calling himself Dee Dee Ramone and the next thing you know they all adopted the last name Ramone because they figured it would be easier for the fans to remember them. So that's how the Ramone's came up with the name - from Paul Ramone who was really Paul McCartney. And he was my original idol, I had Paul pictures plastered all over I was just infatuated - The Beatles changed my life and music became my life. So I think it was a normal progression for me to fall in love with a musician. But it's not all glamour and limos, and like I said in the book when little girls would come up to me after the shows and go, 'You're so lucky, Dee Dee's my favorite - he's so cute, you're the luckiest girl in the world!' And I would look at them and smile and think to myself, 'Oh god, if you only knew!' But I wouldn't change anything. I love that man, he'll always have a piece of my heart and he knows it no matter where he is. And that doesn't mean that I loved him more than I love my husband now, but it's just that you love different people at different times in your life. When you're 16 and you fall in love, and you love him right? But when you fall in love when you're 30 or 40 you may love that person too but it's a different kind of love. And when you love different people in your life and you experience different things, it doesn't mean that one love is more important than the other it was just different. I think I've learned a lot about myself just writing this book because I didn't know that I was as strong as I was, I didn't know that I could handle as much as I did. After I wrote this book I realized that I handled quite a bit."
Back when the Ramones were just a band on the scene, did she or any one of the band members have any idea or even a hint as to what kind of legendary musical status they'd later achieve?
"Absolutely not. I mean, when I met Dee Dee they were just starting to get big. It took them a few years playing CBGB's and local gigs and clubs; no radio station would dare play them - they were playing Billy Joel, REO, Styx - if you played the Ramones you'd get fired like Howard Stern kept getting fired. And when I met him he was making $124 a week so you can't say I married him for the money because that was definitely not true. If anything I kept us more in the money thing; and all his money was spent on drugs and other things. And we kind of got that straightened out after awhile. But they are more popular now than ever; I see kids - moms with their kids in Ramone's onesies - love it. And then I see 60 year-olds with Ramones t-shirts on, and I'm like you've got to be kidding me. I don't think they'd believe this if they were here, I really don't, and never in their wildest dreams would they think anything like this would ever happen. It just wasn't like that. And when they went over to England it was the Sex Pistols then it was Johnny Rotten and Sid Vicious and The Clash and Siouxsie And The Banshees - there were all these people that came backstage after seeing the Ramones at - I think it was the Rainbow - that were like, 'God, you guys were great; we're going to start a punk rock band.' And the Ramones were the original; they were the original punk band. They didn't know how to do covers, they couldn't perform other people's music and that's how they came up with that sound. They were definitely original and it caught on. So many people that are around today - it just seems like a dream, you know? I'm just sad that they're not here to enjoy this and to see this; they worked so hard. And within a year apart from each other they were all gone. It's like they hit that magic 50 and that's it."
Henry Rollins, another musician of that legendary punk era who is still around today, takes the occassional criticism for having changed since that time. Yet everyone should be allowed to change and evolve - and it's a shame that we've missed out on watching Dee Dee Ramone grow and change as well.
"Yeah, I think that everybody grows up and at some point, you know, you're not a teenager anymore, and when you're 40 you're going to be different than what you were when you were 20. Or when you're 50 - you keep evolving. Hopefully you keep evolving, nobody stays the same. You may still like the same things but it's normal to evolve as a person, and grow, and change, and mature. I mean that's what life is all about. And even myself, I love punk rock but I love all different kinds of music. I even love so many country artists - Tim McGraw, Keith Urban, and Carrie Underwood - so many people. There are so many talented people out there, you can't say, 'Oh I just like this kind of music,' I appreciate all different kinds of music. When you're good you're good - whether you're Kid Rock or Pink - I love Pink. I love her attitude, I love her lyrics, I think she's awesome. And you know what, she's not a fake, and that's what I love about her. Kid Rock is not a fake, these people are the real thing. There are certain people that you can just pick out and they just have the 'it factor.' And it doesn't matter if you're not punk rock - I don't think that that really matters. And I love Aerosmith - when it's good it's good."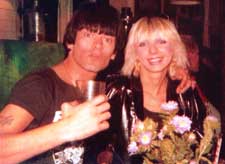 Is it ever difficult to run into some the people from that era when Ramone King was sharing Dee Dee Ramone's life?
"You know what, they're having a book release party for me Sunday night and I'm going to see people there that I haven't seen in 30 years. People from The Dead Boys, people that were in the B-52'S, the Talking Heads - my friends Chris and Tina, Debbie Harry, Richard Hell & The Voidoids, Johnny Thunders and the Heartbreakers - Johnny's not going to be there, obviously he's dead, but Walter Lure is coming. There are just going to be so many people that I haven't seen in years and years. And it's going to seem weird because we're all a lot older now. I don't know how I'm going to react; I'm just going to be glad to see everyone that's still alive. Marky Ramone is going to be there, of course, he's doing great, he's still playing and keeping the legacy alive."
It seems that via the writing of this book, the healing process from her past with Dee Dee, and in battling cancer, Vera Ramone King has come full-circle in life. What was it in her life that's had the biggest impact on her - something that wouldn't have happened at all had she taken a different path?
"That's a pretty heavy question," she laughed. "I'd have to ponder that. I don't think that I would have done three world tours, to begin with. Secondly, I think that I learned a lot of valuable lessons in that you can't change people - they are who they are, and no matter how much you love them and how much time goes by, and how hard they try - people are who they are and you can't change them. And that probably goes for myself included. This book isn't written about saints - that's why they call it punk rock. It's not a book about saints; I'm not a saint either. You get a lot out of it. I think I've had a very unusual kind of life; I've lived a much different life than most people I know. And not to say they didn't have my share of pain, I've just experienced it in different ways. And I have no regrets, there's nothing I would change, and I've learned to appreciate life. When you come close to death - as close as I did - when you come close to death you are humbled to a point where you really learn to appreciate that each and every day that you have is a gift. We had to have a lawyer come to the house to make final arrangements because I couldn't get up off the couch; I couldn't walk. That's just part of what that time was - I guess there's a reason I had to go through that too. I learned a lot from that too because I don't take anything for granted, I know it can be taken away from me tomorrow. And the same goes for anybody you know because there are a lot of things that we do take for granted, and it's not like that. Life as you know it can be gone tomorrow so enjoy every day that you have, love the people you're with and tell them how much they mean to you. And learn to forgive, nobody's perfect, everybody has faults because if we were perfect we wouldn't be here."
---
RELATED LINKS