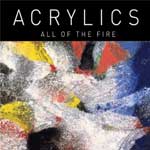 With candy-coated pop soundscapes that ring between the ears as almost tangible, Acrylics new EP, All Of The Fire, will bake itself into your brain. Both crisp and organic the act is melodic and reminds one of life's pleasantries as their music is sunshine pop with vocals that are just as lush as the melodies that feel breezy and joyous.
Their sound is both danceable and atmospheric, sensuous and tender. Acrylics has been put under the AM pop genre, a type of largely bubblegum and mellow pop in the 1960's and 1970's. However, it is not all about flashy kitsch.
As Acrylics Jason Klauber tells that when writing the album he had a few movie composers in mind that one might not expect from such a band as this. These include David Lynch's composer Angelo Badalamenti and Alfred Hitchcock's scorer, Bernard Herman, as well as Tim Burton's often collaborator, Danny Elfman.
"Usually we approach saturating our recordings around a cinematic approach.," Klauber states. This sense of ebb-and-flow is apparent in their sound in which the tracks don't just move to the next song but instead connect to it. It flows so gracefully that the 5-song EP almost acts like a concept album, as the five songs feel like a whole instead of just parts.
"I've been inspired by how music can work within a story," stated Klauber. "I am thinking about images in my mind when I am creating music." Klauber continues to say that he believes some of his music would go great in that visual medium, especially in the film-noir genre.
Avenue I on their new album with its half-asleep chant and strummy synthesizers is subdued but enchanting-- while I may not see a film-noir connection, the song's growing exuberance would make a good soundtrack to a romantic comedy. The title track could be during the climax, and when speaking to Klauber he tells that he wants people to come up with their own minds, as he sees his art in that regard as an honest portrayal of both himself and the world around him.
"I believe that we mean everything we say or sing," Klauber said. "We do it in the most direct we can do it." He then adds that their focus is to get their art closest to real truth as possible. Before this he talked about how music and other art forms such as painting has certain features that contains feelings "that can really speak to people."
It has been said that the heart of rock and roll is in the mistakes. The thought that the elements an artist does not get right is what makes it unique. Klauber talks about this in regards to influence on styles as he brings up a recent interview done with Elvis Costello, where Costello talked about the reason for the biggest advances in pop music.
"I think a lot of the new styles are created by mixing or misinterpreting other styles," Klauber reiterated citing about past musicians playing Jamaican music wrongly to get American R & B. He then added, "It's those idiosyncrasies that separate one's art from another."
In terms of his own music, when asked what best defines his new album, Klauber does not like picking one song over another. "I like to think every song has its place," he said. "In terms of a tone setter, we put the songs in an order that we thought would move in the best way. Lyrically, I think they are all quite different and offer different stories."
Klauber then ends about both his art and it is ironic how it coincides with the rest of this past conversation in terms of artistic integrity. "I wouldn't have put any of them out there if I didn't believe in them," he concludes.
---
RELATED LINKS