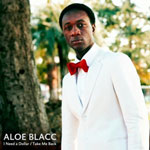 Right at 12:30 a.m. a band called Grand Scheme does a warm up for Aloe Blacc. Just the name Aloe Blacc would raise a few eyebrows; however if you watched the HBO series How to Make It In America, then you've heard Aloe Blacc in the theme song "I Need A Dollar" and you quite simply as I did, had to find out who he was.
From the tilt of his hat to the dark jacket's popped lapel along with a scarf around his neck down to the pants and shoes he could easily be a reincarnation of Marvin Gaye or from the first wail of his voice could be Bill Withers or easily Al Green. He gives us all our beloved favorites and yet he is quite simply Aloe Blacc.
Aloe Blacc is a funky, soulful and passionate singer all is evident as he sang Bill Withers "Use Me," and then his own song "Hey There Brother." He does a rendition of "Love & Happiness" that acts as an intro to a song of his about people who make you smile. He performed a bluesy rendition of Michael Jackson's "Billie Jean" before performing "I Need a Dollar."
He held the audience in the palm of his hands the entire evening with his storytelling and soulful voice. He is comfortable with himself and his music. I cannot wait to hear more when his album entitled "Good Things" drops September 14, 2010.
---
RELATED LINKS