Charlie Benante has had a hell of a ride with Anthrax since his joining in 1983. The last couple years of which have been particularly rocky with the almost-release of Anthrax's tenth studio album, some personnel changes, and a short period of uncertainty for the future of the band.
In the late summer of 2010, Anthrax had just come off of the Big Four Tour with Metallica, Slayer, and Megadeth, and then slipped right into the American Carnage tour with Megadeth and Slayer.
---
How does it feel for Charlie Benante to be back into the groove again after a rather rocky 2009?
"Well, I'm not going to lie to you, there's been moments where I thought it was all just going to go away and that was it; we were finished," replies Benante. "You know, coming from that New York type of mentality where you just can't go down unless you go down swinging at least. We weren't ready to just call it a day because of some asshole so fuck it, you know? Let's keep moving, let's try to get this thing back to where it once was and that's the goal. And we're so happy that these things are coming to us now, it's almost like we did the right thing, you know what I mean? So, we're just trying to put this back together still - sometimes it's baby steps and sometimes it's giant leaps. When I say 'giant leaps' I mean you do a tour like the Big Four and that's not a small thing, that was a giant leap. So I think everyone just brushed the dust off their shoulders and said 'fuck it, let's go, let's do this!' That's the mentality right now."
So how does it feel now to have the weight of that situation gone and be able to get out there and just play?
"Believe me those first couple of shows that we played felt good, it was a cathartic experience to get a lot of the pressure and the sadness out. Just fucking sweat it out and beat your drums and take it out on them. And then we started to become a band again and that was an important thing to bond together again with no bullshit people in the middle of you telling you 'well, he should be that way,' and 'you should try this.' F*ck that, we're just going to do it our way without any influences."
It would seem at least from a fan's perspective that's always been the Anthrax-attitude anyway...
"It was. And then someone gets into someone's ear and tells him how he thinks it should be and before you know it things are different."
What's it like being a part of such a huge show like the Big Four Tour or American Carnage?
"From my perspective of it, the night before the Big Four tour started there was a dinner and no one else was invited - just the bands - and we all got together at this restaurant and it was like a high school reunion. I mean I've seen everybody, but everyone together, from my perspective it looked like some people were a little awkward at first, and then the ice broke and it was great. The show started the next day and everyone was in each other's dressing rooms and it became that, so it was cool. It was a good time. There's even some footage online, one night I was with Dave Lombardo and we went into Megadeth's dressing room and they had a whole bunch of equipment set up to play and Dave played the drums, I played guitar, and Scott came in and we started jamming some AC/DC songs, and before you know it the whole crowd was in there. And that was just one of those things that make it all worthwhile. Just musicians hanging out and playing music and enjoying it and it just makes it better for everyone I think, that camaraderie."
Which does Benante prefer - playing as part of a huge tour like American Carnage, or playing a slightly more intimate setting where Anthrax is headlining?
"It's a different show. The whole thing about playing a huge stadium show some songs don't work in those type of arenas. But in a smaller, more intimate show certain songs work - you can pick out something from your third album that's just like an obscure track and play it in a more intimate setting. If you try to play it in one of those places you can just fucking forget about it - silence. So there are songs that work for that massive type of crowd and there are songs that just don't work. So for me it's just a different show all together."
With the release of the new album being postponed and the reworking that's going on with it now, when it's finally released will the title still be Worship Music?
"It's been that title forever. Even before anyone else was in the band I've always had that title; what it represented. So it probably will stick."
At the present time, the plan is to keep five tracks from the original session almost exactly as first recorded, but the rest of the album is kind of up in the air.
"Five songs are staying pretty much in tact. The only thing that's going to be touched is Joey is going to be singing Scott's lyrics, and it's going to be different because it's going to be Joey singing it. And then the other songs that we had we're going to rework them and that's basically what's going to happen. And maybe two, maybe three songs that are going to be brand new. So that's what we're going for."
Is reworking the material exciting or more of a chore from a creative aspect?
"I wouldn't say it's a chore because there are two songs from that session that completely have gotten thrown out because we just weren't happy with them. There've been some songs that have taken months to complete as far as a start, a middle, an end, know what I mean? But the song, 'Safe Home' wrote itself in minutes. That's the kind of song to me that's like don't change it, don't fuck with it, ok? It's perfect the way it is. But then there are songs that need more attention than others. Like children [Benante chuckles], some kids just go through life doing everything right and there are some that just need a little work."
So is there an actual goal in mind for the release date?
"Spring. But that doesn't matter really. We can say spring and then it'll get leaked. [Laughs] So does a release date really have a date? I think about that all the time. But I know the diehard fans really get excited about going out and buying the whole package."
Having the original release date postponed was heartbreaking for a lot Anthrax fans who were anxiously awaiting the new material.
"Think of how we felt," says Benante in earnest.
But Anthrax aside, Benante has also been working with Illinois-based band Heavy The Fall. Is working with newer bands something he would consider doing again in Anthrax's downtime?
"I would love to do that. I would love to split myself up and go do a bunch of shows with those guys. For me, it's like the hardest thing for me to do is allocate different things. Sometimes I take on more than I can do, or think that I can do. But Heavy The Fall - they probably have some of the best songs that I've heard in a long time, and I just want their record to be finished and we're in the vocal stages right now. And yeah, I think their album is killer, there's so many different styles of music on it and yet it sounds like them. I just think they're great."
Scott Ian tours with Pearl and is now working pretty heavily on his side project (with Anthrax's Rob Caggiano) The Damned Things. Caggiano who's busy as well outside of Anthrax has also become an acclaimed producer - it must be difficult to balance Anthrax with other projects.
"Honestly, that's why I don't take on too much because I don't want to lose my focus on things that are important. So, that's just for me. I don't want to dilute something and not pay enough attention and it and then go 'awh fuck!' I really should have paid closer attention to that because I'm not happy with how it turned out."
When there was the possibility of John Bush re-joining the band prior to Belladonna coming back on board, he had been quoted as saying that Anthrax is the kind of band you have to give 100% to.
"I never really thought about the percentage I've given to the band," comments Benante, "I've just always given my all to the band. I can't really put it in a percentage and people who put a percentage on it then they shouldn't be in the band and that's exactly how it happened."
Any plans for new S.O.D. material?
"I haven't really even thought about that much. For me, that first album is so classic I can't touch it. I don't think anybody can touch that record. It just has so much attitude on it and that was a time when, I guess, you didn't have to be politically correct - you could just say what you wanted to and people understood that it was kind of satire and don't take it serious. But a lot of the things that we talked about were just things that we dealt with in New York and it was pretty much just a part of life."
Charlie Benante is a member of one of the biggest bands in metal, he has a family, he's a collector - but is there anything else he'd like to do in his life?
"Slowly but surely things are starting to come to together when they were just a thought or maybe an idea. As far as being a drummer I've been a drummer since I was four years old. Growing up around drums, growing up worshiping drummers, blah blah blah, last year I had a chance to make a signature snare drum that came out through Tama. And next year the Vic Firth company is going to come out with a signature drum stick of mine. These are all things that are just icing on top of the cake - so to go back to what I said, things are starting to happen that I always wanted to happen. Of course I want more, but I'm doing this thing for Disney where I'm doing a series of Mickey Mouse figures where I'm painting them in different ways. I'm going to have a collectable book coming out next year. These are all things that are happening. But I do it in a way - I don't want to take on too much so that one of them suffers and I want to make sure it's right."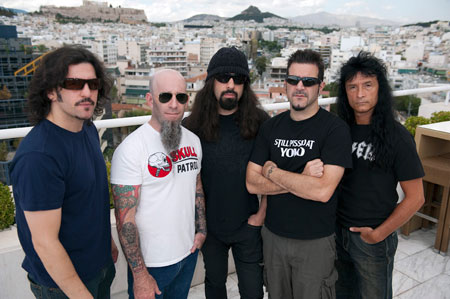 *Photos courtesy of Herfitzpr
---
RELATED LINKS