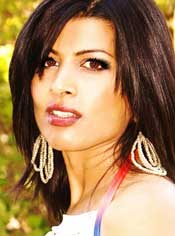 Arunaa was born in Chennai, India. She was brought up at Toronto, Canada where she is currently living too. She is a singer, song-writer, model and actress too. She puts deep creativity into everything that she does. Her music is influenced by western and eastern genres. Being a fusion of both the streams, Arunaa puts a rich blending and flavor to her music stream. Her experiences add depth, her zest for life adds frivolity and her talent for words makes her music memorable. She has her unique sense of creativity and art. Having a rich and colorful artistic mode, she puts a lot of bliss to everything she does. The ecstasy ranges from almost every form of art. Her melodies are quite harmonious and glitzy. Her music attracts a wide range of people and fans.
Arunaa doesn't believe in a conventional and traditional kind of approach. She highly believes in novelty and innovation and every time bringing out something new and novel to her fans. She is unique, different and awesome. She always dares to be different and that's why she stands out among others. She feels most alive when conquering her fears and is always looking for the next challenge. She is challenge facer and a strong believer in herself. She is ambitious and passionate and puts a lot of effort in everything that she does.
"You sound like Amy Wine house except happier!"
Bohemian, INDIA
---
Sadaf: Tell something about your education, music training
Arunaa: I've been writing songs since I was a little girl. I remember writing them since I was 7 or 8 but my first recorded song was when I was 12. The song was about our world and the planets in space, I still remember all the words!
Sadaf: Tell about your inspiration.
Arunaa: My inspiration comes from my own experiences or from stories I hear about other people or friends. A lot of my songs are about relationships but really songs that people can easily relate to. When I create a song, sometimes I'll hear a melody in my head and then the words come or sometimes I have a thought or idea and it just comes out of my mouth with a melody...it's a very interesting process...because each song comes to me a little differently.
Sadaf: Give a brief intro of the band members.
Arunaa: I am a solo artist and I usually work with a producer whose name is Ari Gajraj. I also collaborate with a lot with other artists.
Sadaf: How and when did you got interested in music?
Arunaa: I got interested in music at a very young age. My father is a singer and actor so I think I get my talent genetically!
Sadaf: What was the first instrument you learnt playing and at what age?
Arunaa: My main instrument is my voice but I do also play the flute. I played it through high school but I don't play it very often these days.
Sadaf: Who are your favorite bands and musicians?
Arunaa: I have so many favorite bands and musicians...my taste in music is very diverse. I love some rap artists and I also enjoy opera, jazz and classical.
Sadaf: Share a few lines on your album. What are your expectations from fans?
Arunaa: Miss Lonely is a song from my album. Some lyrics from the title song as follows: "I shine brightly like a diamond ring. I own the patent on this love machine. I can do just about anything but why I can't I make you love me". It's a song about unrequited love and I think most people can relate to that at some point in their lives. In this song, she is frustrated that she has so much to offer him but he is not interested but she is determined to win him over.

I have no expectations from my fans. I just hope they enjoy my music. It's a cool feeling when you create something that others can enjoy.
Sadaf: What is your music genre?
Arunaa: I would call my music genre retro-soul-pop because my music and voice has a retro feel to it. It is pop music but the vocals are soulful.
Sadaf: Have you ever played cover songs?
Arunaa: I am working on a side project which is more jazz related and yes I'm working on some cover songs for that.
Sadaf: What is your source of learning?
Arunaa: Life: Every day is a source of learning wouldn't you agree?
Sadaf: How do you define music?
Arunaa: Music is a gift to humanity that evokes in all of us so many different emotions that is unparallel by anything else. Without music, life would be unlivable.
Sadaf: Any message to your fans?
Arunaa: Thank you so much for your interest in my music. I am so flattered and touched by those who relate to my music...thank you!
---
RELATED LINKS