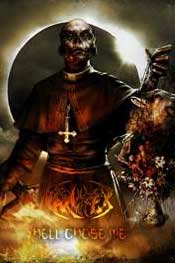 Carnifex might have been diseased and poisoned back in 2008 but they're definitely still kicking - not only that, they've been chosen...by Hell.
As the band readies for the release of their third, full-length album Hell Chose Me, they kick off the festivities doing what they do so well - relentless touring.
As the Carnifex guys return from a series of shows in Europe we caught up with drummer Shawn Cameron to check in during this exciting time. Not only does February 16 mark the first night of their Atticus Metal North American tour , but it's also the release date for Hell Chose Me.
How does Cameron feel about Hell Chose Me now that he and his Carnifex compadres have molded these songs throughout the writing and recording phases until finally producing the finished product?
"It's pretty exciting for us because we know how good this album is and we can't wait for everyone to be able to hear it too," replies Cameron.


"It's so much better than anything we've ever written," he adds.
As far as the European audiences who actually got a taste of Hell Chose Me, we're told they were quite pleased...
"The shows in Europe were great. It seemed as though they could hardly wait for us to play the title track 'Hell Chose Me'."
Now that they're all warmed up, Carnifex will be hitting the road for a slew of U.S. and Canadian dates as well.
"It's going to be one of the best shows they've ever seen. We're going to win over new fans and solidify the ones that already know."
Carnifex vocalist, Scott Lewis, had vowed that the band isn't planning on 'lightening up' their sound any time soon; but was that the intent when writing the material for this new album?
"The goal for writing this album was to take the things we've always had in our music and incorporate the new things we've learned from the last two years of touring."


Cameron adds: "It's definitely faster, heavier, and darker than our previous albums."
How has Hell Chose Me progressed from The Diseased and The Poisoned?
"Hell Chose Me is absolutely a faster, more aggressive album. The lyrics are much darker. Scott's lyrical patterns are better. Some of the guitar riffs on this album are different than anything we've done previously but we still have the parts that make you want to slaughter bunnies."


"Over all, much more thought went into writing these songs than the songs from The Diseased and The Poisoned. Most of that is attributed to the fact that we started writing Hell Chose Me over a year ago whereas The Diseased and The Poisoned was written in four weeks."
Carnifex is one of the bands known for extensive touring; they'll go anywhere and have been there more than once. Have all of places they've been to and the experiences they've had with all these shows helped to mold Carnifex as a band?
"Yes," says Cameron in earnest. "All the shit places we've played and shit people we've had to deal with makes us all want to push harder for something better. It has brought us closer together as a group."
The possibilities for topics in the death-metal genre are seemingly only limited to the imagination, but is there ever a desire to write anything more mellow?
"No," retorts Cameron. "Something different maybe, but not mellow. Death metal is supposed to be intense."
Carnifex names Cannibal Corpse and others in their genre as some of their influences, but are there other bands that Cameron listens to that doesn't fall into that category?
"I know a few of the guys like Minus the Bear. Radiohead, Steele Panther, 311. I throw The Buzz Cuts into the CD player occasionally too."
What sort of things has Cameron learned personally since being in this band that maybe he wouldn't have if he'd followed a different path in life?
"I've learned who my real friends are. The people that still love and talk to me even though I'm never home."
2010 is going to be a crazy year for Carnifex, but if Shawn Cameron could envision the perfect year - playing where ever they want to play, playing with any other bands they wanted - what would make the perfect year for Cameron and Carnifex?
"I'll give you the perfect year," states Cameron exuberantly, "Lamb of God, Dimmu Borgir, The Black Dahlia Murder, and Carnifex World Tour!"
Carnifex will be playing the House of Blues in Chicago on Mar 26.
---
RELATED LINKS