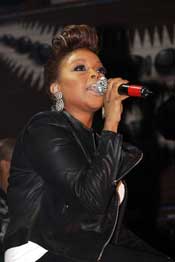 Music's next generation of R&B was in the building March 10th as Chrisette Michele brought her Epiphany tour to Chicago's House of Blues. Supporting Michele on the tour is opening act Laura Izibor who began her set with "What Would You Do."
Gracious and energetic, the singer kept her set short and simple performing songs from her debut CD "Let the Truth Be Told" that included "If Tonight Was My Last," "Don't Stay," "I'll Be Your Baby" and concluded with her hit "From My Heart To Yours."
An old school soul with hip hop swagga possibly picked up from collaborations with Nas (Can't Forget About You), Jay-Z (Lost Ones), Game (Let Us Live) and the Roots (Rising Up), Michele strutted onto the stage wearing a cropped black leather jacket over a white tank top amid the roaring crowd performing "Epiphany" followed by "What You Do" from her sophomore CD, her first to debut at number one on Billboard.
No more "I'm sorry"....."I love you"......I need proof.....

Baby boy it's all in what you do
Her performance included new songs ("Mr. Right," "All I Ever Think About," "Porcelain Doll," "Another One") as well as songs from her debut CD "I Am" ("Golden, "Best of Me"). Michele amazed the standing room only crowd as she sang, sounding just like the CD, hitting low and high notes perfectly.
Laura Izibor and Chrisette Michele are truly remarkable and talented performer weather it's through the speakers of your car stereo or live in front of your eyes. Both are definitely welcome additions to the R&B world.
---
RELATED LINKS