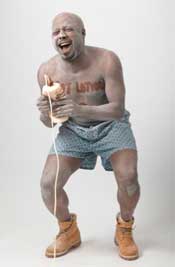 Writer, actor and comedian Donnell Rawlings made his mark on the comedy world as a cast member on the now defunct Chappelle's Show. Whether a background player or portraying his stand out character Ashy Larry, Rawlings became a viewer favorite and a rising star.
As an actor, Rawlings has been featured in TV shows (The Wire, Law & Order , Third Watch and The Corner) and films (Legacy, Car Babes and Fifty Pills. Most recently Rawlings created the website Bootlegcomedy.com. Recenstly in Chicago for performances at Zanie's Comedy Club, UnRated Magazine spoke with the funnyman.
How did you get your start in comedy?
I would go to comedy clubs as a fan and would heckle the comedians. One day the owner challenged me and I performed and I've been doing it for 14 years.
So you were a trouble maker?
Yes, I gave my mother trouble in the delivery room. I'm a notorious trouble maker.
How did you get on the Chappelle Show?
Dave's friend Neil Brennan (co-writer on the show) was a PA for In Living Color and he noticed my audition. I told him if you're ever in a situation, throw me a bone and that's how I got on the show.
What was it like working with Dave and Charlie? Was it funny all the time or were you guys serious-
(We were) serious in performing but it was constantly funny. I would go into work early and leave late. Dave gave us freedom to do what we do-bring comedy to the table.
Do you or have you spoken to Dave? Would you work with him in the future if the opportunity presented itself?
Some of us still talk more than others, we see each other on the circuit.
Who are your idols, mentors?
Because I never thought I would be a comedian, my mentors were uncles, my mom and dad. Everything happened by chance. I'm a fan of Richard Pryor, Eddie Murphy and Martin Lawrence.
What do you think is the current state of comedy?
It's the only field that's recession proof. People aren't working but still find money to get a laugh. Comedy is not hurting right now.
Anyone you want to work with in the future?
Jewish people. None in particular. Because their checks clear. (I've worked enough) with Pookie and Ray Ray.
Which do you like better: movies or television?
I like the art of acting-Acting 75% of the time. I like playing different roles......playing someone else.
What is your favorite movie?
The Five Heartbeats.
Best experience so far in your career?
Everything has been a learning experience throughout my career there has always been growth.
What do you do to relax and enjoy yourself?
Read scriptures and listen to 50 Cent.
Advice to young comedians, actors and writers coming up?
Stay focus, stay funny or get out!
Future projects, what are you working on now?
I'm working on a comedy porn (movie) -it's the first of its kind. It's about a comedian who doesn't do well (not funny) and they find out he's well endowed and he starts a porno career. Its call Black Cocktails.


But seriously, I'm working on bootleg comedy.com Chelsea Lately Show and doing my stand up.
---
RELATED LINKS