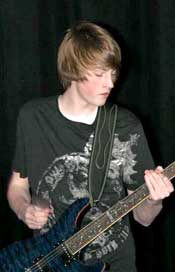 The interview is of a very talented and competent guy, Curtis Reed, from the St. Louis based band named Downcast. Downcast consists of five members, Brett Barry, Ty Jones, Brad Goldman, Drew Anderson, and Curtis Reed. Unrated Magazine had an opportunity to speak with guitarist Curtis Reed. Downcast has attracted so many fans on Facebook and have already reached 1000 MySpace plays within the second week of posting two songs on MySpace in a very short span of time. Brett Barry is the lead vocalist, a senior in high school and is a very outgoing, unique individual. Original rhythm guitarist, kicked out, brought back as singer a year later.
Tyler Jones is the lead guitarist, sophomore in high school, brought in to replace Brett on guitar, when Brett was kicked out. Brad Goldman is the bassist, sophomore in high school and an original member of the band since the band started playing together in the seventh grade. He never had any previous education in music. Drew Anderson is on drums, sophomore in high school, original member, and used to play guitar. He was switched to drums, initially started as a guitarist. Curtis Reed is on rhythm guitar, a sophomore in high school, original member and has been playing guitar for about six years now. He took lessons for the first two years, but quit and taught himself. It was quite an interesting session with the avid player. "Beaten Down" and "In Control" are two beautiful tracks by the band.
---
Sadaf: Tell something about your education, music training.
Curtis Reed: Well, we've all been playing our own respective instruments for a few years now. At one point in time, we were all enrolled in music lessons for at least a year or so, except for the bassist Brad. Brad never took lessons, we just kind of taught him how to play, and he just went on from there.
Sadaf: Tell about your inspiration.
Curtis: Well, we're pretty much inspired by anything and everything around us. We're constantly listening to music or going to concerts. We go to local shows, big concerts, anything. And from every show, we see and hear something new, and think to ourselves something along the lines of "I like that, and I want to put something like that into our music." So we just get inspiration from other bands all the time. But we also try to add our own things to our music, so it doesn't end up just sounding like another band.
Sadaf: How and when did you guys get interested in music?
Curtis : I personally started listening to music around second grade. Two of my first CDs that I owned were " Ocean Avenue" by Yellowcard and "The Young and The Hopeless" by Good Charlotte. Both of which I still own and listen to sometimes. Even though, we don't sound like either of those bands, they were they kind of inspired me to start creating my own music.
Sadaf: What was the first instrument you learned to play and at what age?
Curtis: Around the age of 10, I received a guitar for my birthday. It took a while for me to get into it, but I've been constantly playing since. As for the other members, they all started playing their instruments at around the same time, maybe a few years later.
Sadaf: Who are your favorite bands and musicians?
Curtis: I can't really answer this for the other band members, but my top five all time favorites are:

1. Yellowcard
2. Copperview (A local Saint Louis band)
3. Breaking Benjamin
4. Story of the Year
5. Anberlin
Sadaf: What are some of the expectations from your fans?
Curtis: Before making these songs, we didn't really have a fan base. So since we released some of the songs, we've been mostly about gaining and keeping a secure fan base. But so far, all of the responses from fans have been very positive and people are genuinely impressed by the music we make. I guess for future expectations from fans, they will probably want to hear more music and for us to keep the music style that we're going for.
Sadaf: What basically is your music genre?
Curtis: I think of our music being a type of "Hard rock" or "Alternative" style of music. But we try to vary the style of music a little bit. In some songs, we're going for the more "In your face" type of song, but in others, we're headed for more of a mainstream/radio song.
Sadaf: Have you ever played cover songs?
Curtis: Typically, we don't play cover songs. We don't really have a reason not to play cover songs; we just usually can't all decide on one song that we want to cover. So we might cover songs in the future, but as of right now, we do not.
Sadaf: Any message to your fans?
Curtis: Fans are the greatest thing about being a musician. Just having people that will sing along while you are playing and cheer for you when you are done, there is no doubt about it, fans are the absolute best. Without fans, we wouldn't be where we are today and we would never get anywhere. I love all the fans to death, and I just can't thank them enough.
Sadaf: What is your source of learning?
Curtis: Everyone in the band, except for the bassist, was enrolled in private music lessons at one point in time. Drew and I, however, taught Brad how to play the bass.
Sadaf: How do you define music?
Curtis: Music is a very difficult thing to describe. I think of it as a way for people to let out all of their creativity into something that everyone can enjoy. No matter where you are from, what language you speak, everyone can appreciate music. It is the ultimate way of getting through to people. No matter what mood you are in, there is always a type of music for that mood. It is a truly amazing thing.
---
RELATED LINKS