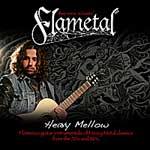 Flametal first caught my attention when their bassplayer Uriah Duffy joined Whitesnake. Immediately gripping me with their infectious crossblend of metal and Flamengo music. A blend that works better and better as their career evolves.
"Heavy Mellow" is their third recording, to my knowledge, and a very fine one indeed. Stripped away the heavyness of metal, this time their focal point is more towards the Spanish music, covering some of the finest highlights in metal. In it's widest variety that is! From such alumni as Iron Maiden, Rainbow, all the way to Kiss and Megadeth. Flametal manages to mould it all into a spectacular flame bursting hot sauce, seasoned by some of the finest guitar playing known to date. Benjamin Woods has truly outdone himself on this effort. His flamenco playing is one of a kind. It is heartfel, warm and furious, shifting speed in the blink of an eye. Fiddling fast and furious, mellowing down a few seconds later, as shwocased perfectly in "In my darkest Hour". He truly shies. Count to that the excellent and skillful bassworks from Angeline Saris, the percussion and cajon variation from Thomas Perry, and the music literally ignites at times. "Aces High" is just jawdropping spectacular as are the magnificent rendations of Yngwie's "I am a Viking" and Kiss' "Tears are Falling". Flametal shoots in orbit on Ozzy's "Bark at the Moon", Metallica's "Welcome Home" to land gently with a superb remake of Queensryche's "Eyes of a Stranger".
All done with keen finesse, lots of hand clap and furious skillful playing. Fingerlicking beautiful.
"Heavy Mellow" makes you want more, spin after spin... over and over again. Thus they have a true gem in our hands.
9,0 out of 10
---
RELATED LINKS