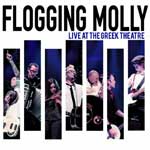 When a live disc gives you the goose bumps and has you fantasizing over the next time that particular band comes back to your town for the real thing, it's one you should seriously consider adding to your collection. Even if you don't know any of their songs, if you like any music with an Irish sound and a pulse, 'Flogging Molly - LIVE AT THE GREEK THEATRE' is a must-have!
You hear the crowd scream to start the disc, then you hear lead singer Dave King welcome you to the performance with 'We're Flogging Molly, and this is what we do.' What they do is rock so hard, you find yourself partially deaf because you have turned up the album as loud as you can stand it. It makes you want to get up and start dancing, you immediately find a big smile on your face, and you can't help but picture the crowd dancing at the live show with pure passion. You know everyone there is having a blast and it only adds to the experience that much more.
The repetitive bass drum beats rips through the subwoofer and forces you to snap your fingers or at the very least tap your foot to the rhythm. If you have ever seen 'the Molly' live before, you can picture Dave King dancing his ass off as he jigs around the stage when he's not playing along with a part of a song. The old man can really move, and still has the energy to match most 20 year olds. Not to mention the guy is hilarious, and flashes some of his comedic genius in-between songs.
A team of phenomenal musicians doesn't always mean that the end product will be great, but it amazes me how well all of them gel together to make a sound that is truly heavenly! I don't know if it has anything to do with the Guinness and Jameson, but I guess it doesn't hurt. It sure helps all those in the crowd dance much better - or at least with more happiness and aggression.
A set list without any flaws, you find yourself flying through the CD, at full blast the whole time, and being physically exhausted by the end. This is a release that I will be telling most friends about, especially as St Paddy's day approaches. You put this on at a party on or around St Patrick's Day, and you will have the best damn party in your town. People cannot help but dance, sing, clap, and maybe even grab and kiss the 'Irishman' next to them when these tunes are penetrating your soul.
The sound on this recording is phenomenal -- I'm guessing this is why so many bands record live albums at the Greek Theatre. If you aren't paying attention to the fact that you are listening to a live album, you find yourself thinking that you are actually there. A great live album isn't far off from a great book written by a very descriptive author. You pick out all the details, create your own characters, and create your own experience with the information you are given.
LIVE AT THE GREEK THEATRE will be in stores on March 2nd, 2010 and also includes interviews and candid backstage bonus features. This is the ultimate All Access pass into the world of Flogging Molly at a truly legendary Los Angeles venue, and in addition to the DVD of the performance and two audio CDs the package includes a booklet with amazing photos from the entire night.
Get out and pick up Flogging Molly's new release, 'Flogging Molly - LIVE AT THE GREEK THEATRE,' your ears will thank you.
Setlist:
1. The Likes of You Again

2. Swagger

3. Requiem for A Dying Song

4. Man With No Country

5. Every Dog Has It's Day

6. These Exiled Years

7. Drunken Lullabies

8. You Won't Make A Fool Out of Me Again

9. (No More) Paddy's Lament

10. Us of Lesser Gods

11. The Son Never Shines (On Closed Doors)

12. Float

13. Tobacco Island

14. Rebels of The Sacred Heart

15. Devil's Dance Floor

16. If I Ever Leave This World Alive

17. Salty Dog

18. The Lightning Storm

19. What's Left of The Flag

20. The Wrong Company

21. The Story So Far

22. The Seven Deadly Sins
---
RELATED LINKS