Sometimes all it takes is three rockin' women to shake up a Friday night. Girl in a Coma proved just that. Promoting their latest CD release Trio B.C. and their album salute Adventures in Coverland the crowd at Double Door rushed to the stage to punch it out with GIAC. Lead singer/guitarist Nina Diaz along with her sister- drummer Phanie, and bassist Jenn Alva led the night off with their heavy hitter Baby Boy which led into their toe-tapping BB. Other songs performed included Vino, Joanie in the City, Pleasure and Pain, and In the Day.
The band gave an exclusive roundtable interview with Unrated Magazine and shared a few fun facts. Jenn was glad the band reached some new areas on this leg of the tour to build up their fan base like Boston and they had their first trip to Toronto. Nina was smiling big about their album (yes vinyl) releases Adventure in Coverland. They selected artists/bands that heavily influenced them such as Selena, The Beatles, and David Bowie. Phanie was excited about the upcoming months when they hit the road for their summer tour with a stop into Poland. Being signed to Blackheart Records the girls were thrilled to perform at SXSW the mega-hit Cherry Bomb with The Runaways own Cherie Currie.
Look for more tour action during 2010 with Girl in a Coma and check out Adventures in Coverland for some great songs remastered by the trio.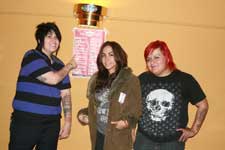 For more information go to: www.girlinacoma.com www.blackheart.com.
---
RELATED LINKS