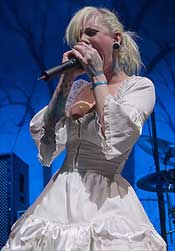 She's petite, blond, and incredibly sexy. And her scream is enough to overpower any male out there in metal. If you don't know who I am talking about, well then you truly are missing out on the vocal talents of Maria Brink and the rest of her metalcore band, In This Moment.
Formed in 2005 in Los Angeles, CA, In This Moment quickly became an Internet sensation through DIY marketing and touring; something that is all too common in today's entertainment industry. Lucky, In This Moment had the talent to attract Rob "Blasko" Nicholson (the bassist for several notable metal acts including Ozzy Osbourne and Rob Zombie), who subsequently became their manager. Within five years, the band had generated a large and highly dedicated following in the metal scene with the release of three albums and several high profile tours, such as Ozzfest, Warped Tour, and the Give It A Name festival in the UK.
As an avid fan of metal and hardcore, I first discovered In This Moment back in 2007 when Ozzfest made its way to Camden, NJ. At the time they only played a small set on one of the side stages at the very beginning of the day. Yet Brink's passionate screams along with guitarist Chris Howorth's hypnotic guitar talent was enough to get the crowd moving. Generally men dominate the world of metal and hardcore and the women that are involved rarely receive as much respect and awe as their male counterparts. But it was clear from this short performance that In This Moment would grow to something big.
Three years later, and In This Moment is one of the most well known acts within the metal community. With three albums under their belts, the band consistently tours around the United States, whether it's with a large festival such as Mayhem Fest or their most recent tour with Nonpoint. I was lucky enough to catch them again at the infamous Starland Ballroom in Sayreville, NJ this past December.
Overall the tour package included three bands: Taking Dawn, In This Moment, and the headliner Nonpoint. Starland included a few local openers on the bill that I unfortunately missed due to time constraints. I had the privilege of seeing Taking Dawn though and for an opener, they rocked the crowd. All members wore nothing but tight jeans and long hair, brining back the old school vibe of hair metal. Vocalist Christ Babbit included a rough blend of screaming and singing that any type of hardcore fan would appreciate. Both guitarist Mikey Cross and bassist Andrew Cushing kept the audience attention with their wild onstage antics. As they finished their final song of the night Babbit jumped into the crowd, who in turn created a circle pit around him. As he shredded away at what can only be described as an "epic guitar solo" he moved to the top bar and even brought a few people up with him. As they ended their set and left the stage, all that was left was cups, broken bottles, and an audience left in awe.
After a brief intermission, the lights dimmed and In This Moment took to the stage. Brink gripped her mic stand, covered in skulls and mutilated doll parts, and immediately broke out into a scream as they opened with "Just Drive". It's absolutely amazing to watch this woman as she both sings and screams without breaking a sweat, it's as if throwing her voice like that takes no effort whatsoever.
They continued with a few more songs off their latest album "A Star-Crossed Wasteland", flawlessly switching between the heavy tone of "Iron Army" (Brink noted that this was dedicated to the troops) and the emotional "Standing Alone". They then moved on to a brief intermission in which the room went dark and all one could hear was a backing track of sound effects and Brink's vocals. Interesting nonetheless, yet suddenly after a few moments the lights came back they jumped to their first album, "Beautiful Tragedy". Without a doubt, these songs evoked the most passionate crowd response, as these were the songs that mostly everyone in the room knew. They killed it with "Prayers" as the crowd replied with several circle pits throughout the venue.
After yet another intermission, Adrian Patrick from the hardcore band Otherwise was brought on stage to perform the spellbinding duet "The Promise" with Brink. The song tells the story of two lovers who know they will never work in the end, a story in which Brink and Patrick flawlessly acted out on stage. The chemistry between the two was almost too real as they (literally) screamed into each other's faces. Overall, it fit the classic description of most love ballads, but with a metalcore twist to it.
The second to last song Brink described as the heaviest one they had written so far. And she hit the nail on the head with "The Gun Show", an extremely well written and solid song. By performing this song directly after "The Promise", "The Gun Show" showcased their ability to write and perform a softer, more expressive love ballad as well as a harder, more powerful rock song.
The performance then ended with "Daddy's Falling Angel", a strong track from their first album. As Brink thanked everyone for coming out, she made her way through the crowd and then stood at the opposite side of the venue. She then commanded a circle pit and a wall of death to take place at the end of the song, an order that the audience enthusiastically carried out. Once the entire set was over, the band hung around for most of the night to interact with fans.
To see In This Moment perform their set within an intimate venue, as opposed to a festival, was a captivating experience. It is clear that this is a band that is passionate about their music and sharing it with their fans. Anyone who has the slightest interest in metal or hardcore would appreciate seeing these guys (and gal) up close and live.
---
RELATED LINKS