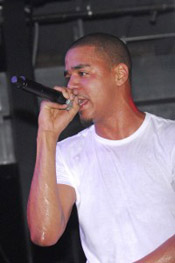 J. Cole is one of the most anticipated new comers in hip-hop. Following in the footsteps of successful sophomores Wale and Drake, J. Cole, who hails from North Carolina, offers what hip-hop has been missing for quite some time. That's why his loyal fans packed Chicago's Bottom Lounge for what was supposed to be a brief after party for Lollapalooza. Instead, J. Cole performed nearly 20 tracks from his mix tapes The Come Up (2007), The Warm Up (2009), and from studio sessions for his upcoming album, Cole World(2010), which includes his first single, "Who Dat."
J. Cole's rap style is a lyrical gumbo of the greats -Jay Z, Tupac, Kanye West, Eminem, and Common - some of which happen to be J. Cole's inspirations. But Cole brings something authentic to the game. The Roc-Nation artist speaks from the perspective of a bi-racial kid from the south who graduated from a big-city university with honors, yet endured the same hardships as the foster kid, the kid from the projects, the kid with the parent on drugs, the kid who dreams of going to college. J. Cole infuses passionate metaphors and inspiring messages in his verses, all while flaunting his intelligence. It's clear that J. Cole refuses to dumb down his lyrics. And his fans appreciate that. The multi-ethnic crowd rapped every line with J. Cole as he performed tracks that had never been released. At one point, he took the mic and put it to the audience. When the fans sang his lyrics on point, J. Cole blushed in gratitude.
While J. Cole's swag is of the humble, smart- cool kid, he's no doubt easy on the eyes. With same veracity he raps for positive change, he talks about stealing a guy's girlfriend, gratuitous sex, and refuting haters. Songs like "Losing My Balance," "Dollar and a Dream," and "Lights Please," are an honest snapshot in time, relevant to people around the world.
As eloquent as he is eclectic, J. Cole has already collaborated with some of the most prolific lyricist in the game-Talib Kweli, Wale, Jay Z and Mos Def. Now, J. Cole is producing his own tracks. And he doesn't limit himself to one genre of beats. He samples classic music from everyone from Hank Crawford to Mary Love. Though some try to place him in the category of "conscious rapper," J. Cole's style is a mixture of consciousness, passion, pain, reflection, and braggadocio.
There hasn't been this much support for a newcomer from rap vets and fans since - well since Drake, but it had been a long time prior to him. But unlike Drake, J. Cole speaks to the streets, to suburbia, and to hip-hops heads around the world. Instead of trying to be the hardest, the most conscious, the best dressed, or wear the brightest chain, J. Cole is focused on the basics, good music. And for that real fans salute him.
---
RELATED LINKS